Champion giant HMPK x Sibling
---
Think i finally got one to hold. Spawn occurred sometime Monday morning/afternoon, something like that. Hatch happened overnight last night. Piles of fry on the bottom.
Anyway Father and mother are both from my Red/Black Giant spawn. Father is a 2-time Reserve best of show winner, also won his class twice, and took third in class at another show. (all new breeder division). His brother also won Reserve best of show at the California show, along with winning his class and another brother also took second in that show.
Mother is the smallest surviving runt from my giant spawn (father was among the runts also but got separated as a keeper and bulked up considerably)
I will get a better picture of her soon.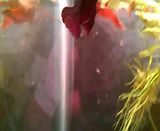 Daddy didn't seem to like me filming so i kept it short.
congrats! And good luck!
---
Breed for the breed, not for the money; the words any REAL breeder would understand.

You must know nothing in order to know all, for all is nothing and nothing is for all.
Been keeping a little log :
11/12/12 Spawn occurred sometime in the morning/afternoon
11/15/12. Hatch happened overnight, Piles of fry on the bottom. There's so many fish, estimating over 100
11/17/12 fry are swimming free, all but 1 or 2. some have been swimming free for a day now. Removed father, started feeding fry and switched on filter. doesn't seem to bother them any. Fed microworms, about 2 fingers. Fry seem to already kind of show darkness on some of them. Started bbs hatchery. also added the big snail
11/18/12 started other bbs hatchery. Morning feeding was 2 fingers of MW, night feeding was to be bbs, but they didn't hatch (might have been too hot), so 4 fingers of MW. Trying again, my eggs from lat year might be too old. Actually can already see the babies eating. In addition to the MW there is all kinds of iny wild insect life they seem to be at least trying to eat, plus there should be good inforsia from all the plants in there. wild life in the tank are what i believe to be grindal worms, daphnia and there is something else, small and white that kind of moves like a bbs. took a measurement, they are 5/6 cm long
11/21 (or so, forgot to log for a bit there) First cleaning/water change... complete disaster. keept sucking fry up, couple made it to the disposal bucket. Took forever to get them back. Also removed all the hiding spot stuff save the plants. All wild insect life gone.
11/23 (again, date?) Brine shrimp hatchery was definately too hot (95+). backed the hatcheries away from the light and the hatch rate exploded (80ish).
11/27 2nd water change & more extensive cleaning. didn't vacum any fry this time. Babies are (and have been for at least a week) showing a color difference. a handful appear white, the majority are dark and showing hints of the stripe. There are a few runts that are super small compared to thier siblings. Some of the bigger ones are beginning to show Dorsal and anal fins.
11/28 fry measure in at 8mm to 1cm. They came out and held still after the night feeding. o counted well over 80. May be even more hiding in the plants. :X
12/2 Growing fast, starting to worry that i'm not seeing ventrals since i fed MW in the early stage. Also they seem to be too big for MW anymore. Some of the dark ones are showing a black edge on thier anal fins.
12/3 I think i see ventrals on one of the big ones. Also seeing some bits of red coloring on the base of tails.
12/4 Definately seeing ventrals now. Also saw the first couple of proper surface breaths
12/5 seeing some red in the anal fins now. Also one fry seems to have developed SBD
12/6 one of the bigger ones are really coloring up. lots more red in his tail and red in his dorsal and anal fins.
Also recently got this in the mail:
That's their father.
Better pic of Mom:
[IMG]
[/IMG]
Babies:
Got a Dilemma, going on vacation for Christmas and trying to get them on something easier to feed that they will eat. Any ideas?
Are they in a 10 gal filled to the top? That's some fast growth.
Wow! Not sure if there is anything easier truthfully. Non-lives foods perhaps but they may not take to it
---
Breed for the breed, not for the money; the words any REAL breeder would understand.

You must know nothing in order to know all, for all is nothing and nothing is for all.
10 gallon for now, just increased to 3/4 full. Vacuuming/ 25% water change every 3 days or so. Both parents are of giant genetics.

Possibly thinking decaps... they do seem to like eating the bbs shells off the bottom.
they look great just like there cousins
Member
Join Date: Nov 2012
Location: Ohio
Posts: 185
Are these the same parents as the ones you sent to me? They look very similar, but you said the champion had a brother...

Mine are doing very well, some amazing colors . Haven't lost a single one!
possible... i don't recognize your name, and haven't really sold any for a while.

anyway these two are children from my other spawn, So they have lots of other brothers and sisters. A Couple of his brothers sold at the California show, they took 1st and 2nd in thier class there and the one took RBOS at that show. They are also siblings of 3 of the 4 parents in Tito's spawns.