Fancy HM x Fancy koi HM
---
Yay! I have some fry from this pair. Now to get them grown up. This is my favorite male with my favorite female so Im excited about it. The father is Superman and Mom is Binky my lil sweetheart girl. Here are a few pics of this pair.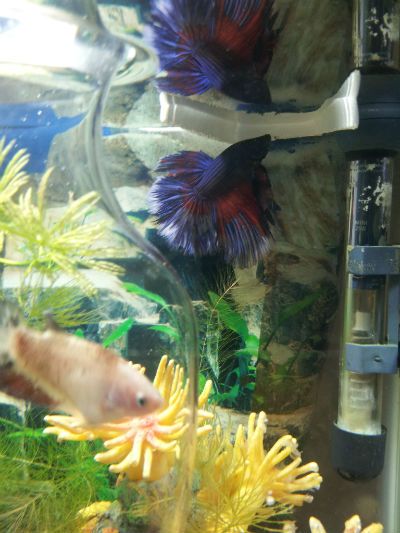 ---
Proud IBC member
Wow you're sure to have some gorgeous fry from that pair!! Congrats!!
---
Phoenix DLT Male•Dragon HMPK Male•Phantom HMPK Male•Pepsi HMPK Female•Harvest Moon DTPK Male•Dreamless HMPK Male•Randy VT Male•Turbo Zebra Nerite Snail
Very pretty! =}
---

Dei Vallie ~ HM M Pinkster ~ VT M Rheya ~ CT F Stardust ~ CT M Koi ~ HMPKEE M Zippy ~ HM M Princey ~ PKEE M Zeke ~ HMPK M Toothless ~ HM M Celestial ~ VT F Frost ~ HMPKEE M Unnamed ~ DT M PeachyKean ~ HMEE M Pongo ~ HM M JellyBeanRayne ~ VT F Unnamed ~ DeltaTDS M
Careful breeding extreme rosetail/feathertail they produce mostly cull fish.
very pretty. I can only the imagine the kind of coloration the kids will have. post tons of pics! :)
---
happy owner of a wild type GFP axolotl named Percival and too many guppies to count.
Is the female a marble? They are full of surprises.
Good luck rearing fry.
Yes she is a marble. This girl just keeps adding / changing colors. When breeding her the back 3/4 of her body turned black. Some fry are getting color and they all look very different. Blues, reds, some look like Mom. Its still early but I will post pics in a week or so when more color and size develops. There is a big difference in the fry size, Is there a reason for that? I'm changing water every second day.
---
Proud IBC member
Fry size differs is normal. I've had differences range between 0.5cm - 2.5cm. Initially, it could be caused by difference in hatching - an hour could make a big difference. Or it could also be caused by eating habits - those that eat more, grows more. Later they produce stunting hormones, thus the smaller ones will remain smaller while the big ones grow even more.

It's best to group them according to size - this will give the runts better growth. But keeping them together is OK - in the sense that the bigger ones won't eat the smaller ones.
Similar Threads
Thread
Thread Starter
Forum
Replies
Last Post
Fancy Guppys?

AlexXx

Betta Fish Compatibility

4

10-25-2009

09:22 AM