Well I used to have 4. But I sold them all. I wanted to keep my red dragon zz girl or my red dragon fader boy. I was unsuccessful in breeding sadly. I want to try again but my tank is only 50 and too small for a nice pair. I could only breed them while they are 4-5". I will post some pics in my journal so you can see them.
The spawn tank looks very empty with only 10 fry!
Banned
Join Date: Aug 2012
Location: Hogwarts
Posts: 2,082
Looking good! They are so cute!
Wow already showing colour. I see what you mean when you say you're good at raising them quickly. Mine are still tiny. How old are they again?
@mah Well 1 fry in there is 4 weeks. When I saw there was no or small hatching ( my constant problem) I re spawned. The 9 small fry in this tank are 21 days old. There is more color early than expected, the last spawns the early color fry often were the ones doing the most color changes and or color loss in weeks 8-10. Also with only so few the fry should grow a lil quicker. The key for good growth imo is frequent water changes and clean tank. I drain 50% via airstone into a bucket so no fry get sucked in and turkey baster the bottom every 2-3 days. In a week I go to everyday 50% water change schedule as the grow stunt hormone gets powerful and must be kept to a minimum. My other spawn (Chuck Norris) is exact same age as yours. I will get some pics from that one soon it will be a better comparison ie size. The fry grow so fast at this point even a few days makes a big difference. Im playing around with adding pro biotic bacteria cultures to spawns, it will be interesting to see if much improvement.

@bb123 Thank you. I love fry when little like this. So cute and they swim over to the front when they see me now to beg for food. Today I have to power clean the other spawn tank and remove some plants which are starting to overgrow and give fry trouble moving it is so over packed. Then get the Giants spawn tank ready for another try as finally some rain water to dilute the crappy tap water. I really hope it makes enough difference that the eggs will hatch this time.
No point in starting another spawn log so here is the Chuck Norris x Star F2 spawn pics.
This spawn is hatch date is May 2 so 16 days old.
Week 1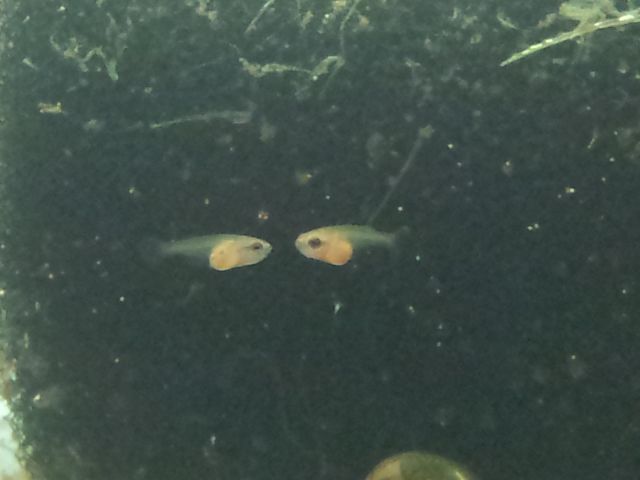 Week 2
Pic of Dad Chuck Norris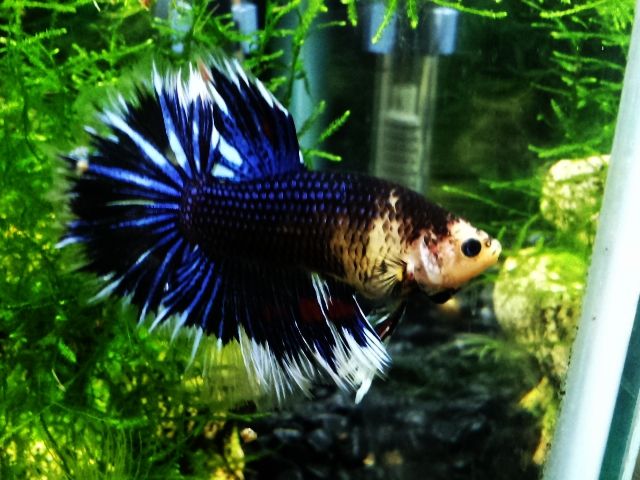 This is from 3 weeks ago so you can see he is in color gain mode.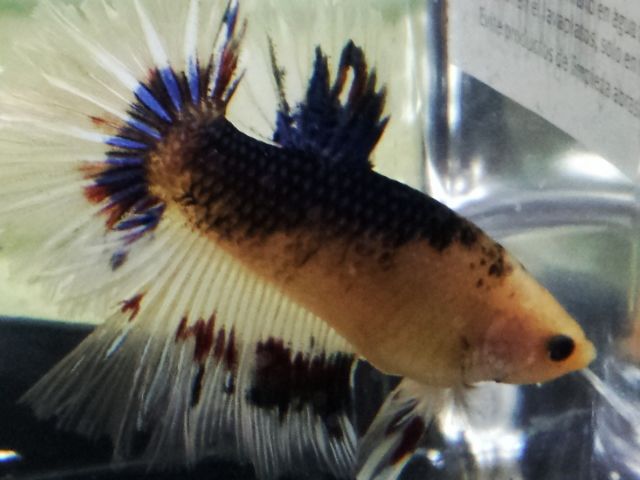 This is Mom Star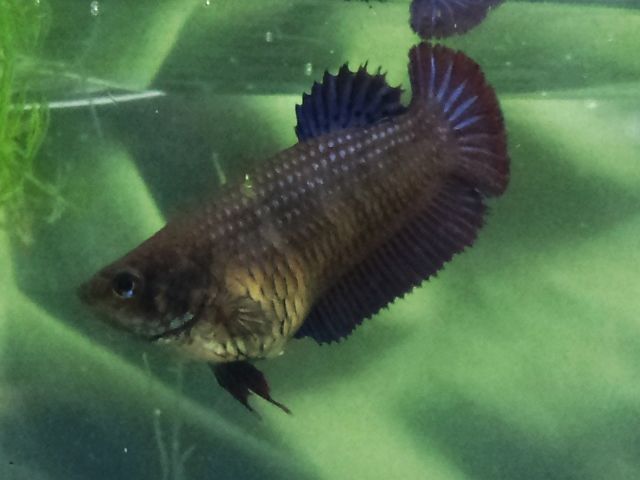 Nice. They lookin a lot better than mine. Today I will be carefully be siphoning some of the waste out and adding 2 cups of water just to be care full. I will slowly increase the amount of new water I have each day to ease them into it. So 2 today, then 3 tomorrow and so on initial I reach 6
That is good idea b. Im maybe over the top ie frequent water changes and starting to add/remove water fairly early but it works for me and using drip in/out its not that much more work. I try to average 1-2g per day in/out until week 4 when I do 50-75% water change everyday depending on number of fry and size of tank. Right now Im trying to cycle a 33g growout in the garage for the 2 spawns. Also have my Giants together hoping for some luck. They are crazy for each other but my big boy is the messiest caretaker ever and I am the worst egg hatcher ever so Im keeping realistic and not getting my hopes up too much.
Yeah that's what my parents mentioned to me, she was like why don't we just move ur tanks to the garage. But there's no room in there. Hoping one day if I continue the hobby ill get my little fish room/ mancave haha.