Day 41! Dinner time video! Some are definitely looking like daddy, and some are distinctly mommy. Some came out of no where O.o
http://youtu.be/IQZilHZUP9Q
I lost focus towards the end cause i got distracted by something, Sorry! LOL...
---
Last edited by Aluka; 10-12-2013 at

03:47 AM

.
They are getting so big! Are you seeing any with swim bladder problems? I saw a few in the video that looked like they were swimming with the tail down. As if it is hard for them to go to the top. Maybe they are just really full.

What are you feeding now.
---
100Gal Cichlid tank, 80 Gal planted Community, 20Gal planted Betta, 7gal planted Betta, 20gal goldfish grow out. Yeah I like fish.
oh they were eating, lol they do that when they are trying to catch the bbs, but they swim normal when its not dinner time. The jerky motions are them catching the bbs, lol
Day 49!
So i have stopped feeding bbs all together. My babies are now on a diet of decaps/golden pearls twice a day and blood worms for dinner. They are starting to get slightly aggressive, but i can't tell who is the agressor =( they are really good pretending to behave when i am watching them. So i have been jaring all the fry with nip fins.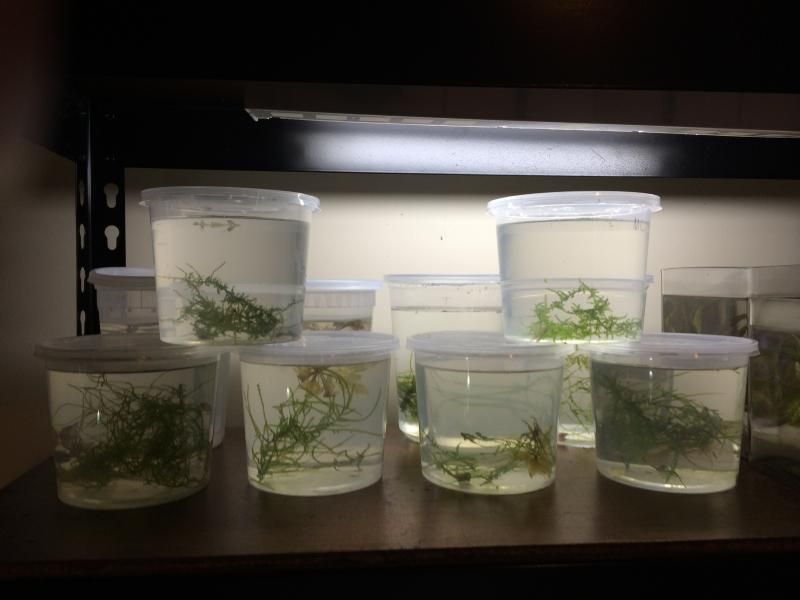 Most of them are fine, just slightly nipped, that will heal in no time. 3 of them however are nipped pretty badly. One had all of his cadual fin bitten off (my sister has affectionately named him stubby, hopefully he will heal). 2 Had about 1/4 of their fin bitten off, i am not positive if it will grow back, but i jar'd them anyways.
they are not as big as i thought they would be at 49 days, but oh well.
About 30% of them looks like daddy, blue body, blue/black lace, yellow tail:
And 30% looks like uncle, blue body, blue/black lace, red orange tail: (uncle's picture is by sumer, who is the person i brought my pair from)
About 10% looks like solid blues, or blue with a deeper blue lace, they might marble later i think:
So exciting to see them color up =)!
---
Last edited by Aluka; 10-20-2013 at

12:48 AM

.
Cute babies!

Can I ask what size the betta containers are that you are using for jarring? I think I see two different sizes in your pics but it's hard to tell.
I have 32 oz for the bigger ones and 25 oz for the smaller ones. I have been jarring the agressive ones and the tiny ones.
---
How are the babies doing?
Similar Threads
Thread
Thread Starter
Forum
Replies
Last Post
Blue marble HMPK.

snowflake311

Betta Spawn Logs

260

01-21-2014

03:46 PM

Marble HMPK Spawn Log :D

CandiceMM

Betta Spawn Logs

62

11-19-2012

11:43 AM