I'm using plastic wrap on the top, and I wasn't opening it too much I don't think. But it had been shut all night, and that's when all the bubbles disappeared. So I dunno, it's probably my fault though. The side I open is the opposite side of the nest area btw.

I think I am going to recondition and try again in a few weeks. I can tell she's been fighting back now, because the male has some tears on his dorsal. Can I condition the male in the spawning tank, in hopes that he makes a nest under the cup, then I can add the female if he does? He ALWAYS had a nest in his tank every day, so I thought he'd do well, but I guess not.
Well I removed them to separate tanks. The male is back in his tank and I'm going to go buy Jewel a new 2.5 gallon in a few mins. I don't like keeping her in a 1 gal, she's my special girl!
Shame to hear your spawn wasn't a success. I had a male eat his eggs yesterday so can commiserate. Sometimes these fish just want to make you pull your hair out.

Hopefully they will be more receptive next time around as they are a nice looking pair.
---
Thanks, sorry to hear about your eggs! I think that would have been even MORE frustrating than them just not doing it altogether.

I will try again in a few weeks. My mistake was probably not conditioning the female on her own, I left her in the sorority and fed them all the special diet. Unfortunately I don't have any mosquito larvae anymore. And don't really WANT to grow any again, it was a pain to keep up with for me. So they'll have to go without this time lol.
Today is the day....I plan on adding them back to the spawning tank. I think I am going to skip the jar this time and just add them. Any suggestions/ advice?
Here's my setup this time. Since I was releasing them together, I gave her a hide. And I have java moss now. They were released appx 10 mins ago.
Wish me (them) luck!
He already has a 2 inch x 1/2 inch bubble nest going! He is furiously working on it, and it's only been 30 mins at the most! I think it might happen this time! "Fingers crossed xx"
---
Last edited by shannonpwns; 09-16-2013 at

02:00 PM

.
Member
Join Date: May 2012
Posts: 847
Oh wow he is beautiful! I like his little speckles! If you really want to rehome him, I would be happy to take him! My next step in my breeding goals with this female was to spawn her with a yellow male. I really want to compare the color outcome in the fry between her and orange and her and yellow. Since she really doesn't have any yellow on her at all.
Member
Join Date: May 2012
Posts: 847
Well, yellow and orange are both non-red so probably interchangeable. Not sure. I know i bred him to a very clean lemon yellow(like him) and I got about 60% lemon yellows and 40% classic cambodians. Some yellows are already showing black specs so I was kinda bummed. Oh well. My fry are growing out nicely. I still have 90 or so out of 120. I did have to cull out about 10 for severe humpbacks but the rest look good. Seems to be in line with other spawns I've had with other parents.
I'll pm ya with the shipping details whenever you decide you want him.
Here's some of the kids: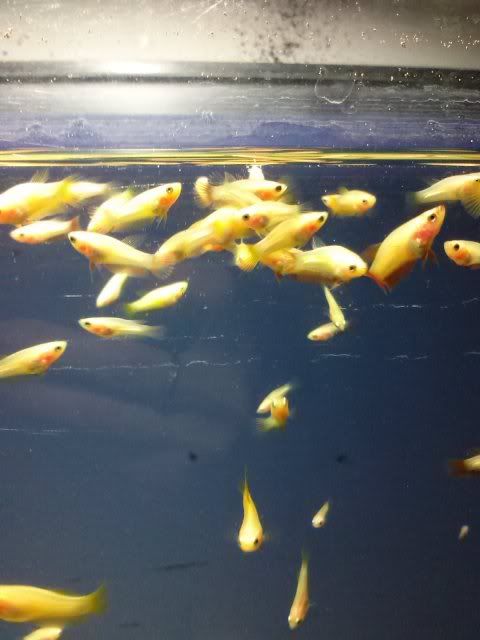 ---
Last edited by Ilikebutterflies; 09-16-2013 at

03:01 PM

.