Red Devil Metallic Male x Cambodian Female
---
Well this pairing paid off! Female was conditioned for just under 2 weeks and is just a female I picked out at the LFS. She had some nice subtle metallic hues to her that I thought were pretty interesting. I originally was going to pair her with a Copper Metallic Male but decided to make a gametime lineup change, swapping with a Red Devil Metallic male.
The male was obsessive with his nest, choosing a small piece of bubble wrap over the styrofoam. He feverishly worked on it while the female looked on. He would take occasional breaks to flare and show off, but he was a busy dude.
After a couple days, and a female bursting with eggs I decided to put them together. Day 1, male showed a lot of aggression if she came near his nest. Day 2, male still chased her and she had a few chunks missing from her fins. But late morning the male was receptive to her advances and they spawned. The whole thing took about 3 hours until he no longer tolerated her near his nest.
Removed the female and gave her a few white worms for her efforts.
Male is doing a great job looking after the eggs, constantly tending them and making sure they're all nestled into his masterpiece.
Apologies for the poor photos.
Male with eggs in the nest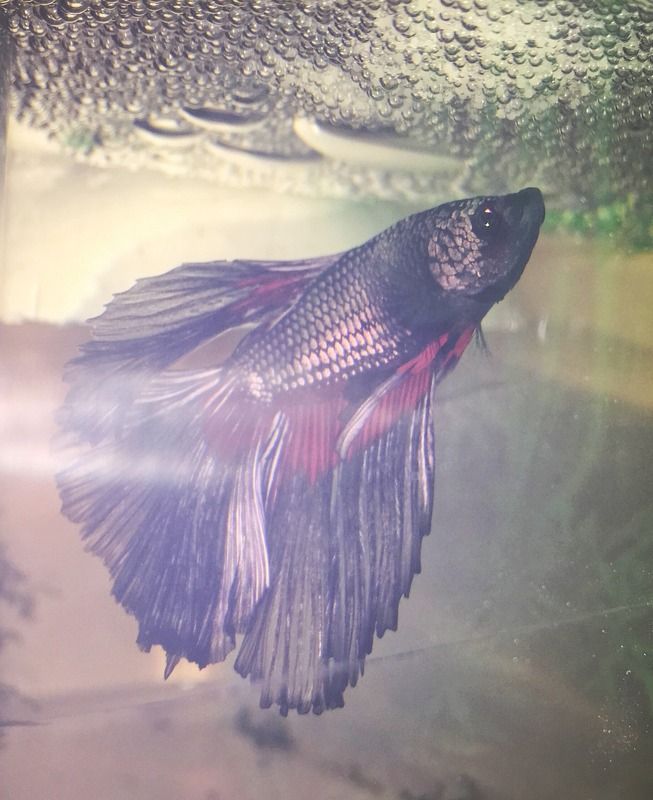 Female recovering
| | |
| --- | --- |
| The Following User Says Thank You to Didgeridoo For This Useful Post: | |
Member
Join Date: Jan 2015
Location: TN
Posts: 5,558
Awesome, following!
---
10 gallons, petco king and community fish
1 x 5.5 gallons with shrimp and plants
1 x 5.5 male veil tail with plants
Male is still tending over all the eggs. Need to start hatching BBS today!
Male meticulously looking after the nest and eggs.
New Member
Join Date: Nov 2016
Location: NC, United States
Posts: 42
Can't wait to see what the babies look like, Following!
---
Just keep swimming.
Quote:
Can't wait to see what the babies look like, Following!
Should be an interesting bunch! I honestly have no clue what to expect since the parents are so different from one another. A lot of genes at play. lol
My guess is metallic blue with red wash, maybe some light bodied fish if father is also carrying the cambodian gene. You may get copper if mother is metallic royal.. but from the picture she looks non metallic royal, if so, then the blues youll get are metallic steel aswell as metallic royal. Father looks black laced based so you may see some laces, marble also likes to come along with lace so maybe some of those too.
Finnage wise you can expect vt, delta and maaaaybe super delta if youre lucky
---
Member
Join Date: Jul 2016
Location: USA
Posts: 100
interesting pair! I have a Cambodian female I'm thinking of breeding when I get the supplies ;) Wish the best for you fry!
---
Ocean-Pony (male veiltail)
Tarou (male twintail)
Icho (male twintail)
Kessel (male dragonscale crowntail)
Jupiter (male halfmoon)
Alexander (male halfmoon)
Thea (female crowntail)
S.I.P Sebastian, Zico, Kumajarou, Allistor, Aggie, Aqua-Marine, Calypso and <3 Koda <3
Fry are just about free-swimming now! They're bouncing around in the bubble nest. Funny watching the male try to catch them and keep them in order. I'll remove him once the fry are horizontally swimming since I'm not too worried about him eating them.
Wow! This is a huge spawn! Easily 200+! Was not expecting that many! lol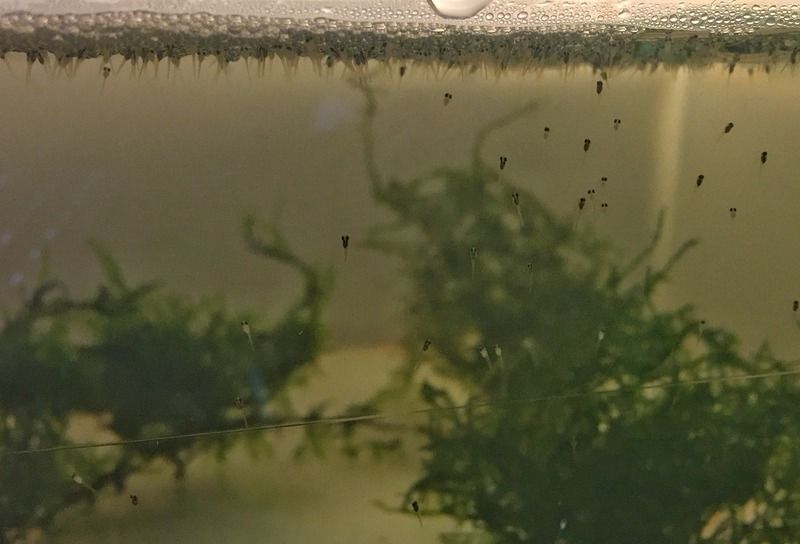 More to choose from to continue the lines! =) Neat that theres light and dark fry already!
Nick