Ok, so I might be over imaginging things, but my betta Ted seems to be a little "white around the gills" ..
Here is my aquarium info
Housing
What size is your tank? He was in a 2.5 and now in a divided 10
What temperature is your tank? 76-78
Does your tank have a filter? yes
Does your tank have an air stone or other type of aeration? he has a sponge filter, it aerates
Is your tank heated? yes
What tank mates does your betta fish live with? crowntail red younger betta across from the mesh
Food
What type of food do you feed your betta fish? Omega One pellets,
How often do you feed your betta fish? 2-3 pellets once a day, sometimes twice
Maintenance
How often do you perform a water change? at least every sunday, sometimes more if I notice uneaten food
What percentage of the water do you change when you perform a water change? 25-50%
What type of additives do you add to the water when you perform a water change? Stresszyme and tetra water conditioner
Water Parameters:
Have you tested your water? If so, what are the following parameters?
Ammonia: 0
Nitrite:no test kit
Nitrate: no test kit
pH: 7.6
Hardness:
Alkalinity:
Symptoms and Treatment
How has your betta fish's appearance changed? I think so
How has your betta fish's behavior changed? scratching himself on bottom of rocks, but he's in a new tank so not sure
When did you start noticing the symptoms? 7 days ago
Have you started treating your fish? If so, how?
Does your fish have any history of being ill? never
How old is your fish (approximately)? 3 years +
Here is his picture from a week ago:
Here he is as of 5 minutes ago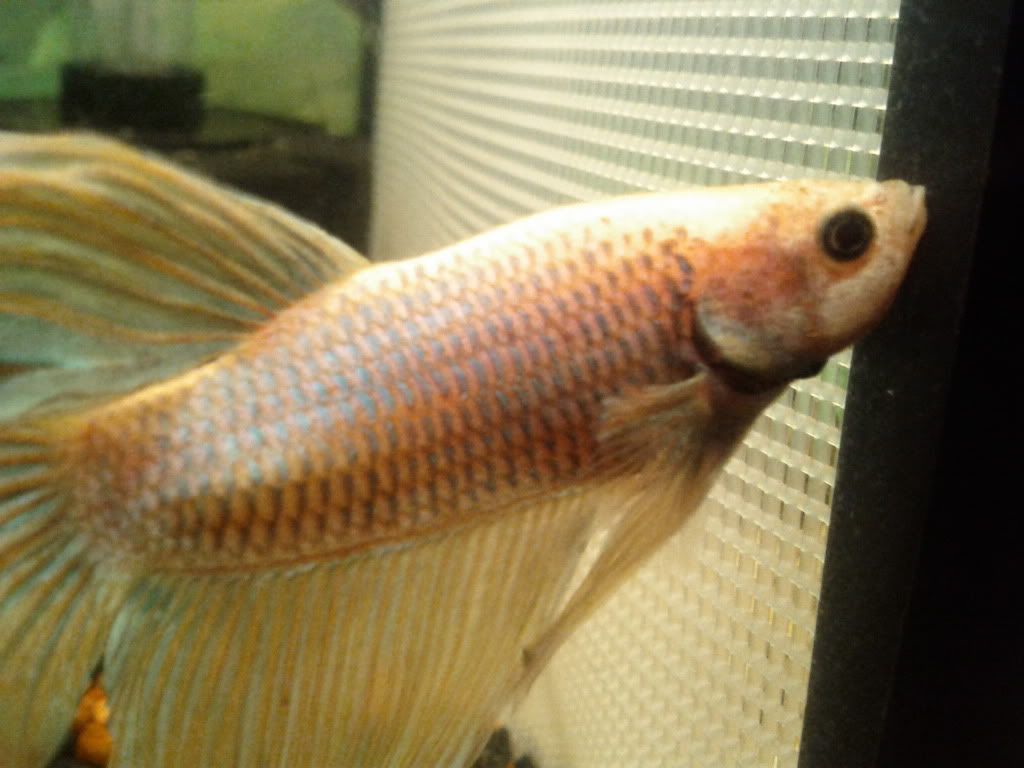 I moved him to a new tank, where my blue/pink girl used to be. The first picture is his old tank, and the second, his new tank. He is normally placid, inspecting things and not flaring. I've been watching him all day and he swims to the bottom corner of his tank and scrapes himself along the bottom corner area and then back up for some more lounging, then back to that corner.
The area under his eye is white and I've never noticed that before.
The rest of his body is fine, it's just his face. It's not fungus looking, raised, it's just like the scales are white.
I may be crazy and over protective and his color changed..., or he might have something.
Suggestions?