So I finally got all the girls in there! It's a 33 gallon Flatback Hexagon planted moderately, once I get a job and more money there will be plenty more plants once I get the DIY CO2 running. But for now the girls seem very happy with how everything is set up!
I was very pleased with my LFS (Seahorse Pet Shop) because he gives me deals of pretty much everything when I go in, I visit pretty much every week, sometimes twice lol. But he gave me a
HUGE
water sprite mother plant! And when I say huge I mean it's nearly a foot and a half long! And I only bought it for 8 dollars!!!! I know I could find water sprite online, but for a mother plant this big! 8 dollars is a steal! That plant could have easily gone for 14 dollars!! Anyway yeah, it's a good place.
So first I floated my four girls: Pineapple, Aurora, Phoenix and Cherry in cups in the 33 so Mystique could see them. I had moved and added stuff around before adding them in with the cups. Mystique flared at them as per what I expected, only Phoenix and Cherry flared back though.
I left them in the cups while my little brother and I went down town to the LFS to pick up two more girls and exchange the Walmart Male that I had picked up which I thought was a female. (Lol the guy was like, don't you want to breed them?! And I was like, I would have loved to if I had more tanks! he just laughed) So came home and floated the two new ones in the bag in the tank.
Finally I cupped Mystique and let the other six out to roam the tank, all six had come in at the same time from the LFS so I wasn't so worried about establishing pecking orders from them, I was just worried that Mystique would hurt them since she was bigger and had been in the tank longer than them.
So in the cup she went, I turned my back and looked back to see Mystique out swimming with them! The cup had tipped enough that she wiggled her way out! But she was just flaring a little here and there but mostly just hanging out with them. I was seriously shocked that she wasn't body slamming or biting, I know this can still change but I thought she was going to immediately hurt them when she saw them.
It's been about 3 hours and so far so good! Here's a small video of my tank and the girls after they were all in:
http://www.youtube.com/watch?v=j-6V9...ature=youtu.be
You can see Mystique had cornered Phoenix a little but then kind of didn't care after a few flares. At 0.41 Pineapple comes up and then it goes to Stardust (Auroras twin) and then I stalk Little Blue. Cherry takes the camera over and Mystique rushes down to join in and then Phoenix (Little blue can still be seen in the back) and then Pineapple joins back in.
Sorry for the glare and the fuzzy quality of the video >.< And lastly here are some pictures for you!
Mystique glaring at Phoenix and Aurora is just like "what's going on guys?"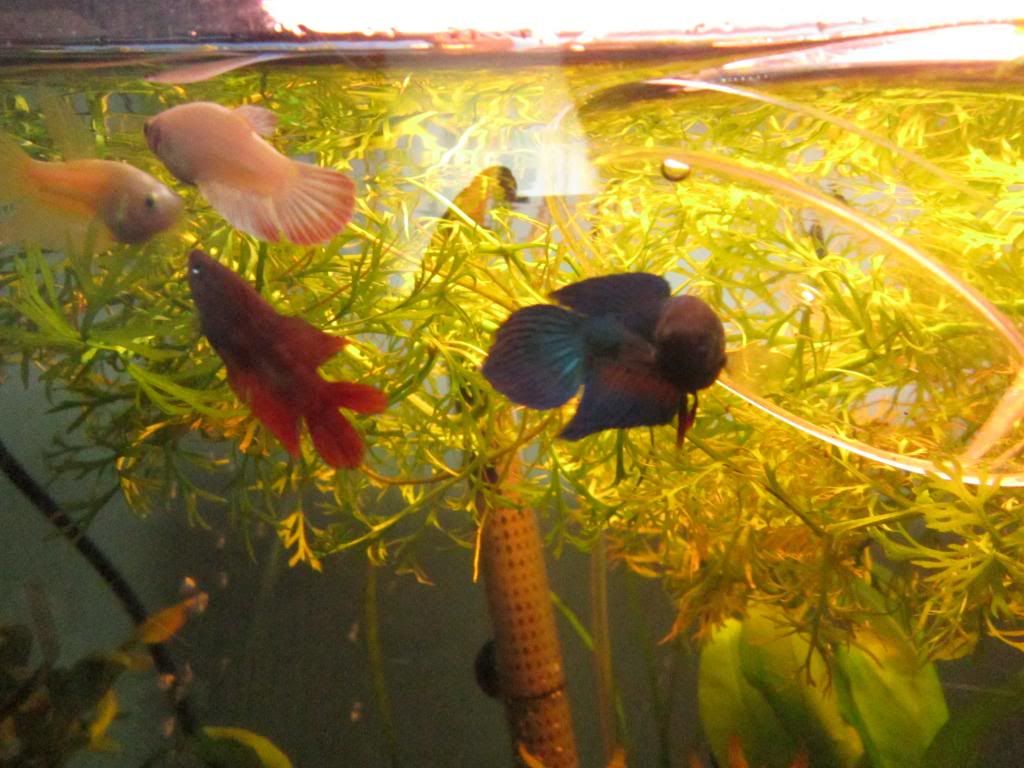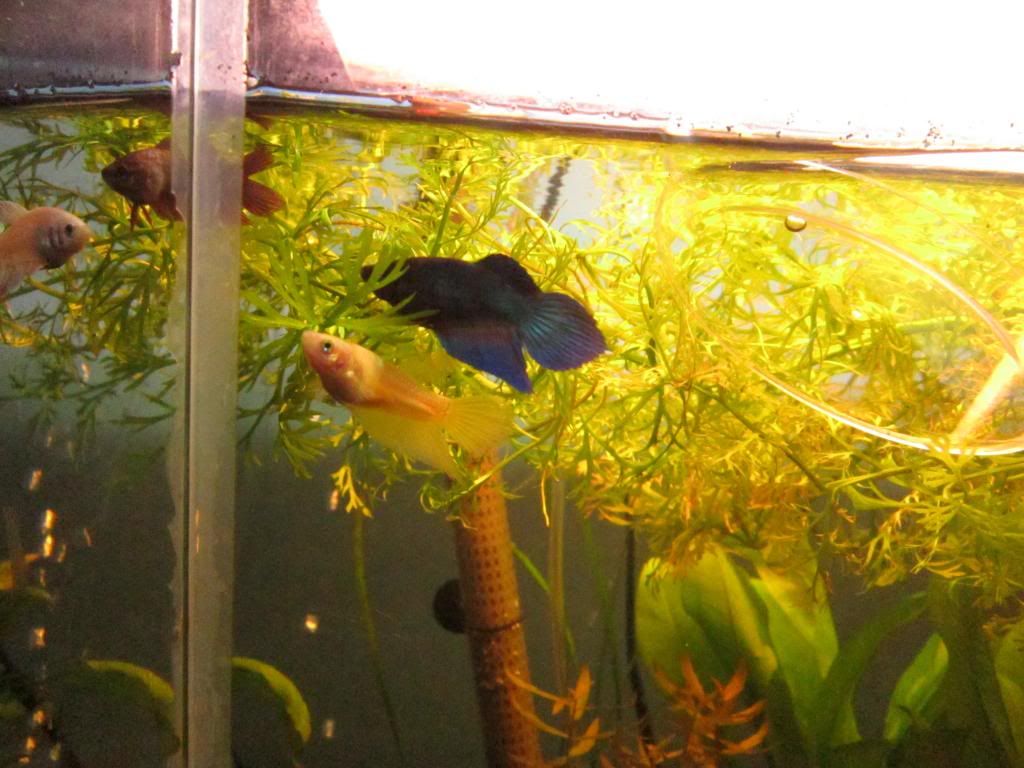 Here's Little Blue although she looks more blue in real life. At the moment she's steel colored with a bit of a red wash.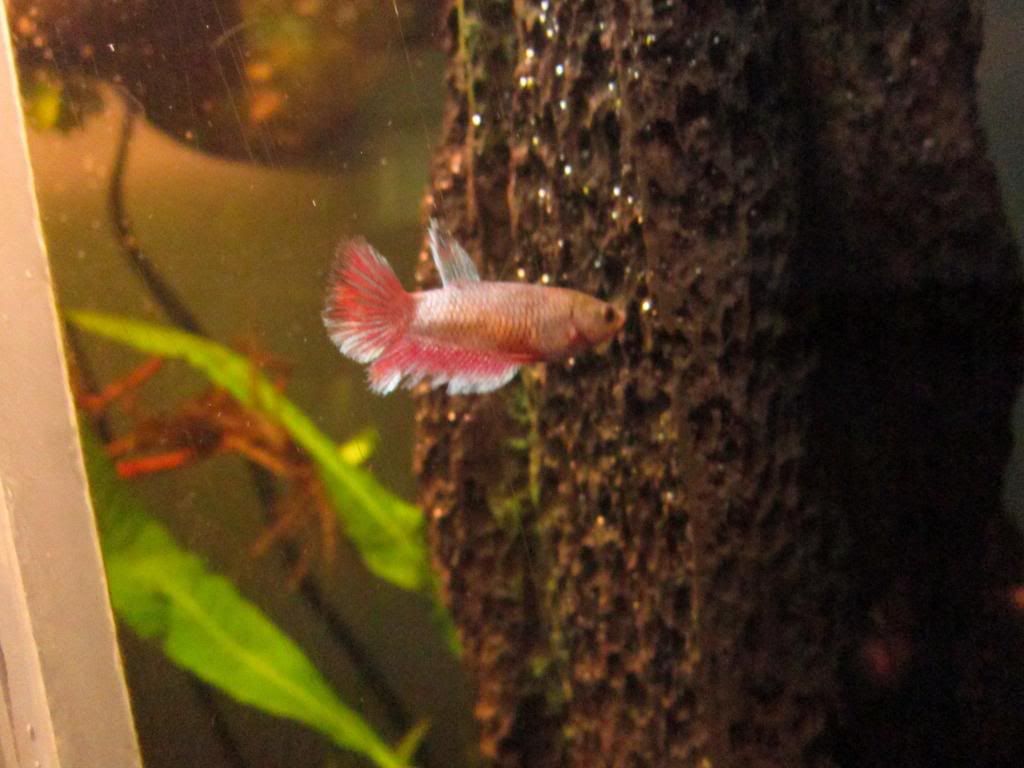 Cherry and Phoenix
Pineapple and Mystique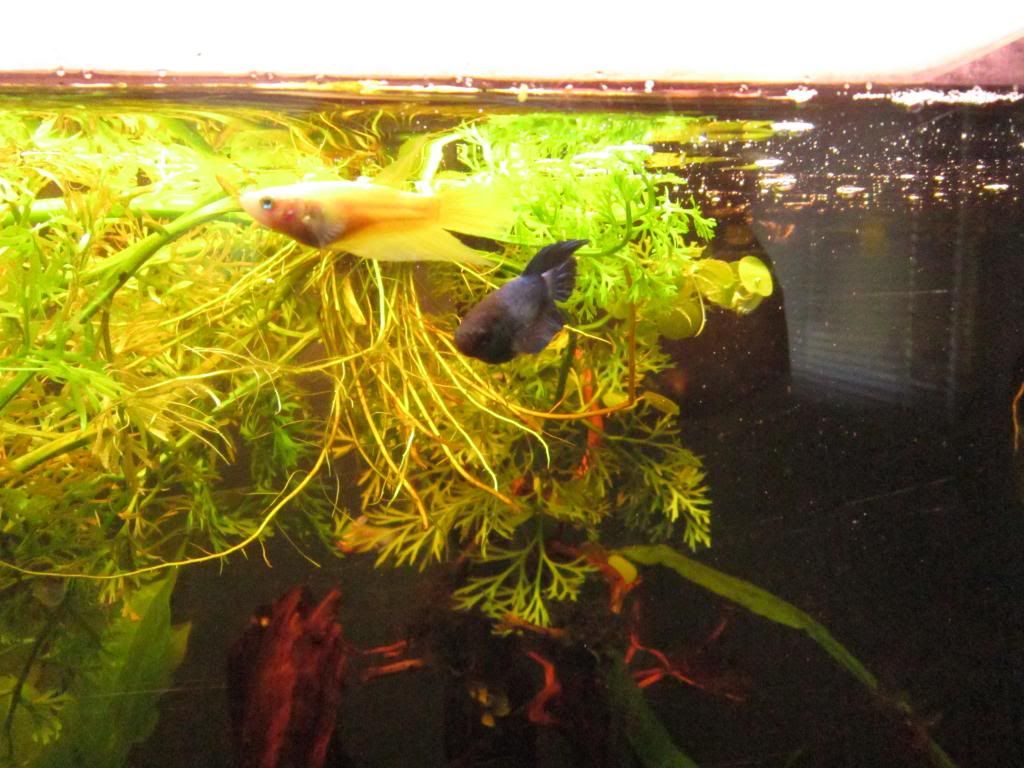 The Twins! Aurora in front and Stardust behind. And no Aurora isn't missing an eye, it's just part of the glare unfortunately.