Hi there. Victor is my family betta. Here's what I've been asked to tell you.
He's in a 3 gallon acrylic tank with a wall-mounted filter and a substrate heater. Other than the bubbles from the filter, I don't have an aeration source in the tank.
His tank is currently 77 degrees, and it usually stays between 76 and 78. Sometimes at night in the cool spring, it gets cooler in the house and the temp will drop as low as 74.
Victor lives alone. He is a very active, curious fish. He likes to hide and nestle himself between the wall and the filter, which FREAKS me out, but he seems to have fun with it and can get himself out just fine.
I feed Victor twice daily. 6-8 tiny granules (they're about the size of yeast) of API fish meal free pellets. Once a week I only feed him once, or not at all.
I change his water every 7-10 days, doing a 30% change with room temperature betta conditioned water.
I don't currently have an ammonia test kit.
We've had him for six weeks, and he's been in excellent health.
So, for 10 days now, my kids have had a RAGING stomach flu, and I haven't done anything with Victor but feed him. Last night I took some time for him and did a water change, and watched him swim around, when I noticed his fins looked... weird. Kind of withered on the ends, and there's a couple minor places where his fins are ripped or torn looking, and one place that has a big chunk out of it. I immediately thought fin rot, and dropped in a teaspoon of Bettafix (.02% melaleuca)
Now I'm doing more reading about it, and I'm not sure what is going on. I have lots of photos, some of him when I first brought him home, and more that I took today. I also took photos of the tank.
Victor when we first got him:
Victor now: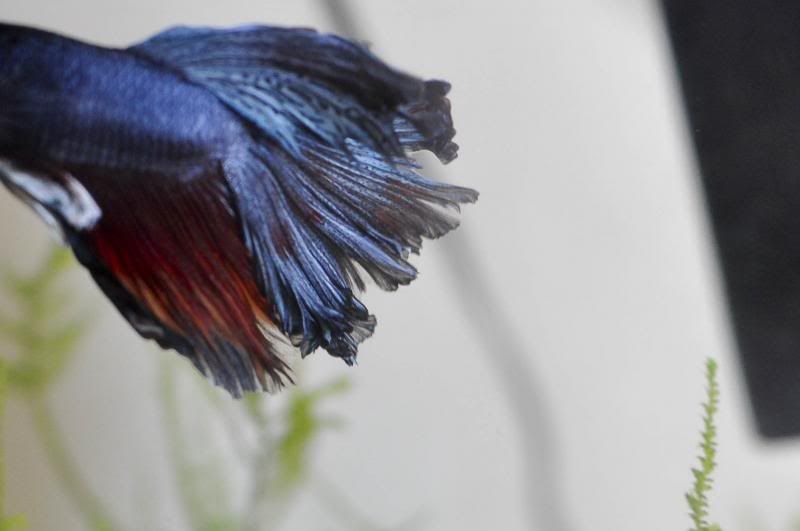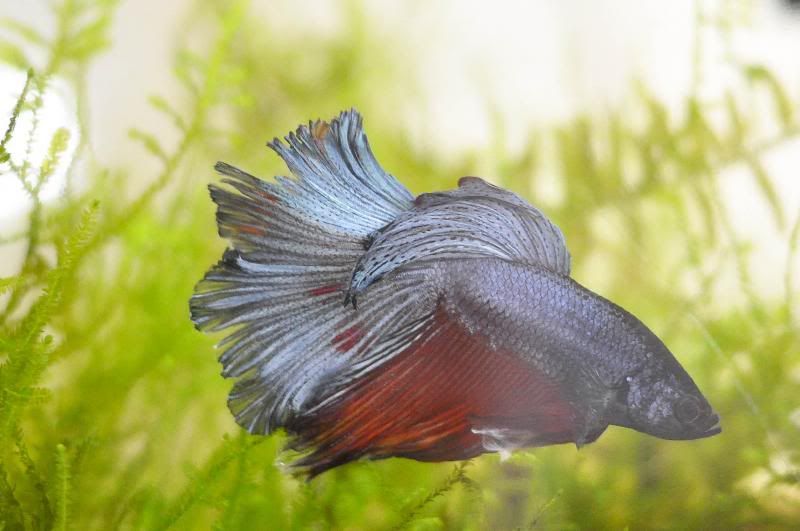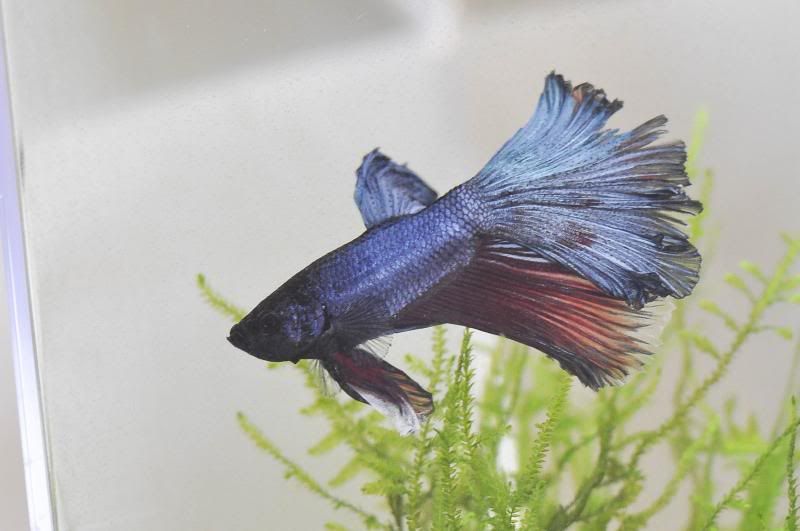 Victor's tank:
http://i54.photobucket.com/albums/g1...ps1905a69b.jpg
Thanks so much for your insight and advice!