Hello! I apologize in advance for the length of this post, sorry about that!
First let me start off by saying I am a complete beginner with fishkeeping. I've done a lot of research for the purpose of taking a fish with me to my first college dorm this fall, but there's a whole lot I still don't know. I love animals and have always had pets; the only animals allowed are fish, and a betta seemed like it would be a nice companion. My sister has also has a betta, along with a trio of zebra danios (by the way, is this an okay combination? Danios like groups, right? That's why we added more. The betta was alone with one danio until recently and they were fine), since about January.
I got a tank set up today:
[IMG]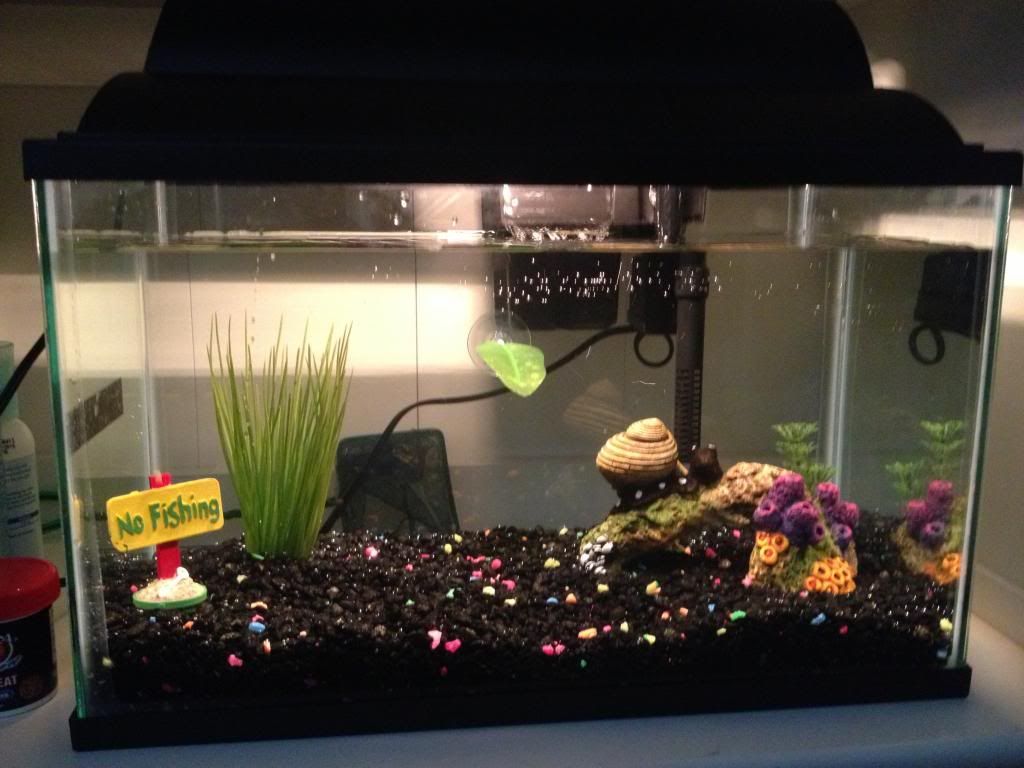 [/IMG]
There is a filter, and the appropriate amount of Top Fin Betta Water Conditioner was added. The tank is a Top Fin 5.5 Gallon Starter Kit, if that matters at all. I do have a Tetra Submersible Heater, but the stick on thermometer (I understand a glass one for the inside is probably better, and will be getting one) has been giving a consistent reading of 82 degrees.
The strip tests gave readings of I think 0-20 nitrate, 0-.5 nitrite, a hardness of around 150, an alkalinity of 80, ph of 7.2-7.8, and ammonia of around .5. (My colorblindness might have put the numbers off just a little, it was pretty hard to tell). How are those readings?
I know now that live plants are better and will be getting some in the next few days; they'll help with water quality, right? Any reccomendations or tips?
The food I have is Omega One Betta Pellets, with a seperate container of Omega One freeze dried bloodworms. Is this alright?
On to the betta, the most important part!
This is Odysseus, who I got from WalMart earlier today.
[IMG]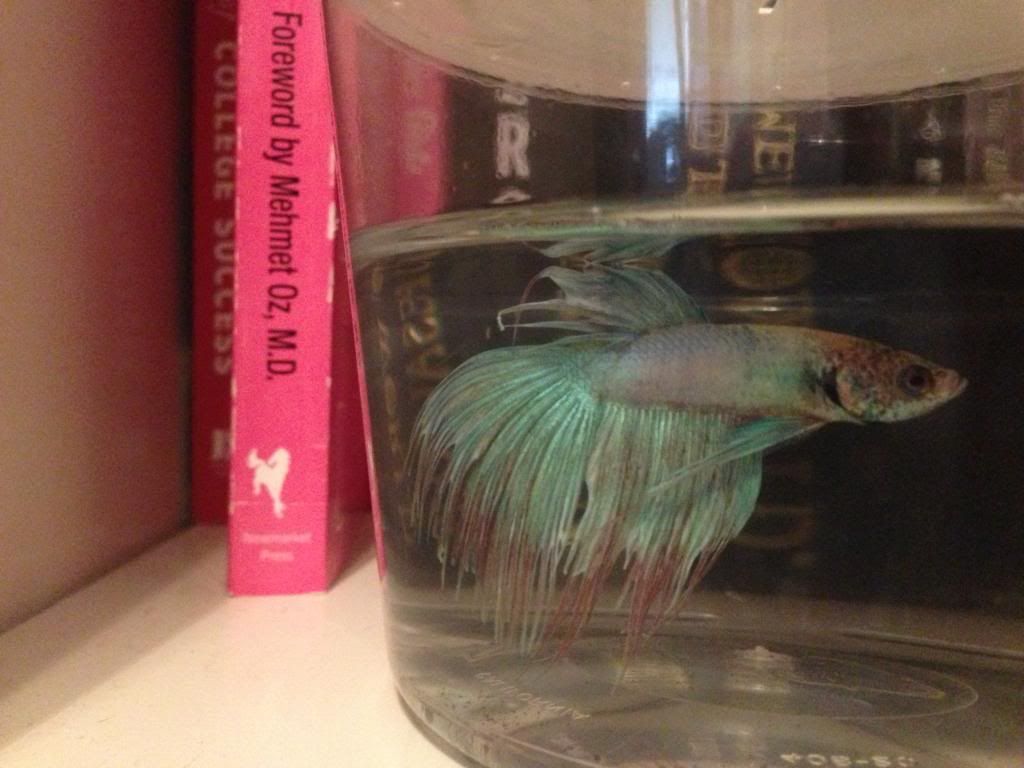 [/IMG]
I have looked at other fish before, but when I saw Odysseus, scraggly fins and all, it felt like there was an instant connection. Is that silly to say?
He's in the little cup he came in until tomorrow, when I will put him in his new home. Would this be alright? Any tips on cycling the tank or acclimating him? I know I have to make water changes when the ammonia reaches a certain point, right? I figure at this point anything is better than his little cup, it's filled with waste and kind of dirty.
Otherwise, does he look alright? He's a crowntail, but his fins look a little ragged. I'm hoping that will heal with fresh, warm water and that he'll gain some more color. He's fairly active, and swims to the surface to get air fairly frequently. He's gotten a little less skittish when I approach him now, and ate the bloodworm I put in his cup. Anything I should be looking for as far as behavior? He seems like a sweet little guy so far.
If there's anything I'm forgetting or any advice you may have, please let me know! I really appreciate the help, the last thing I want to do is kill him, and you all seem so knowledgeable! I've visited this forum before a little and I am excited to be a part of it. Again, sorry for the length and thank you for your help!
Here's a couple pictures. (I love the last one, his little face!)
[IMG]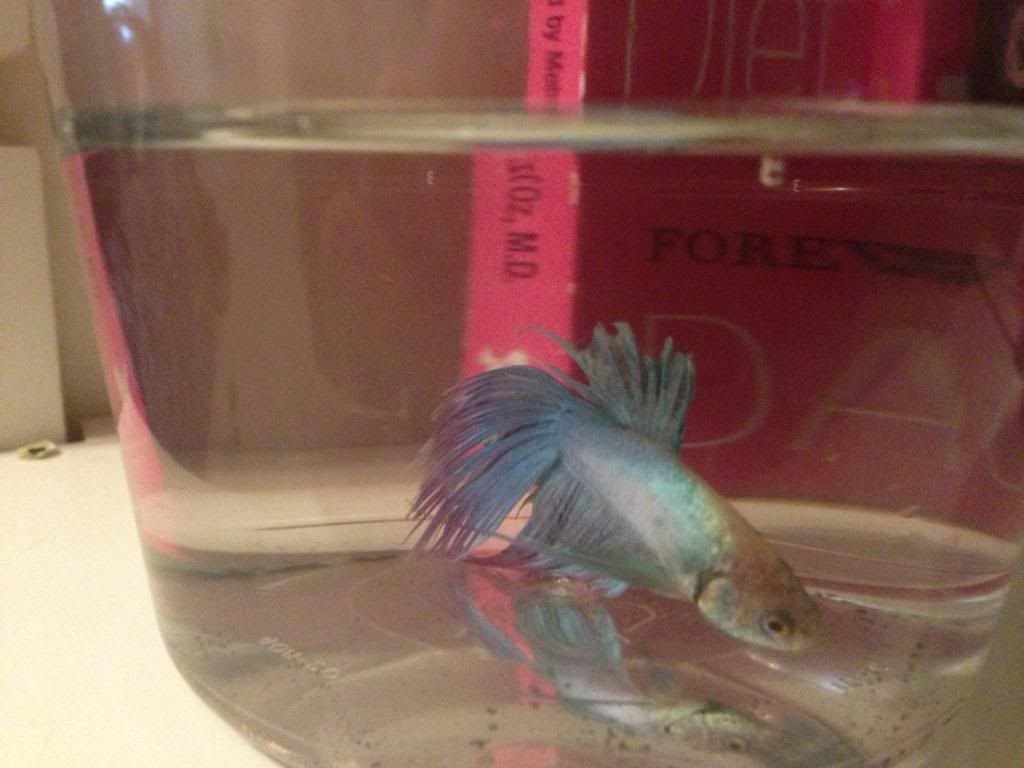 [/IMG]
[IMG]
[/IMG]