Hi, everyone! I'm new here.
I'm so glad I found this forum all about bettas. Here are mine! (All 3 are from Petco.)
This is Gatsby, the double tail. He's been with me for a week now. His colors are dull at first glance, but I fell in love with the turquoise streak on his top fin.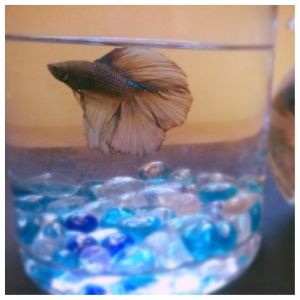 I bought Sasha as a baby over a year ago, not knowing her gender at the time. She was teeny tiny but is quite a large veiltail now. An aggressive girl when I put any fish beside her bowl.
And my newest of the bunch, baby Luna! I was surprised when I found her at Petco a couple days ago. They don't usually sell any other kind other than baby veiltails. Looks like a marbled female doubletail, but only time will tell. Spunky hyper little thing.