Hmmm. I had no idea that tap water would be
necessary
for fish. I know that where I live there are trace amounts of fluoride in the tap water, which is why I don't use it for my other pets. I assumed it was bad for fish too. I know also that the water conditioner gets rid of chlorine (which is not good for fish, right?). So I thought by using fluoride-free bottled water, I'd avoid both.
And yes, I have the API Freshwater Master Testkit. It cost QUITE a bit, AND I had to break one of my don't-buy-from-bad-pet-store rules to get it >.<
Thanks for all the advice! Will definitely follow what the experts recommend.
Ferrets are real fun too! I fostered one for a while! All I can say is they are like... like... hyperactive 4 year-olds with TONES of attitude. But then again, their personalities can vary a lot! Some ferrets would rather romp with other fuzzies, while others love cuddling with their 2-legged humans. They need yearly shots (like dogs), vaccinations, regular flea treatments (for those that get outside time), nail clipping, bathing, ear cleaning, teeth cleaning... They're a handful! Oh. Plus they have a very
distinct
smell! LOL. I know I didn't mind it, but some people do.
Pics from this morning:
Mmmm. Breakfast: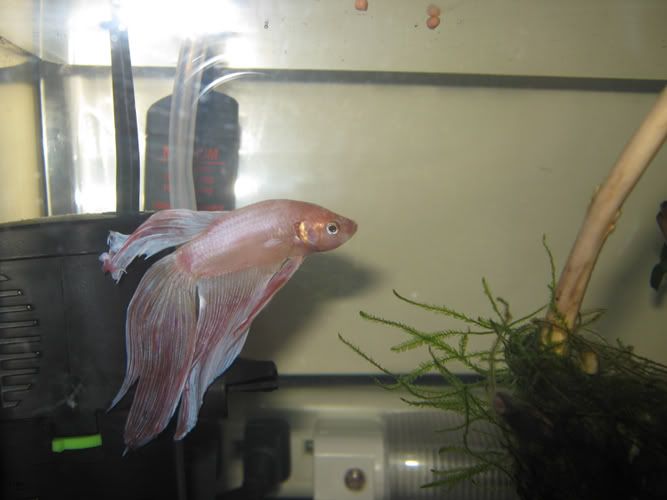 :D I should stop posting here and go start a thread in the "Betta Pics" section >.< But he's just so pretty!