we started out with a 10 ga. tank and a male betta, Raxicor. He didn't make it :( so, instead of getting another betta, we got some Neon Tetras, Tetras and Lamp Eye Tetras to put into the tank to get it through the Nitro cycle first. After about 2 weeks of those guys in there, we got another Male Betta ("Bait"). He is the most un-aggressive thing in the tank! I don't know if it was because the other fish were in there first and already had their pecking order/seniority going on but Bait pretty much staid by himself and didn't both any of the other fish (trust me, I am not complaining!).
Then, we found a 55 ga. tank on Craigslist for a great price and got it.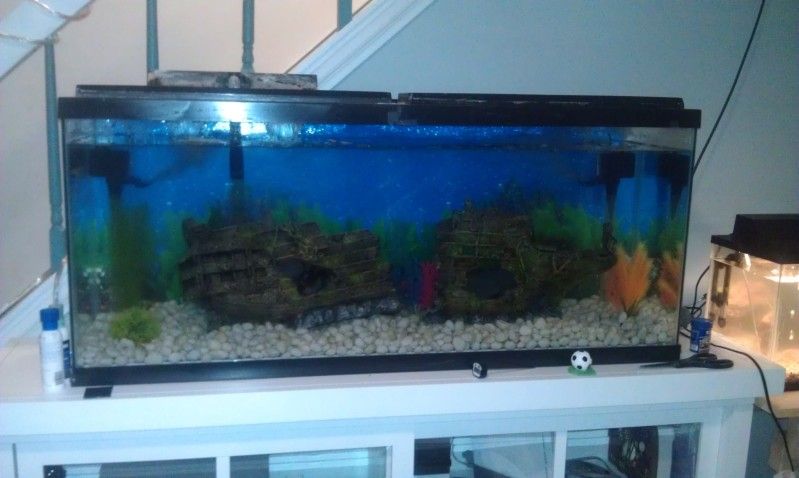 and the few amount of fish we had in there made it more like hide and seek for us vs. anything else. So, we went and got more fishies....2 catfish, 6 yellow guppies (male), 2 Lamp Eyes (we had lost one in a freak accident that morning), 2 Blue Rams. Everybody seems to be getting along and everything is working out good. I love watching the guppies, they like to ride against the current of the Jet pump and they look like the fake fish you see on shows like Sesame Street just sort of suspended in air and then they jet forward or backward. It is really funny.
In the 10 Ga. tank we had a cave and a bridge. one of the Lamp Eyes claimed the bridge and the other claimed the cave so we called them Troll and Bedrock. We found Troll dead yesterday morning. I think he got caught in one of the plats and couldn't move and drowned so, that is why we got the other 2 Lamp Eyes (named Danny and Zack which are two radio personalities I listen to i the area) because Bedrock was looking really lost and lonely.
Here is a pic of Bait with one of the Blue Rams and Army Dude....