Yikes, I've been busy! As some of you know, about two weeks ago I brought home two very sick rescues, along with a new adoption and a gorgeous petstore purchase that I just couldn't resist. Since then, I've also brought in three new adoptions and have been preparing for a sorority, which will see its first day this Friday. :)
This afternoon I did a bit of sorority-prep shopping, and, well. Long story short I came home with three rescues (I don't even know HOW), all of who had swim bladder problems to varying degrees and two of which appeared to be quite literally on the brink of death when I found them. My stupid bleeding heart, right?
Anyway. The boy who was the worst-off is, at least, not dead. Warm, clean water is doing him good-- he was too weak to even swim out of his cup into his new tank at first, so I had to cup him in my hand and slip him in. For awhile he just rested and acclimatized himself, but now he's swimming well and poking his nose into things, although doing so at a bit of a lopsided angle. I've named him Thistle.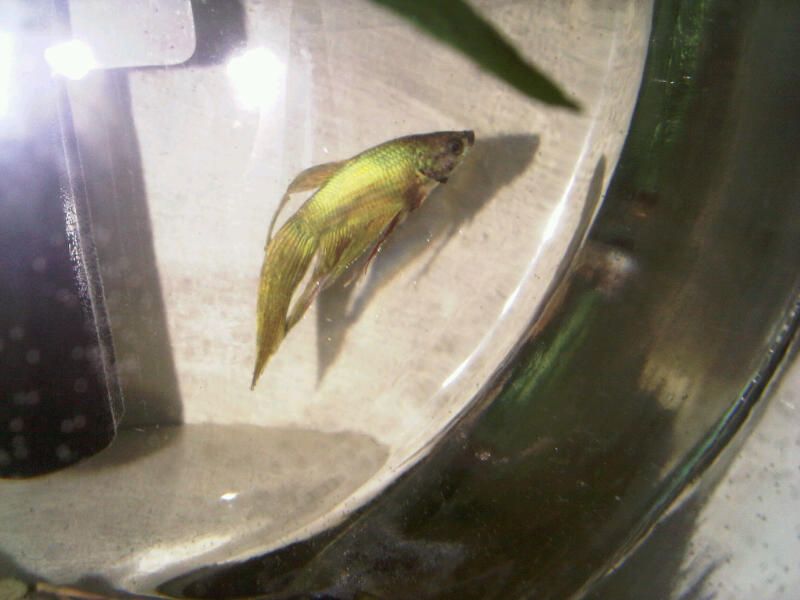 Next is Niles. For the most part he's doing better than his brother; he's also having swim bladder issues and needs to take a lot of time to rest, but he's colourful snd the stress-stripes he had when I found him have faded.
Havlock, the third, is doing the best out of the three. Although he was going belly-up in his cup, being in a bigger, cleaner environment completely turned him around. Unfortunately he's pretty much impossible to take pictures of, so I had to snap one while he was resting on top of his heater.
I also have three gorgeous new adoptions at home now! They came to me about a week ago; I unfortunately don't know as much about their history as I'd like to, but I'm absolutely charmed by these little guys nonetheless. First up is Malin, a gorgeous dragonscale HMPK. I believe he has a slight vision problem, but besides that he's perfectly healthy and active.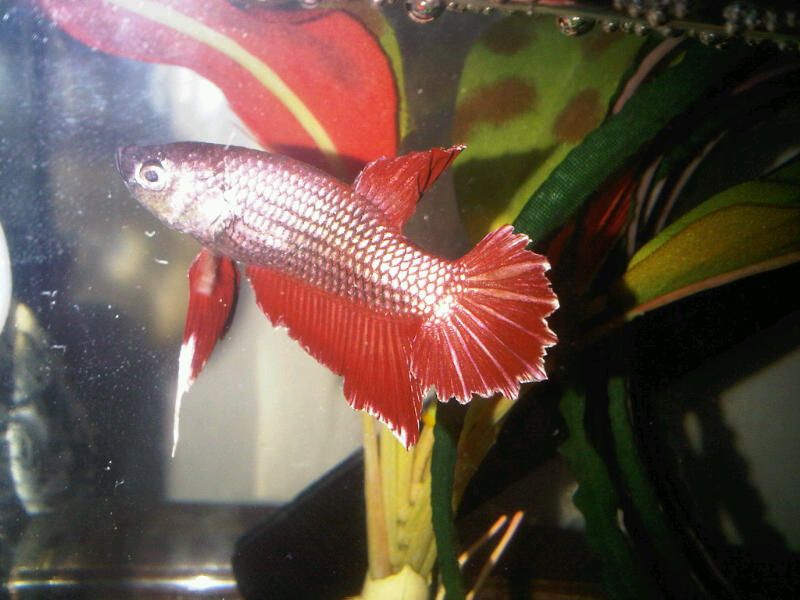 The other plakat I received is Ladon, who I believe is an adorable little dalmatian! He was a last-minute 'do you have room to take one more' adoption, and I'm very glad I said yes-- despite being hilariously aggressive towards my other boys, Ladon is perfectly sweet around people and loves eating food off my fingertips.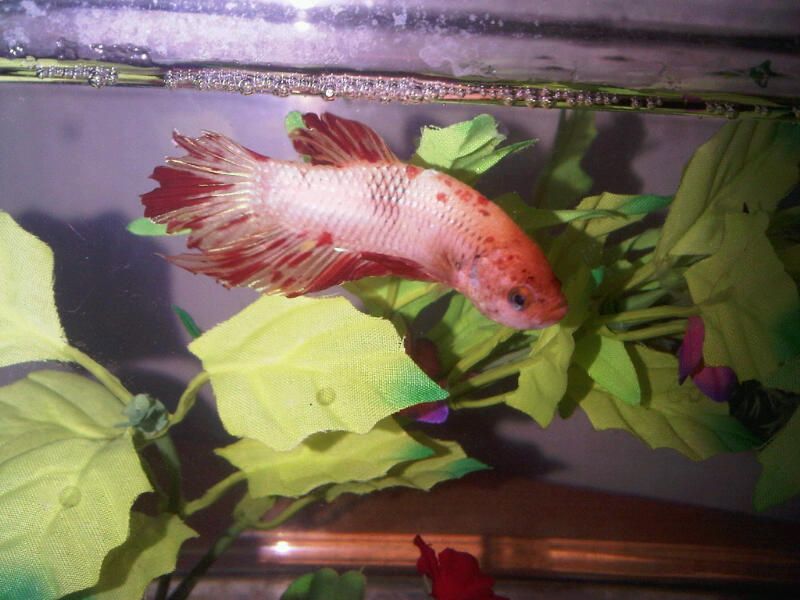 And finally there's Desi, the superdelta. This little guy is recovering from some pretty bad fin rot, but as of about four days ago he's officially beaten it and his fins are starting to regrow. <3 He's very skittish and exciteable, and has the most beautiful colouring-- you can't see it very well in the picture, but he's mostly purple with a minty-green shine.
And while we're on the topic of regrowth, I might as well post status updates for Arro and Ripley, my LAST set of rescues. Arro is recovering from severe ammonia poisoning and burns, as well as a chunk missing out of his fin; his colour came in splotchy and pale, but his tail is growing like crazy and he's gotten through it like a trooper.
Ripley, similarly, had some bad ammonia poisoning, and a ridiculous amount of fin-melt (to the degree where I couldn't even tell his fin type when I first saw him). I guessed crowntail, and apparently I'm half-right-- his fins are growing in spiky, but they're not diverged enough to be totally a crown. Regardless, he's unique and I adore him.
And before I forget: today we brought home the very first lady for our sorority. Her name is Abily, and based on her colouring and age I have half a mind to suspect she and Niles are from the same spawn. On Friday we'll be getting another six (all sisters, red and black HMPKs) from a local breeder, and rounding out the number with a final three from the local petstore (who've guaranteed us first pick of the new shipment!).
Starting a sorority is in equal parts exciting and terrifying for me, but it's a joint venture between my sister and I, and I believe we're more than ready. I'm so looking forward to meeting the breeder's girls and bringing them home, and then getting to pick out our final three. It'll certainly be an experience!