Hey guys, I really would like some help or input on what I can do to help one of my boys maybe get better. Three weeks ago my betta Rumpelstiltfins suddenly turned ill with what I thought was internal parasites or SBD, so I've been treating him with a pinch of epsom salt while keeping him floating in a petco container so he could get to the surface better.
The symtoms I was dealing with before was him acting lethargic, not eating for a while, pale coloring, and he still is having difficulty moving and is laying on his side with his head pointed slightly upwards. I have been doing water changes every single night since he got sick and he was slowly showing signs of improving, even started eating again last week and got some of his color back until I checked in on him just a little while ago. His fins have started to 'melt off' and fall apart and his water was suddenly really cloudy, which is weird because I had just changed his water last night and he's back to looking deathly pale. =/ I redid the 10 gallon he was floating in and turned it into a hospital tank, adding in some jungle all-in-one treatment in hopes that will help him fight off whatever this is.
I only use water which has been stored for a night or two in 1 gallon cartons, all of my other bettas are perfectly healthy so I doubt it's the water but I tested it just to make sure and everything seems to look a-ok.
Here's a pic of him so you can see what's up with his fins;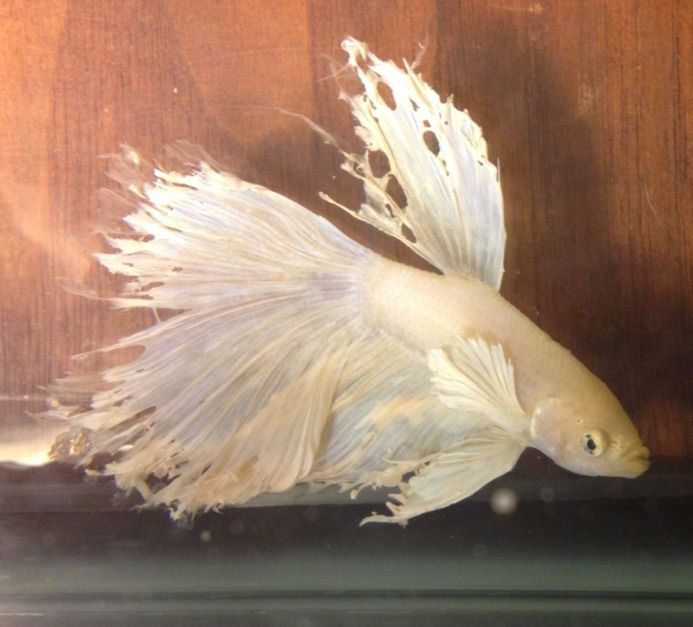 Any help or advice on what I could do for him would be really appreciated.
Housing
What size is your tank?
He's been floating in container for about two weeks so he could reach the surface better, but I redid the 10 gallon he was in before that and filled it with two gallons of water.
What temperature is your tank?
80-82
Does your tank have a filter?
It has a sponge filter.
Does your tank have an air stone or other type of aeration?
The air stone in the sponge filter.
Is your tank heated?
Yep.
What tank mates does your betta fish live with?
None.
Food
What type of food do you feed your betta fish?
New Life Spectrum Betta Formula.
How often do you feed your betta fish?
Twice a day, about three or four pellets depending on if he eats the first couple or not.
Maintenance
How often do you perform a water change?
Was changing the container I had every night, but I change the ten gallon every few days or so.
What percentage of the water do you change when you perform a water change?
I was doing 100% for the container, and was doing about a 25% to 50% for the tank depending on how dirty it looked before he got sick.
What type of additives do you add to the water when you perform a water change?
I was using a pinch of epsom salt every water change since he's been sick, but for normal water changes I use Prime.
Water Parameters:
Have you tested your water? If so, what are the following parameters?
Ammonia:
0
Nitrite:
0
Nitrate:
0
pH:
n/a (can test if needed)
Hardness:
n/a
Alkalinity:
n/a
Symptoms and Treatment
How has your betta fish's appearance changed?
He's gotten extremely pale and his fins started randomly 'melting' off today. He normally has a pinkish sheen to his scales.
How has your betta fish's behavior changed?
He used to be energetic and swam around and interacted with me a lot, but now he's barely moving and lays on his side at the bottom with his head sort of lifted.
When did you start noticing the symptoms?
Three weeks ago. He was getting better until he took a nosedive today with the melting fins.
Have you started treating your fish? If so, how?
I just started using the jungle all-in-one treatment but was treating with a small pinch of epsom salt until now.
Does your fish have any history of being ill?
He was perfectly healthy before this, didn't give me a bit of trouble aside from a few torn fins from being shipped when I first got him in January.
How old is your fish (approximately)?
About five or six months.