I will cover little of most of my pets. It's been an experience with starting my sorority and teaching a new kitten manners all in the same week. For now I will talk about the sorority. FYI I tend to skip words and letters when I write I've been like that since I was a child. I try to catch it but sometimes I miss things. Thanks for understanding.
My sorority has been up for about a week. It was a little over two month undertaking of getting my 29 gallon NPT tank ready, finding all my girls,snails, and quarantines and generally just learning things I needed to know.
The biggest challenge has been getting plants to grow. Being optimistic and a gardener I figured I would be successful but some plants failed some others are doing well. There's lots of $$ for a novice to find out what works and the grow out time takes awhile. I still supplemented my live plants with silks and later some plastics. The fish are worth it but doing gallon water changes for 18 fish every three days starts to get tiring. Id did it. Plus I have 14 males and 2 females that won't go in the sorority. It gave just a taste of what it must be like to be like for a breeder on very small scale. My first occupants were Malaysian trumphet snails and later Eureka my Mystery snail (she is big!) I think the snails adding their "fertilizer" is when I saw progress with my plant. I avoid adding plant fertilizer and I had read it spurs algae growth.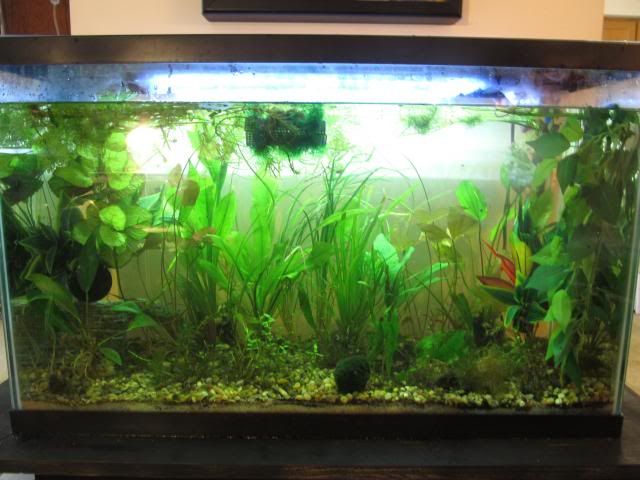 Sideview I don't have all my hardscape in. It still needs some prep.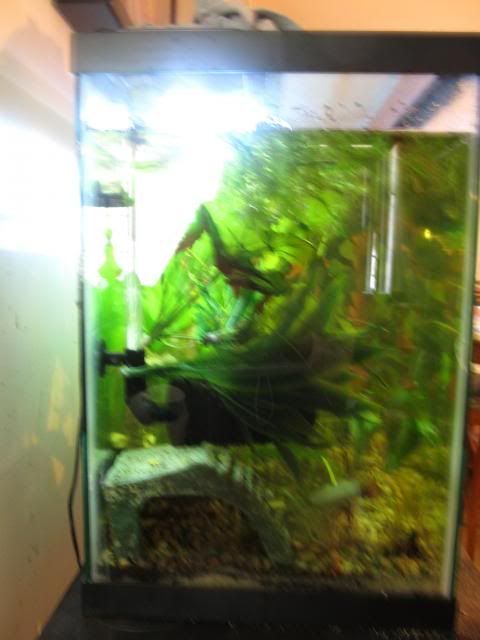 This is Eureka I wish I could caught the whole scene of her on this Moss ball it was neat. She is neat to watch and I'd suggest a mystery snail for any large tank.
http://youtu.be/Wn4TiVWzmfQ
Next I will post some of my girls where I have individual pics and some group photos. They came from petstores, I found an EE plakat at Walmar that I could not resist and some were from Goldfishies some free fish he needed homes for plus I one I bought, and 7 were from two USA sellers on Aquabid. I would have liked stunning but but I had to be practical so aside from shipping I didn't pay much for the girls.