im worried that my beta has, or is showing signs, of fin rot. i tried getting a good picture of him but he was in an energetic mood. ill try to get a better picture later. I feed him pellets, he has a one gallon tank, i took out about 1/3 of his water and replaced it with new water about 2 days ago.
Sometimes Ill give him little bits of sun dried brine shrimp. He doesnt seem unhealthy and as far as i can tell his water looks clear. He was a recent birthday present and had a 1/2 gallon tank before i changed it to a 1 gallon. from the picture you can see he has a filter in the middle and a light for his tank. There was a lot of confusion on what kind of water to use for him, so he has been moved around more than he should have.
My tap water that I use i know for sure has a pH of 7.2, and is very hard. Im getting a new pH kit soon to check again and make sure.
He eats in the morning and at night, i try to use one day of the week to not feed him. I dont know how old he is, but he looks pretty small to me. My friend bought him at Wal-mart, and i dont remember seeing the torns in his fins when i first saw him. There was a sharp plant in his old tank that i believe made the first torn in his top fin, and I recently had gotten him another, round plant, to see if he would like that but as soon as i saw he had another torn on his tail fin i took the plant out. Ive seen a tiny white/yellow spot on his tail fin, so i dont know if fin rot is getting to him or not.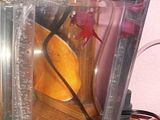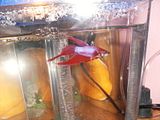 ill try to get a picture of him when he's floating, but i usually seem to catch him when he's swimming around like a mad fish.
any help is appreciated.