I know this sounds weird but, my betta looks blotchy. On his face some of his scales are getting whiter (not ick). Also, some of the scales on his face look more red then others. He had some white scales on his face when I got him but there are more on his face now. Also, his color is getting really un-even. Not more pale... just really mixed together. I know bettas go through color changes but, i don't think thats it.
I tried to get some picture but he is one of those bettas that swims away when you put a camera by his tank. The best picture i got of him was with flash, so i don't know if it will much. I will post before and after pictures and the questions from the sticky.
Before: You can see some of the white on his face.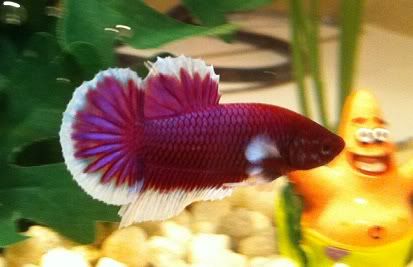 Picture with flash: You can really see the Blotchy parts and the un-even color.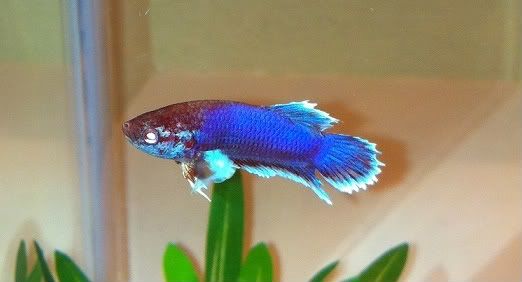 Housing
What size is your tank? 5 Gallons
What temperature is your tank? 76-78 Degrees
Does your tank have a filter? No
Does your tank have an air stone or other type of aeration? No
Is your tank heated? Yes
What tank mates does your betta fish live with? No
Food
What type of food do you feed your betta fish? Aqueon betta pellets with bloodworms once a week.
How often do you feed your betta fish?
Twice a day two pelltets each time with one fasting day a week.
Maintenance
How often do you perform a water change? 2-3 times a week
What percentage of the water do you change when you perform a water change? 2-50% water changes each week with a 100% every other week
What type of additives do you add to the water when you perform a water change? Stress coat plus water conditioner
Water Parameters:
Have you tested your water? If so, what are the following parameters? N/A
Symptoms and Treatment
How has your betta fish's appearance changed? Mentioned above
How has your betta fish's behavior changed? Just a second ago he dashed around his tank really fast
When did you start noticing the symptoms? He has been changing color ever since i got him
Have you started treating your fish? If so, how? Haven't started treatment
Does your fish have any history of being ill? He went through a streak of being extremely pale and leathargic maybe a month ago. I didn't know what it was
How old is your fish (approximately)? I don't know
Thank you for your help!