Please help!
There is a black spot on his caudal fin which looks like burn or fungus. How should I treat him and what could be the cause?
By the way, is he a HM or DT?
Does his caudal fin color look normal or fading?
Appreciate your help!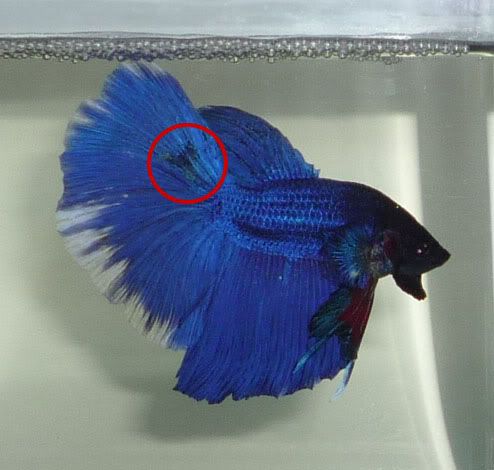 1. What is the size of your tank?
1 gallon
2. What are your water parameters? State the brand of test kit used.
None
3. Is your aquarium set up freshwater or brackish water?
Freshwater
4. How long the aquarium has been set up?
1 week
5. What fish do you have? How many are in your tank? How big are they? How long have you had them?
2 bettas, separate tank. The blue i had him for 10 days, the black for 6 days.
7. What temperature is the tank water currently?
I live in tropica country, room temperature w/o air-con.
8. Are there live plants in the aquarium?
None
9. What filter are you using? State brand, maintenance routine and power capacity.
None. But I would pick up the dust, etc. almost every day.
10. Any other equipment used (aside from heater and filter which are two very important components of the tank)?
None
11. Does your aquarium receive natural sunlight at any given part of the day? What is your lighting schedule (assuming you do not rely on sunlight for our viewing pleasure)?
The tanks are 3 ft away from window. Will turn on the ceiling light when i got home everyday.
12. When did you perform your last water change and how much water was changed? How often do you change your water? Do you vacuum the substrate?
Sunday - 25%, Tuesday 50%, Friday, 25%. But I clear the dust almost everyday.
13. What foods do you provide your fish? What is the feeding schedule?
Sunday - Frozen bloodworm, fed too much I guess
Following days - fish bites, I feed more than 2-3 because I read from somewhere saying feed as much as possible as long as they could finish the food within 5 minutes. Is that true?
14. What unusual signs have you observed in your fish?
Not as aggressive as the day I got him; almost got freightened for everything;a often lay on the bottom; sometimes he would swim without moving his caudal fin.
15. Have you treated your fish ahead of diagnosis? If so, what treatments did you use? State your reasons for planning ahead of proper diagnosis.
Added some anti-ammonia powder, black water, & anti-clorine.