Housing
What size is your tank? 3 gal
What temperature is your tank? 77 F
Does your tank have a filter? No
Does your tank have an air stone or other type of aeration? No
Is your tank heated? yes
What tank mates does your betta fish live with? none
Food
What type of food do you feed your betta fish? pellets, occasional defrosted bloodworm
How often do you feed your betta fish? 2 pellets twice daily, small bloodworm weekly as a treat

Maintenance
How often do you perform a water change? 3 times/week
What percentage of the water do you change when you perform a water change? 50%
What type of additives do you add to the water when you perform a water change? Prime
Water Parameters:
Have you tested your water? If so, what are the following parameters?
Ammonia: 0
Nitrite: 0
Nitrate: 0
pH: 8.3
Hardness:
Alkalinity:
Symptoms and Treatment
How has your betta fish's appearance changed? Dark, thick-looking scales over head
How has your betta fish's behavior changed? Not at all
When did you start noticing the symptoms? This evening
Have you started treating your fish? If so, how? 100% water change
Does your fish have any history of being ill? No
How old is your fish (approximately)?Got him a few months ago
I just noticed his normally white head is discolored, this evening. He is acting fine, I just moved him from a 1.5 gal to a 3 gal critter keeper, all his decorations are the same. He isn't acting weird at all and I only noticed the discoloration when I put a tank light over my other fish's tank to take pictures. The other Betta is acting lethargic, but showing no physical symptoms. This Betta is showing symptoms I've never heard of, but acting like his flirty old self. I'm really confused, the only two changes I've made in the past few days are that I gave him a defrosted bloodworm instead of a freeze-dried one, and I put him in a bigger tank, which he loves.
Here's pics:
This next one is a pic from when I first got him, he still has the red coloring, but he doesn't look so orange between his eyes and over his head. Maybe the light's just not flattering? I've always seen him under his LED light, this is the first time I've seen him under florescents.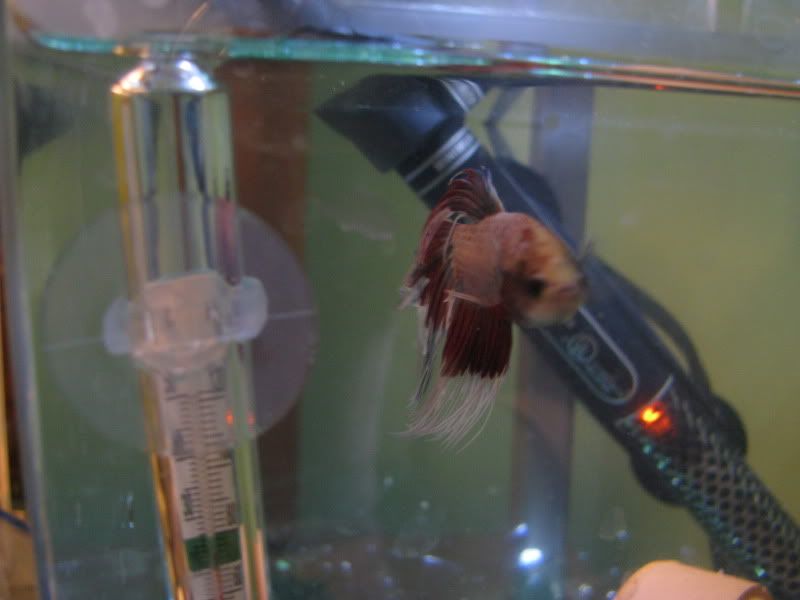 I'm really tired and I've got a couple other things going on, so I'm really hoping I'm just imagining symptoms that will go away as soon as these guys are fed and I've had enough sleep.