I didn't have much to choose from but these girls are not blue:
Lavender, no-name-yet and delikate. there is a fourth girl but she just doesn't like to stay focused long enough to take pictures.
also pics of
Brownie saying hi and LittleBoy
LittleBoy was as small as a crayon with huge fins, so much so that they were in control of where he went in the tank. He flares with a halfmoon's oval pattern but has a wedge missing, so he's DT mutt. He gets to about 150° right now... it spreads as they get older so I may have someone to tease Sherbert with in the future. When I brought him home he had to go in the girls tank inside a 5-way breeder, kingsley went in the 9 way. LB was not intimidated at all by girls more than ten times his weight!
Also, some pics of my fav newer girl, Orchid: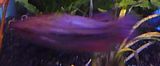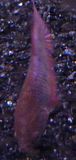 Orchid seems to consider holding still a mortal sin. The one with the stripes is her contemplating herself amongst reflections of other girls in the end glass.
I find it a little frightening that I have met people with children and drivers licenses who have less perspective on the meaning of their life than some of my girls commonly display.
The shots I take in the sorority are lower light level and often grainy. LB is in one of the 2gal petco hex, so has tons of light.