Took a few pictures a couple days ago.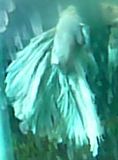 He showed clear signs of kidney failure and a snail in his tank was also rigid. Two "banana plants" in the tank have sent up fruiting leaves so I can't move them but I don't want to risk another fish in the tank.
Hopefully I won't start coming home, stroking the tank and saying hi to "bananaplant"