Ok, tip your heads to the left.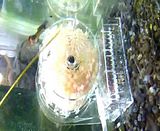 Admittedly its not as compact as a sponge filter which is really all it is but it is fun to watch. I'm going to try using polymer nitrate anaerobic media in it when I set up the fourteen for the guppies to frolic in. Since I'll have tons of baby guppies the little extra bacteria+protein that comes off that media will continuously feed them.
I did have a few guppy fry swim in then swim out again.
That colorful fiber stuff inside it just under the wheel is the "filter" material... some kind of sad joke. An expensive way to get a few ounces of rock from Japan.
It is sharing a tank with a dense sponged Aq20 that has an air-stone in the media stack, so I doubt I'll need to rely on this RotorM but I figured I'd share it with you for its entertainment value.
I think the betta would enjoy watching it but as I stated, too many pinch points to be safe.