So yes, plants, but no fish yet. That is actually my main question: When should I move my boys into their new tank? I was going to wait until the plants were more mature (moss covering EVERYTHING!), but now I am thinking 2 weeks tops, just long enough for the anubias to attach itself to the rock (and maybe I will go get another one for the other side...). So far (4-5 days) I have minimal growth, but that is good considering I only have Seachem Flourite, and a light that may or may not be from the late 90's. No CO2, and no fertilizer. The two plants I have should not need those things, if I did my research right. Lights are timed currently for 13 hours a day, though I am considering getting a moonlight because honestly, 13 hours just seems so short for viewing purposes. If I wake up at 7, the lights don't go on until 9AM, and then they go off at 10PM and I go to bed at 11-12, I have to spend 4-5 hours with a dark tank. I am slightly worried that the moonlight I am considering (
http://www.marinedepot.com/R2_Soluti...LTFIML-vi.html
) is going to be too powerful for my tiny little tank. Opinions?
Also, as a side note, for anyone interested, yes, there is a rock going through the divider. It took me a while to figure out how to make the divider line up exactly with the rock. After ruining a lot of the plastic dividers, I eventually took a kneaded eraser (if you know what that is:
) and basically made a mold against the rock and then traced that mold.
One more thing, then pictures! Right now I am still living at home, but this tank needs to go 3 hours with me to my dorm. It will be making this trip 4 times a year (2 there, 2 back). Will the plants be okay if the tank is drained halfway for that time? The only plant out of water would be the anubias.
Day one! Still cloudy.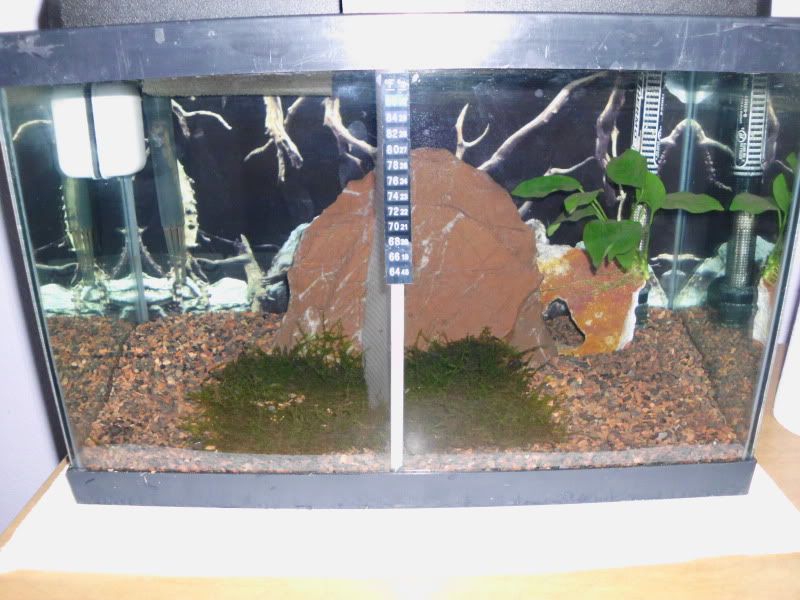 Day 4. So clear! The anubias looks perkier and there is some definite growth from the moss.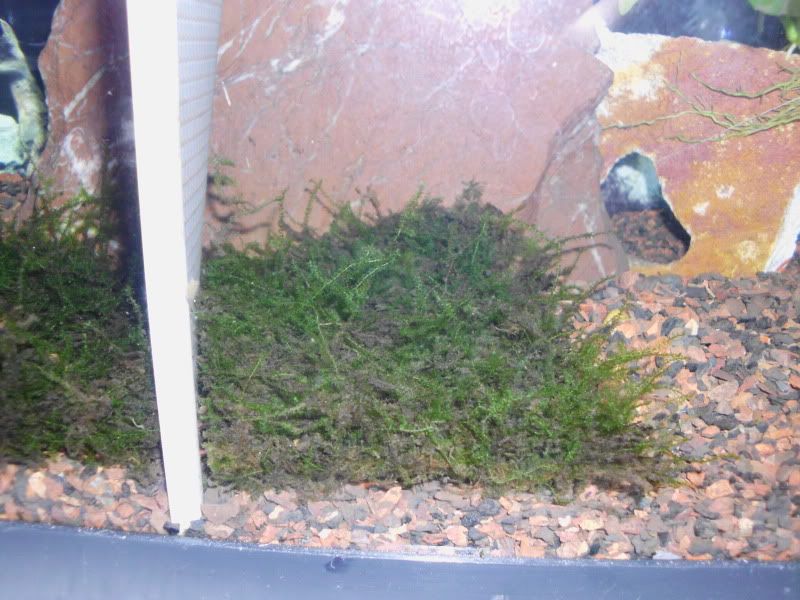 Can you identify this moss? It was just labeled Aquarium Turf at Petco.
Thanks for looking!