My HM's fins are a bit frayed and kinda resemble a CT. I was told before that he was tail biting. I moved him into a 10 gallon with a heater, some live and silk plants and lots of places to swim around and hide. He's more active now but his fins aren't healing. In fact they look a little worse. Now ther eis a hole in the top fin. I was thinking ammonia burn? I tested the ammonia just in case and its at 0. He gets stress coat and 100% changes 1X a week and smaller changes in between them. can they actually bite holes into their fins??
advice?
This is an older pick, the big tear is still there but the ends are a bit more frayed and pointy now.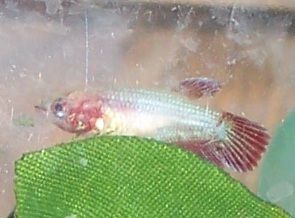 ETA - this is from a few days ago. If u compare to the pic above you can see how his fins have gotten a little worse.