first off, i picked up a halfmoon today that looked like he'd been eating his fins for a month instead of his food. i got a 15% discount on him too: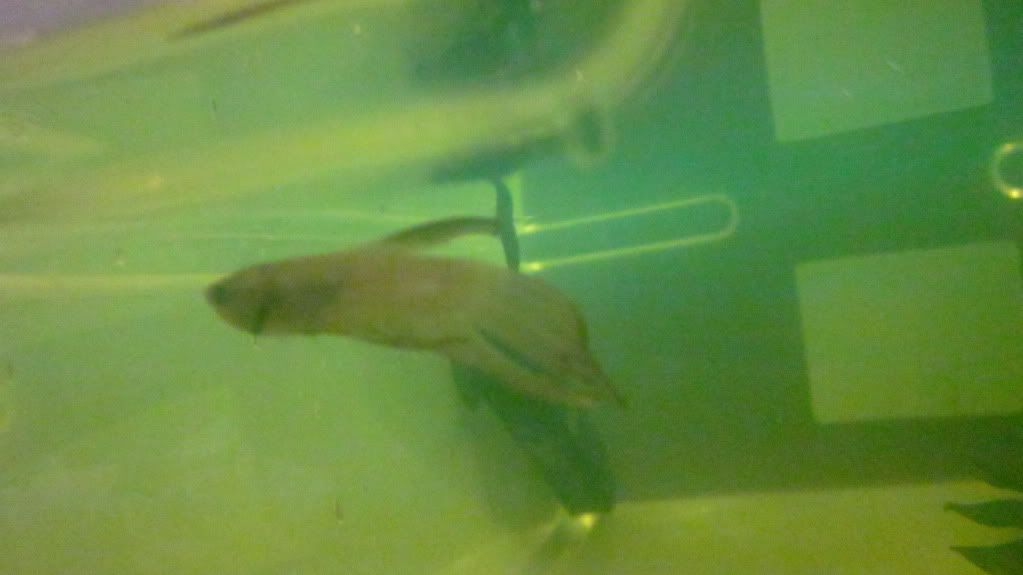 his name is cosmo. i put him in some clean, heated water, with some AQ salt and fin rot meds. poor guy has it pretty bad, but he's alert and swimming around, and already ate. here's to hoping!
and then, when i was checking tanks this morning, look what i found:
HEFTY bubblenest courtesy of Goliath. i guess he is a guy. xD
and then i was really happy to see that Gabriel's fins are healing up, and they're no longer bloody: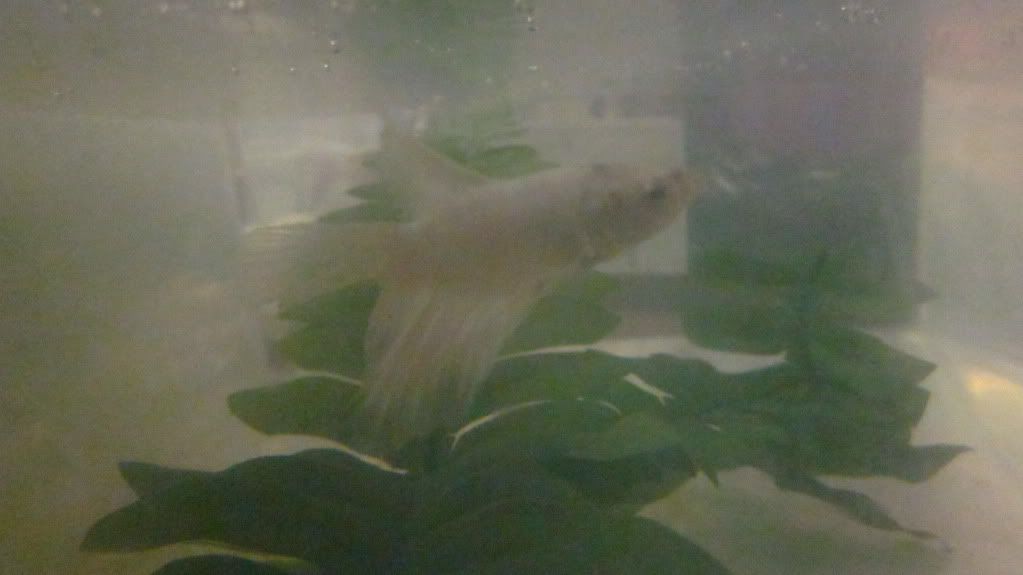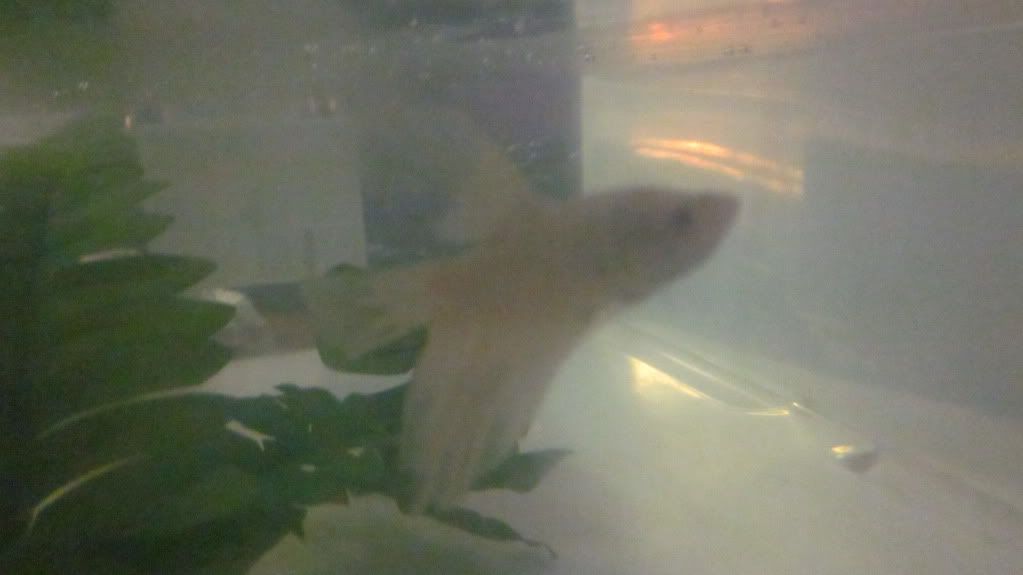 Anddd I decided to divide all of my ten gals three ways ... to conserve space and to get all of my fish out of their smaller temp tanks cause winter apparently wants to be knocking on my door. forget fall. anyway, i have the sweet girls' tank done (Demi, Peach, and Orlando) and two of the boys' tanks done (Bangle, Shasta, Hippie & then Jericho, Viper, and Navajo). I had Gabriel in there for a little bit, but he seemed to be outrageously scared and his wound was pinking up again, so I decided to move him back to QT. under the light I saw that the wound extended from the tip of his fin all the way to about halfway up his belly. :(
**DISCLAIMER: my craftsmanship is pretty much terrible. xD so you're bound to see glue all over the place in my tanks. /sob but although it doesn't look pretty, it's functional.
Here's him wondering how in the devil I managed to glue a piece of gravel to the wall.. c__c
Then he decided to come over and flare at me cause he wasn't in the mood for cute pictures.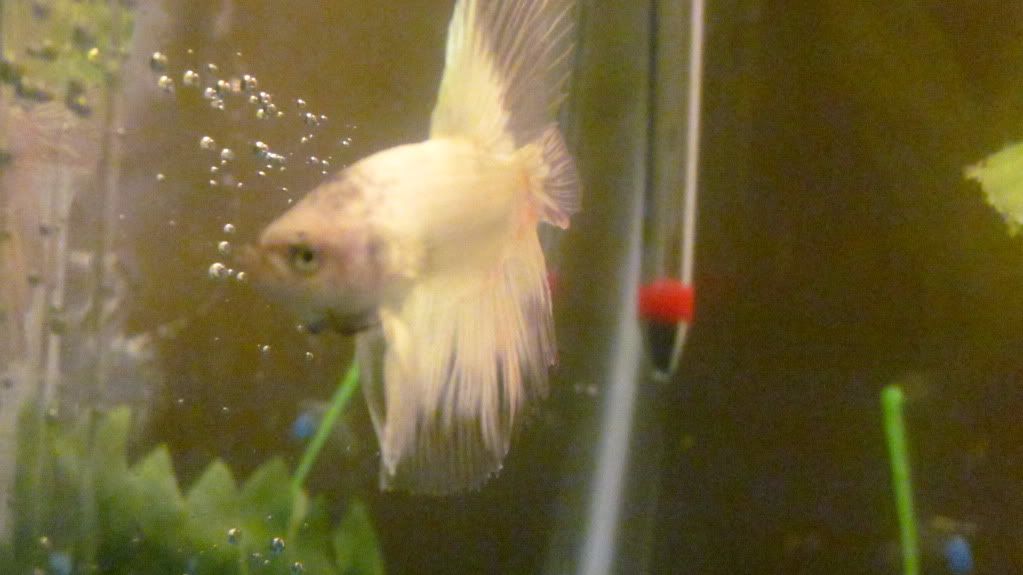 I love his facial expression here.. but he was scared. you can also see the pink near his fin a little bit.
Then I went over and tried to get a good picture of usually droopy Navajo: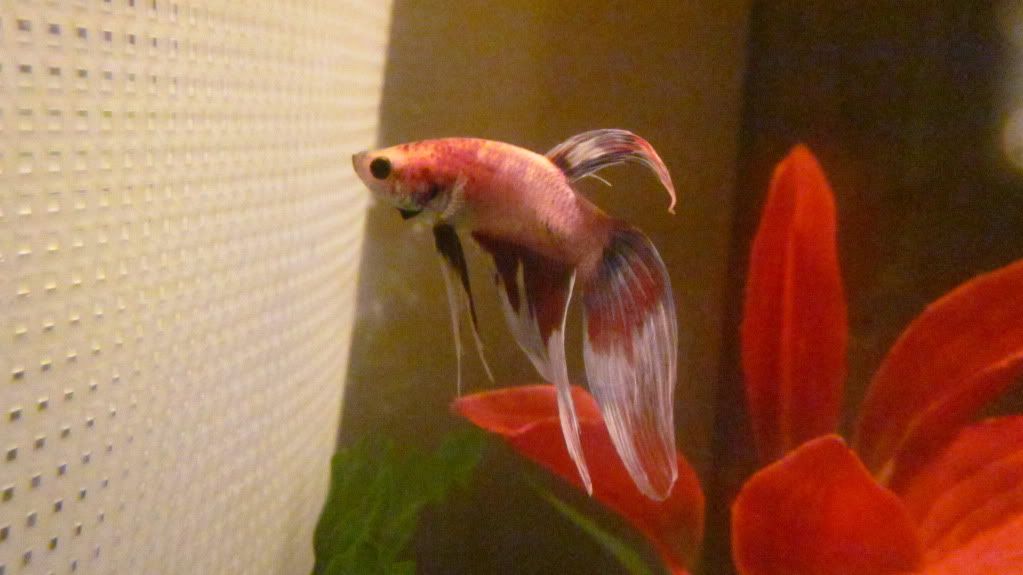 who is suspiciously difficult to keep happy.
but he decided to perk up after exploring the trenches of his new domain.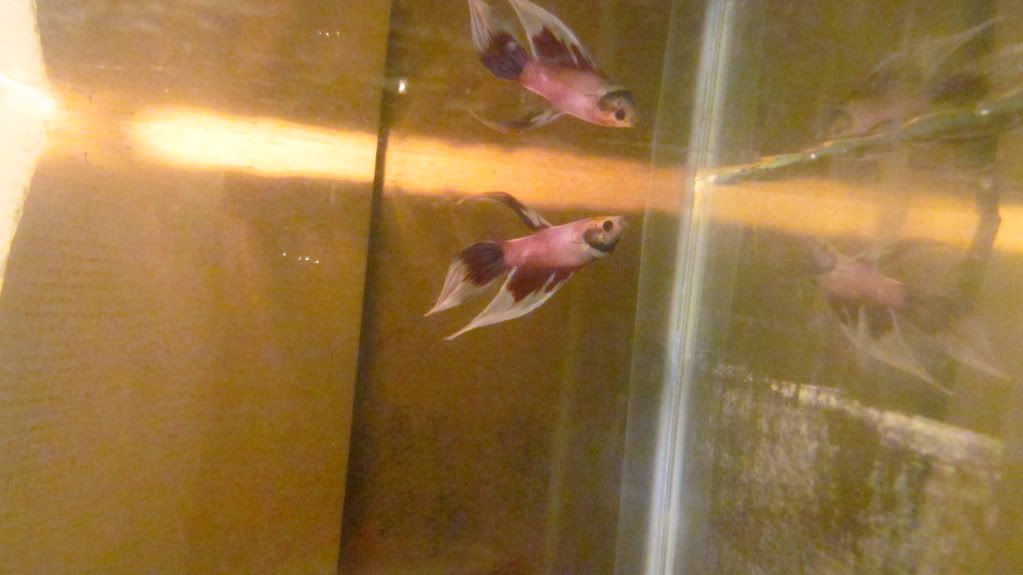 and yes, lol that is cardboard. c__c i ripped off the back of my drawing pads and put it up for a visual divider, cause the other guys are on the other side of the tank. i may do something else later, i may not.
then i went over to the girls' tank..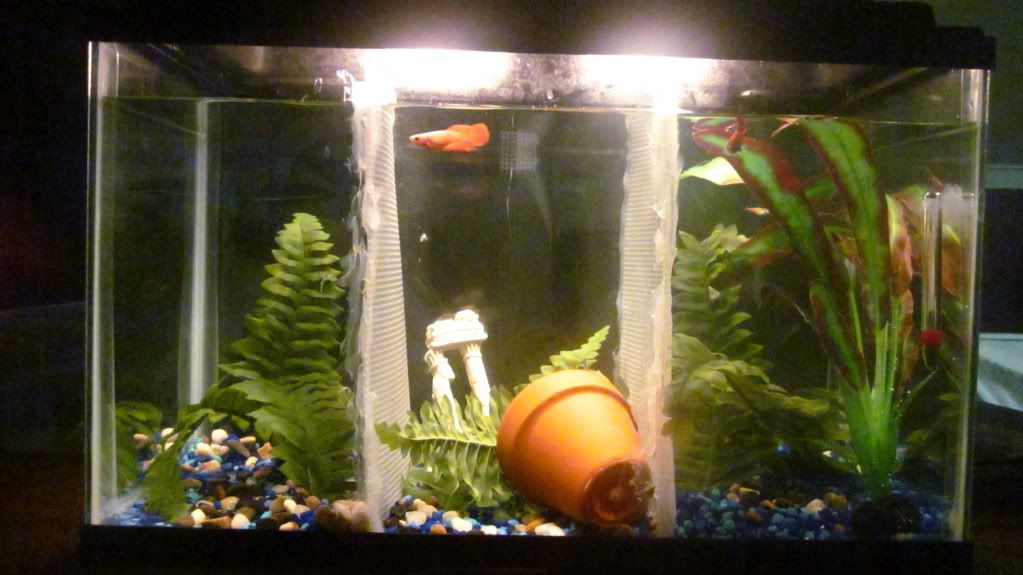 which will call for more redecorating in the future, since our petsmart now sells silk plants :D
i had Demi in the middle, but she and Orlando were going at it.. so i put Peach there instead. She doesn't bother to fight with either of the girls and they don't really care about her either, so she's a good neutral. (:
Here's some gorgeous shots of little Orlando, who was rather taken with my camera: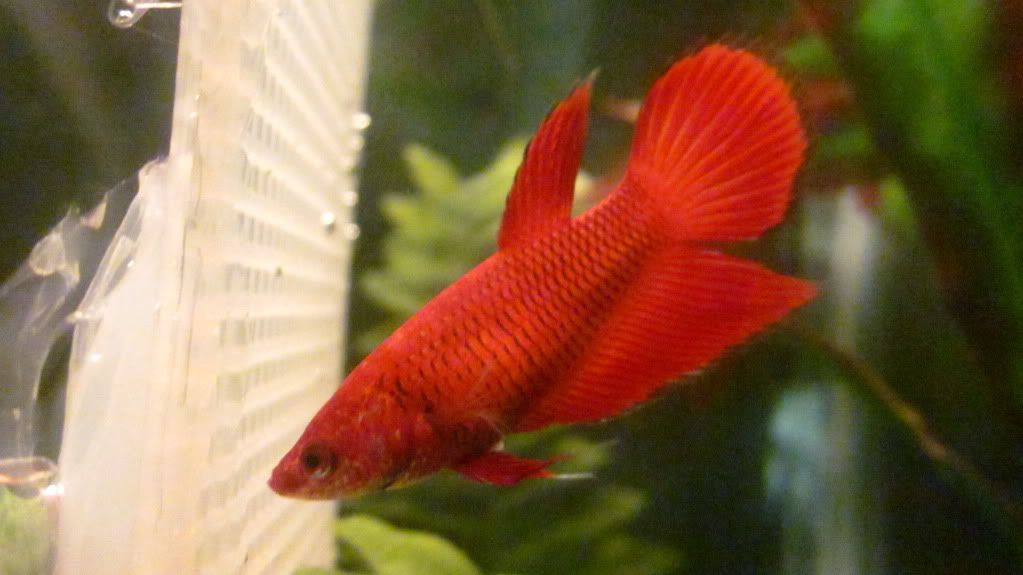 and with her reflection: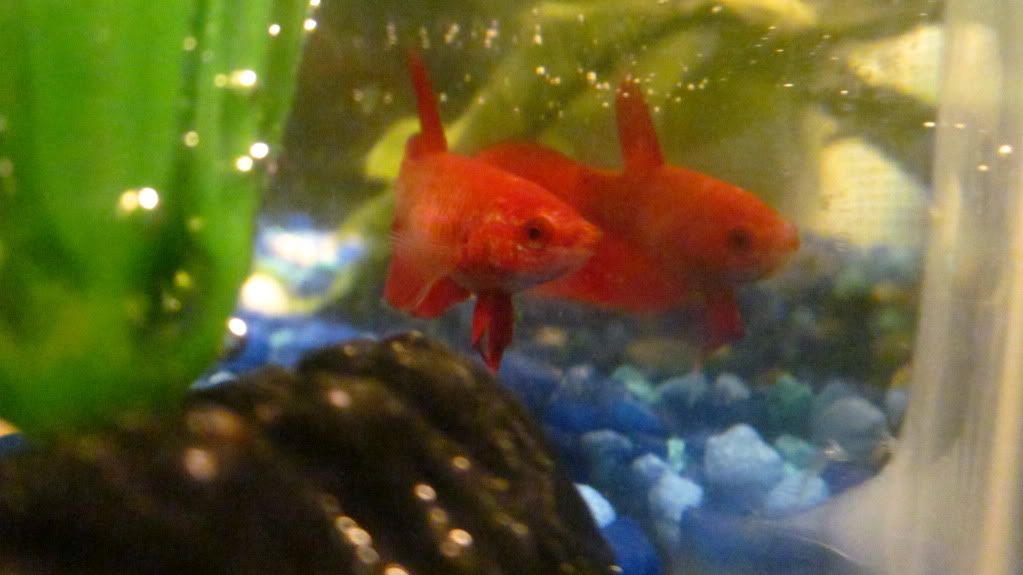 and then here's Peach, who decided to make some kissy faces: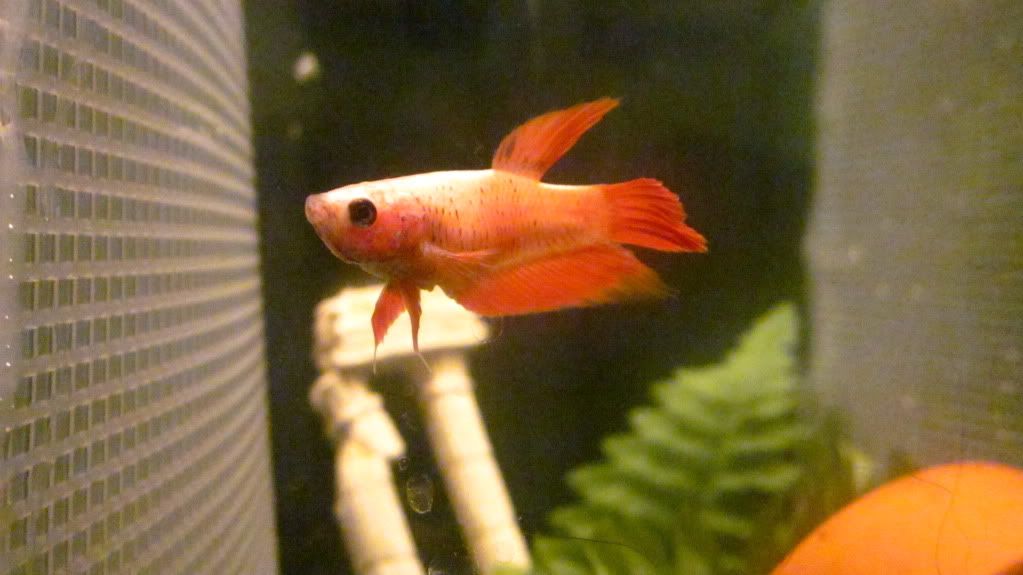 and she proceeded to find the tiniest corner of the tank and swim into it, certain that getting stuck was not a bad idea: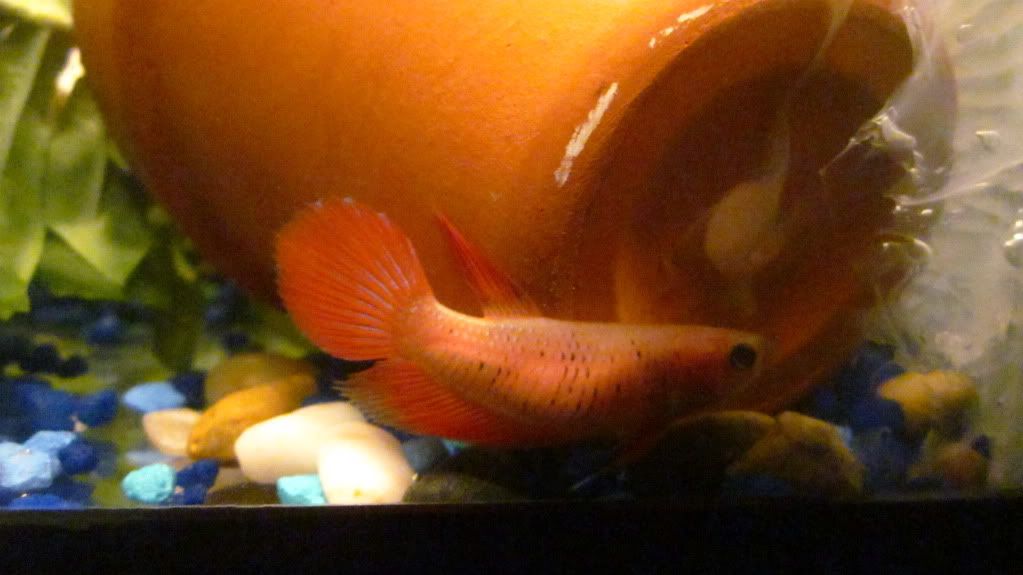 of course mama had to reach in and pull the pot away from the corner.
she's got a little bit of a weird anatomy going on here:
not sure if that's normal or not. o__o
Demi, on the other hand, was rather uninterested in a photoshoot and was much more interested in the boys in the neighboring tank:
both of which were showing off their physiques.
that's pretty much the best picture i got of her, lol.
i'll take some more pics tomorrow of the other boys' tanks as i get them done. (:
THAT'S IT. (: