Hello all,
I haven't introduced myself yet but I feel I need some quick help. I've found this copy/paste info thyingy I think you'll need from me so here goes:
SYMPTOMS
Appearance Changes:
Yesterday morning he had a bright white spot on the upper side of his right gill. Here's a picture, but it's not the best.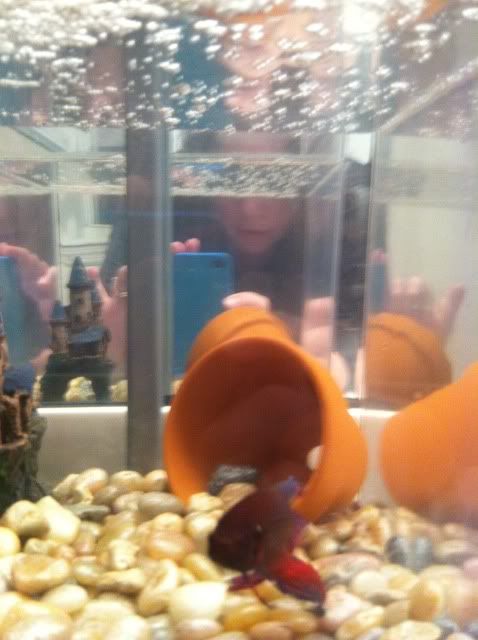 This morning the dot is gone, but I don't want it to come back. This morning his underside (from his mouth to just past his gills) seems a little lighter in color, but I don't know if it actually is or I'm just seeing something that isn't a big deal.
Behavior Changes:
None that I'm aware of. He likes hanging out in that tinny tiny castle, and in the morning when I'm getting ready he swims around and waits (what seems like excitedly) for me to feed him.
Eating Habits:
They're pretty regular, no changes there.
Other:
I typically feed him every day in the morning as I'm getting ready for work, or right as I wake up on the weekends. Our family lives about 1.5 hours away, sometimes on the weekend we'll go to see them and stay the weekend. On those days he's feed before we leave, and then when we get back. So he does occasionally go a day or two without eating.
WATER STATS

:( I don't have any of this information.
Ammonia:
Nitrate:
Nitrite:
pH:
Hardness:
Alkalinity:
Time you noticed the illness: Yesterday morning, I usually check him out while I'm feeding him, and it was the first time I noticed it.
TANK

Size: 2.5 gallons
Temp: It was usually at 78 and the past two or three days it's dropped down to 75.
Filtration/Aeration: none
HUSBANDRY PRACTICES
Frequency of Tank Cleaning:
every 7-10 days
Water Additives:
I'm not sure what it's called, but it's basically a conditioner. When I do the water change I take him out, dump all the water out, use the sprayer from the sink to spray the inside of the tank, and then fill it back up. I was told that rubbing or any type of hard cleaning removes good bacteria from the water. I will take the rocks out; rub them together under running water before putting them back in. The castle and the plant pot I just put back in. I put the conditioner in before I put Styx back in and I swirl it around with my hand, I wait about 20 minutes and put him in.
Feeding (food type/frequency):
I have pellets and dried blood worms. I try to switch it up, but I heard the worms can cause constipation so I don't like to give them too often. He definitely prefers them though; if they're in the tank he'll eat them right away. If the pellets are put in, he'll check them out, swim around and then come back and eat them.
Tank Mates:
none
TREATMENT
Any treatment so far and when:
None, just a lot of worrying which doesn't cure anything.
HISTORY
List any past health problems:
No past health problems that I've been aware of. I got him when he was about 3 months old, so right now he is (*takes a second to do public math*) 18 months old now. A guy at my work is a "breeder" and had too many so he was giving them away. He was so small, I thought for the longest time he was a girl. He had itty bitty fins.
Also, here are some videos:
http://s687.photobucket.com/albums/v...t=IMG_0361.mp4
http://s687.photobucket.com/albums/v...t=IMG_0362.mp4
In the second video I put the towel around the tank because I thought the mirror was distracting.
His top fin (is it called a dorsal fin?) may look a little off, and that's my fault. Last time I did the water change I used his plant pot to scoop him out of the tank...thinking its perfect because (my cats ate my net and) he's too big to fit through the hole in it, but the water will drain out. The water started to drain too much so I put my finger over the hole to stop it (this all happened in a matter of seconds) and it wasn't until right before I put him in the container that I realized I was mushing his fin against the side of the pot. Poor guy.
Um, I hate that I sound like I'm a craptastic fish owner, but overall I don't care because I want to be better at it. I think the things I shared are things that need to be known so I can progress. Last night I bought a 10 gallon, a hood (no light), a Fluval (think this was the brand) heater, some stick-on thermometers and a decoration for the tank. I plan to set it up this weekend, but want to have everything I need first...and I need to find a spot for it in the house. We've kept Styx in the bathroom because of the cats-they killed an aquatic frog we had in there with him. We close the door to the bathroom so that cats aren't in there unless we are and allow it. I don't think I'm going to be able to fit a 10 gallon in my bathroom.
I hope I've included everything you need, I'll be happy to answer any other questions.