You were definitely the ugliest-colored betta I've ever seen, especially considering you weren't a wild type.... How did you even get to be such a dark yellow brown?
Your tailtype is unknown, too. You're just so mutt-bred that your tail was a mess; It always looked like you'd bitten it off, torn it up, or fin rot ate at it. But none of that ever happened, as it turns out. I just called your type an MT... A Mutt Tail.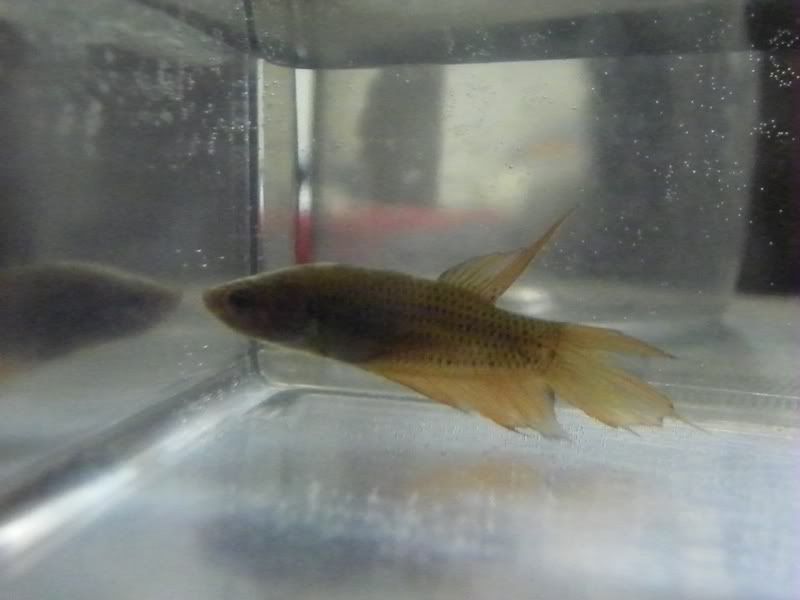 Those black speck-line things that some bettas have on their scales... it just made you uglier.
You mis-matched yourself. Brown spotted with a dirty yellow and black spots, ventrals of a dark orange color and your fins a rotting mango color.
Yet...
You had this beautiful purple shine in the sunlight...
In your eyes,
on your scales,
and even a stripe in your tail that extended to the tips
The tips of your fins always looked like they had fin rot, but as time went on I realized it was actually a very thin lace of black along the edges.
You had an unusually long dorsal fin as well... I never noticed it resembled a candle's flame until well after I named you Ember.... The only real reason for your name was because you had an orange-ish color to you.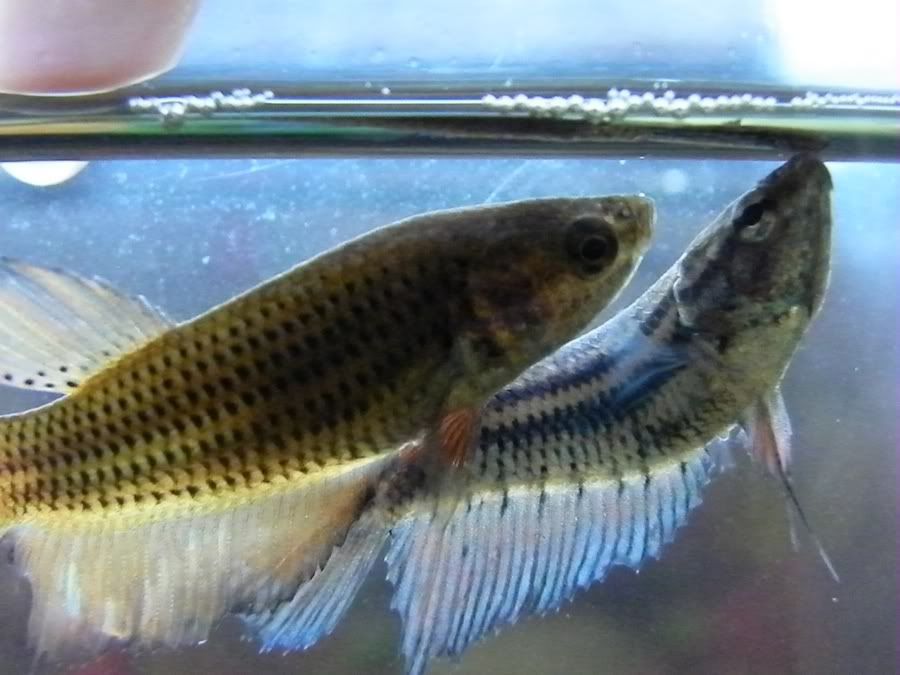 Despite you and Northern Lights having a history of going at each other in hatred, her tearing your fins to pieces (as if they weren't tattered enough from your genetics), and you getting back at her the first chance you got... you got along very well with Tiger Lily... and especially well with the three youngest and smallest girls. You were the biggest and roughest looking, but you proved to act like the "big brother" of everyone and kept everyone's fins intact and untorn. No fights, no one dominated... it was a tank of very equal social status.
First it looked like just cotton-mouth... but the next day, despite how thoroughly I've treated your ailments, the fungus pushed out through your scales... then your gills... ... and when I saw you floating at the top, your head tilted up as most fish do when they die... your body covered in fuzz and your gills swollen with the whispy white... I thought you were dead...
I tapped lightly on your QT after waving didn't get a reaction... your handfins waved a bit and you took a breath... but despite your treatment, the fungus only seemed to be getting worse....
I knew it was only a matter of time. If you're mad at me for putting you down, I'll apologize now... I apologized even before I took you out of sight of the girls. It hurts to cut your life a bit short, whether it ended up being hours, days, or minutes you had left....
... but I assure you that even if it was the right thing to do or not, I can't express how horrible I feel.
You were the flame that brought me back up after the death of Leliia. Opposite to her beautiful and bright, unusual colors, her dragon scales, her ever-upbeat personality that brought a smile to anyone's face...
... you, the dull, and rather "ugly" (to many others) coloring...
The beauty in you was not your appearance... and the gorgeous purple you barely ever showed off greatly understated your true beauty...
It was you.
You were as upbeat as Leliia, and a little more, in a different way. You were first to greet me at the glass, the oldest and smartest that kept everyone in line... (Leliia did that, but mostly to keep herself out of trouble)... you got the others to take to the retired Momma guppy and let her be a part of the group as a glorified betta... you brought me out of my sadness from Leliia's death and helped me get back into my routines... helped me get back to loving everyone... because I almost forgot that it wasn't just Leliia I loved, it was Jade, Uncle, Karner Blue... all the girls, the guppies, the ghostcats, shrimp, everybody.
It was you.
It was your personality.
It was your heart.
You were everything.
You relit the fires, Ember.
Ember เปลวไฟของมังกร (Dragon's Fire) Warner
Adopted September 3rd, 2011 - December 1st, 2011
"Though little fire grows great with little wind, Yet extreme gusts will blow out fire and all... As soon go kindle fire with snow, as seek to quench the fire of love with words." -William Shakespeare
----------
Buried by the roots of my Kiwi plant...