Tank Mate?
---
I have a 10-gallon tank divided 3 ways with 1 boy in each section. I was thinking about getting a mystery snail for it, simply because I love snails and like those type, but I don't know if it would be a good idea. The tank has been set up and running for about a month, with the boys in there for 3 weeks. I don't have any live plants and I don't have an algae problem. Would it be a good idea to have a snail? I wouldn't be heartbroken if it wasn't a good idea. Here's a picture of the tank: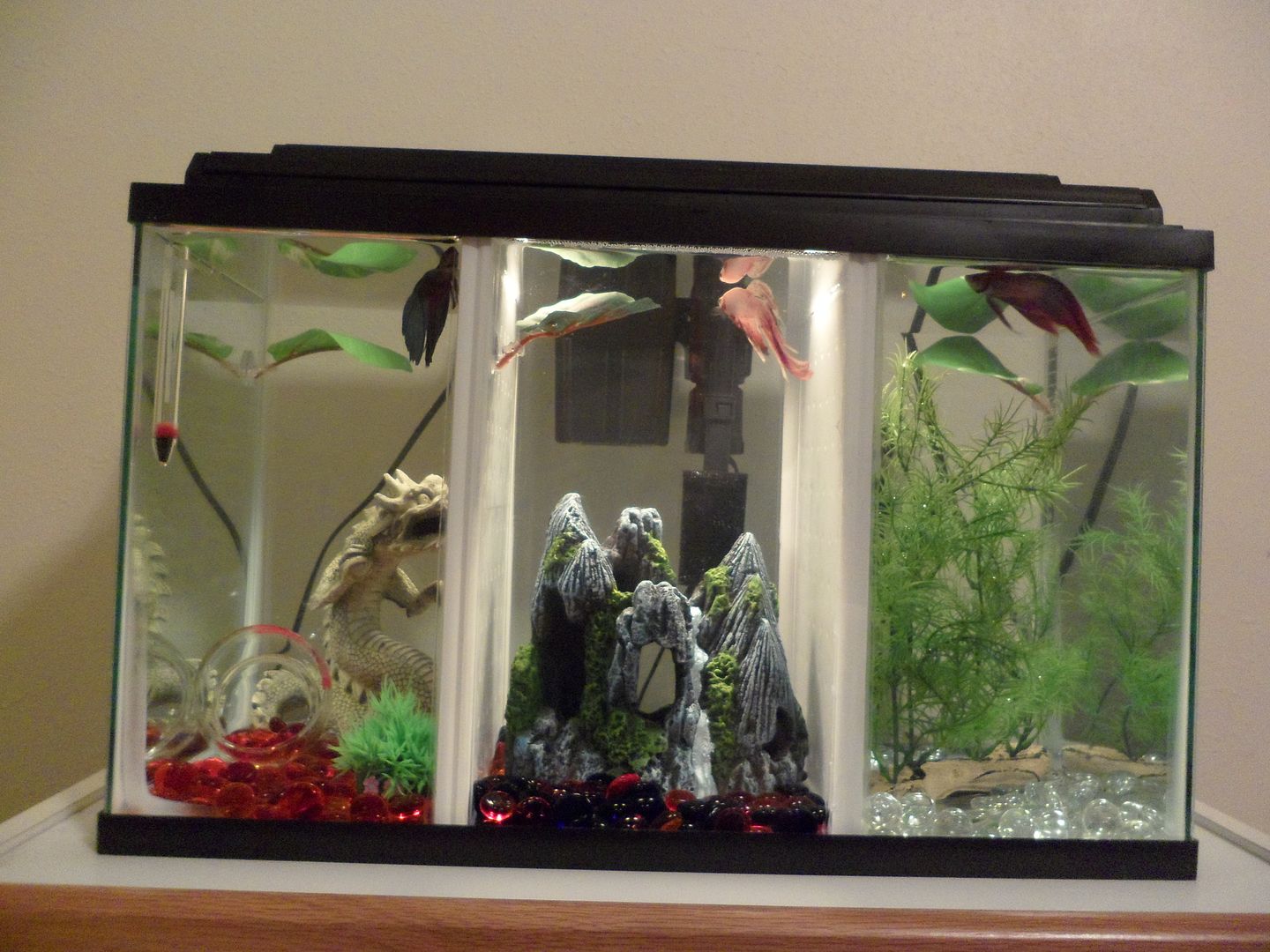 ---
Love my Common Pet Store boys:
Cheep-Cheep | Edwin | Maximus

Welcome newest adopted boy:
~ Loki ~

Member
Join Date: Aug 2006
Location: Lupin Information Super Highway/Goldfish Information Super Highway
Posts: 521
It's possible to add a mystery snail however this is trial and error. Some bettas nip them, some don't. But once they nip, pull out the snail quickly before stress can quickly kill them. They are prone to instant death when constantly harassed even though they are able to regenerate their lost antennaes and eyestalks.

What are your pH and hardness levels?
What is the temperature?

All snails should be kept in pH no less than 7.4. Hardness should be high enough to avoid pH crash which could quickly damage their shells. Acidic water can erode their shells and once the shells are damaged beyond repair, your snail becomes prone to many injuries. The pitting on the mantle can still be fixed but pitting on the suture (tail end) cannot be fixed so be careful.

And as for temperature, your snails should not be kept in temp more than 78 degrees Fahrenheit. They have a very short life span at 2 years and high temp will quickly age them. The other drawback is it forces them to grow their shells dangerously thin. Let them slow down their growth so the shells can thicken properly enough to avoid damage.

They also require supplements and will NOT eat green spot algae. My own apple snails prefer eating balls of hair algae I provided for them. Feed them anything you normally feed your fish but be sure to clip them tiny pieces of vegetables to munch on. Anything high in calcium such as seaweeds, collards and kale are highly appreciated.

As for stocking guidelines, keep one snail per 2.5g. They are heavy poop contributors so you need to ensure your filtration can adequately handle that.

---
Sent from my desktop or phone or whatever else I am holding on to

I'm ready for the pressure.
The drama and the pleasure!

If there is one thing I want to see here, it's HUMOR.

I believe I can fly!
I believe I can touch the sky!
I think about it every night and day!
I stand in awe of my body.

Thank you for the information, Lupin! I keep my tank between 78 and 80. I'm unsure of my pH, haven't checked. What I should have done before I started this thread was do a search for the ADF, snails, cories, and shrimp. After doing so, I've decided to abandon the snail idea and go with some ghost shrimp. From what I've read, they have very little bioload and I can put all sort of small hiding spots in the tank for them. (I had been getting decor with large openings so my boys wouldn't get stuck or hurt.)

It'll be next week at the earliest that I can get the shrimp, but I am excited!
---
Love my Common Pet Store boys:
Cheep-Cheep | Edwin | Maximus

Welcome newest adopted boy:
~ Loki ~

Just wanted to say that tank looks great!

It's very clean and simple. I'm a plant addict so mine never look so tidy!!
Thank you Cravenne! I'm just starting this tank, it's only about a month old, so I add a bit to it every paycheck. I'd love to have lots of plants, but I'm horrible with keeping them alive, so I just stick to the fake ones, haha.
---
Love my Common Pet Store boys:
Cheep-Cheep | Edwin | Maximus

Welcome newest adopted boy:
~ Loki ~

I have one betta who literally rides on top of my snails and one betta who will harass them constantly until I remove it. IT's all about temperament as far as how your betta will react.

OT/ I love your tank and was thinking of doing a divided tank myself but settled on a sorority. I couldn't figure out how to set up dividers so that water temperature and filtering didn't become an issue. How do you provide a strong opaque barrier that still allows water to cycle around the tank?
Did you buy barriers or make them? Thanks!
---
Hi, my name is Lisa. I have MTS...
Lisa: I made the dividers. Well, I bought a large plastic sheet and cut it. Then we drilled holes into the dividers. I keep the heater on one side and the thermometer on the other, and it stays right around 80*. If you want more information on how I divided it, here's the original thread with pictures:
https://www.bettafish.com/showthread.php?t=61775
And thank you for the compliment!
---
Love my Common Pet Store boys:
Cheep-Cheep | Edwin | Maximus

Welcome newest adopted boy:
~ Loki ~