I LOVE the idea of this contest! Kuddos to all of you rescuers :)
A. Dizzy (short for Discount)

B. 3/29/12-rescued 6/13/12-passed away

C. So I had originally gone to petsmart to get my Black Beard when I saw this little guy. All fuzzy and skinny but still swimming. He looked hopeful but I knew he would deteriorate in his little cup. His neighbors were all in worse condition and or dead. I gave Black Beard to my bf and picked this guy up and looked at him real close. He had this "help me" look so I went back into the fish section. I asked for the "fish guy" and explained to him how he had a fungal infection, and was skinny. He held him up and looked at him closely and agreed. I told him I have everything to treat him, but I have a problem buying a sick fish for 10 dollars (he was a dragon scale). The fish guy and I had a few conversations before today and he knew I bred bettas and obviously knew what I was talking about. He looked at the fish and looked at me and said "alright 50% off, but you can't return him if he dies." I tried not smile too much but happily followed him to the checkout.
The first picture is of when I brought him home, so clamped, skinny and fuzzy. After one day he opened his fins and showed me his pretty tail! and after the second day with me he started to be all cutsie cutsie.
Almost a month later (4/20/12) I moved him to a bigger tank and I realized I didn't have the same fish anymore. I had a beautiful fish that had made such a 180 in health I was amazed.
He ended up having really really good form and great fins so he became the father of a spawn. I realize I had hit the one in a million chance of getting a breeder quality fish from a pet store and it was my rescue non the less! I was so proud of my boy! He was a great father! So attentive and nurturing.
The last picture of him was before I went on vacation, after his spawn. He was such a beauty I had to bring a picture home to mom and dad. But something happened over the week I was gone and he passed away the day after I got home, despite my attempts to save him.
But his genes live on in one surviving and thriving baby. I'm hoping his good nature was also passed on. I'd love to see my little firecracker flaring and wiggling at snails just like his wonderful dad.
---
Feel free to message me any questions, I'll try to help the best I can!
Spike- Cockatiel
Rummy- Mini Rex Rabbit
Diz jr- Betta
Yoshi- Crested Gecko
---
Last edited by lvandert; 08-04-2012 at

12:32 PM

.
Member
Join Date: Jul 2012
Posts: 741
Love this thread!
---
Prana (deep blue/purple CT female) Fluval Spec 2

Qi (turquoise CT female) 5 g riparium

Vanilla Beast (Ivory apple snail diffusa), Watson and Crick (Amano shrimp), Tributary (Moss Ball aka AquaTribble) Fluval Spec V

Pond and ramshorn snails (so many!) 2.5 g

Mr. And Mrs. Smith (assassin snails) 0.5 QT tank

Leopard ramshorns 16oz NPT Mason Jar


Keep those stories coming guys and gals... I teared up a couple times reading them.

Please spread the word as the more stories, the better!
---
"I want to share something with you: The three little sentences that will get you through life. Number 1: 'Cover for me.' Number 2: 'Oh, good idea, Boss!' Number 3: 'It was like that when I got here.'" (Homer Simpson)
Sapphire, The Fish that Almost Got Flushed:(
---
Ok, so here goes, this is for my Sapphire, and I am so proud to say, I was lucky enough to have him sent to me, we already had Sammy our first, and he was getting big, so I already planned on getting him into a new tank, so I knew I was planning on getting a new fish, tho I thought It would be an AB fish..but a friend of mine came to me and said that a friend of hers has a fish, that she got from a wedding and was in a vase and needed a home, I had no idea what to expect..so I agreed, and then I was at work, and she dropped him off, and this is what I saw this was a fish, about to be flushed, and I said NO way, I will take him..and You'll see what you are giving up..
He was in horrible condition, very cold water, and very lethargic, all fins stuck together, and barely moving, this was actually after I took him out of the vase he was in..I took him home and immediatley started with warm, clean water with AQ salt, and this was his first night at his new home
He started to somewhat get accustomed to his new home, but still did not have interest in food, and I tried several times, but I noticed he loved this ball.
So, after a day, I saw improvement, but I still didn't see him moving much..and then it got to the point where, he didn't respond, he floated motionless for hours on end, ignored food, and his gills hardly moved either, so I wasn't sure if he was going to make it, but I was determined to keep trying.. This was shortly after his next water change, and a Bloodworm to entice appetite..I felt he was going to make it..
Then I saw this..and got so nervous..this was the 4th day of treatment
CIMG1043.jpg
So, I thought I was doing something wrong, but I found out this was his natural color coming out, because he was getting healthy..
This was shortly after I got him in his new home a nice roomy 3 gallon, after being in QT for 5 days..He still had some growing to do..but ...
CIMG1056.jpg
Then I started taking some more pix..and got this one and saw what a beautiful fish he is becoming..
CIMG1082.jpg
Now I see my boy..with so much color and energy..he is non stop all the time, and I just love this lil guy..I love the colors that he has...he is amazing..and I am so glad he is my Sapphire..Loook at him now
CIMG1182.jpg
The fish that almost got flushed.. is now a Stunning beautiful fish..and I am so proud to say.. he's Mine
---
Hi everybody, as most of you know or have followed the story of Heart Breaker I will share with those of you that have not. It all started around 8:30pm while I was going through the Betta cups at Petsmart. I was getting to the last of them when my jaw hit the floor. What I saw in the cup looked nothing like a fish, more like an eel with no color. I read the top of the cup and it said Half Moon, and I was thinking these people are crazy! I immediately found one of the Petsmart employees and pointed out this sick young over emaciated Betta that had little to no fins. I told her that Betta's should never look like this and that if they discounted him I will take him home and get him healthy.In all honesty I didn't have very much hope for him but I did pray. Before I left Petsmart I picked up a new 2.5 gallon hospital tank, aquarium salt, stress coat and a heater. Before I drove away I took a picture in his cup.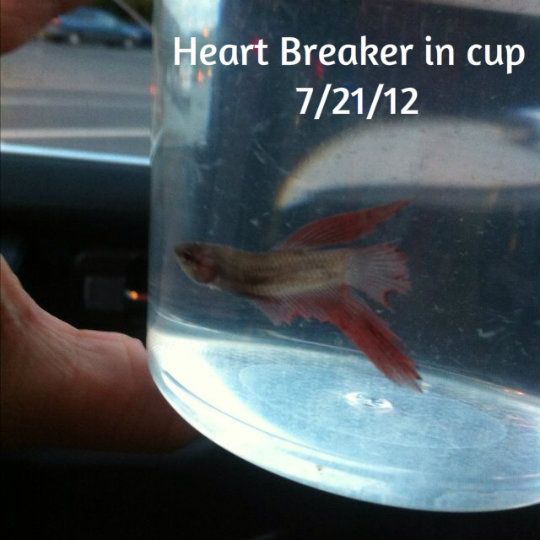 He doesn't even look like a Betta. Lifeless, no color, extremely underweight and serious ammonia poisoning.
Here is Heart Breaker once I acclimated him to his new heated tank. I have used stress coat and aquarium salt for his ammonia poisoning. I fed him frozen blood worms that night and he loved it. Heart Breaker was swimming funny that night resting a lot on the bottom of his chin while his spine was bent and floating towards the surface. I watched him a lot that night and just remember being so worried.
Here is a closer shot of him on the night I got him.
Here is Day 2, when I woke I was so pleased. Already Heart Breaker had some color back was swimming a bit straighter. He seemed more full of life and much more active. I couldn't of been more pleased.
Days pass and Heart Breaker gets stronger, healthier and more active. We made it a week and I am so happy. Heart Breakers story has not gone unnoticed. He has many people checking in on him and supporting him. I am greatful for all that have kept up with his story.
By week one heart Breaker is eating 3 tiny meals a day to get some weight on. I give him a variety of frozen blood worms, frozen brine shrimp, pellets, and freeze dried blood worms. He is not picky at all!! I do a 100% water change on his tank daily to keep the water clarity pristine! He deserves it.
Here is Heart Breaker almost 2 weeks after I got him, and already you can see the major tail growth and the weight has put on. He has darkened up a lot and has so much life back in his heart.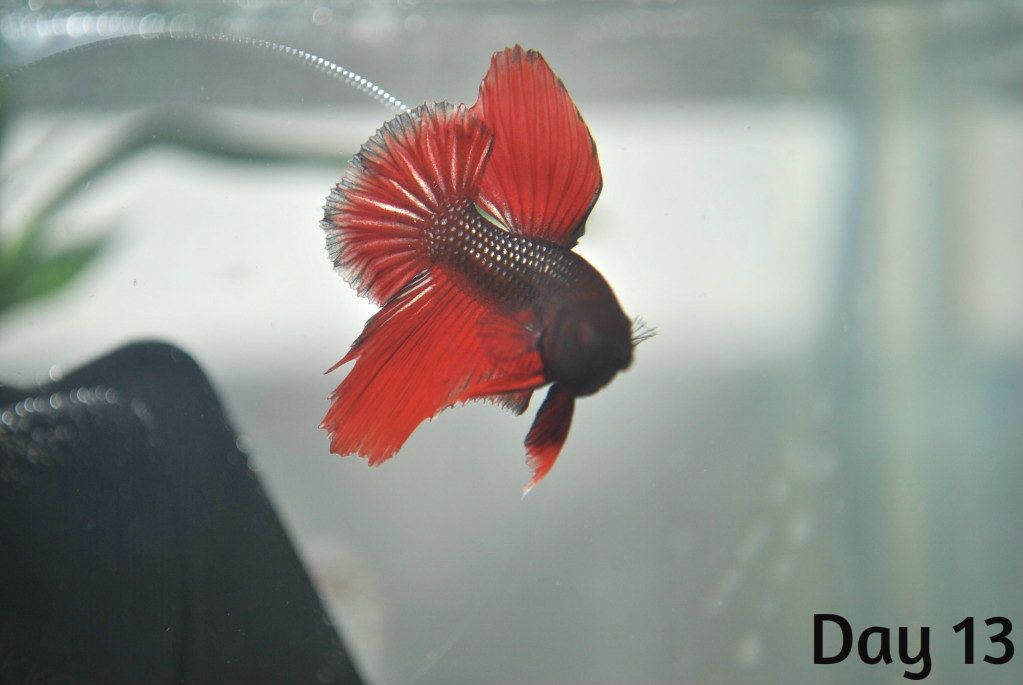 Well today is day 17 and Heart Breaker made his first bubble nest. He is definitely a very happy spoiled Betta. I could not be happier with the outcome. He is definitely out of the way of danger and now his final steps will be growing big and strong and the regrowth of his beautiful red fins.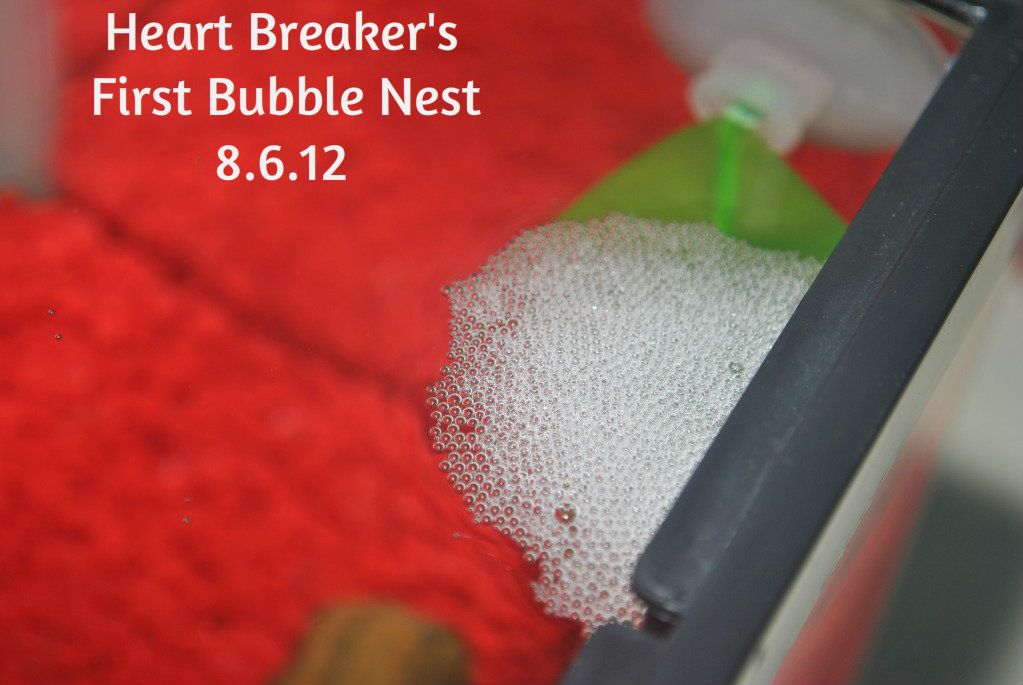 I would say for those interested in rescuing a Betta to do just that. We all need to be a voice for these innocent fish that are mass bred by us humans for sale and numbers. I am proud to be a voice for them and to try and provide a happy healthy home for as many as I can manage. All they need is time and love and they will make the best pets with a very special place in our hearts.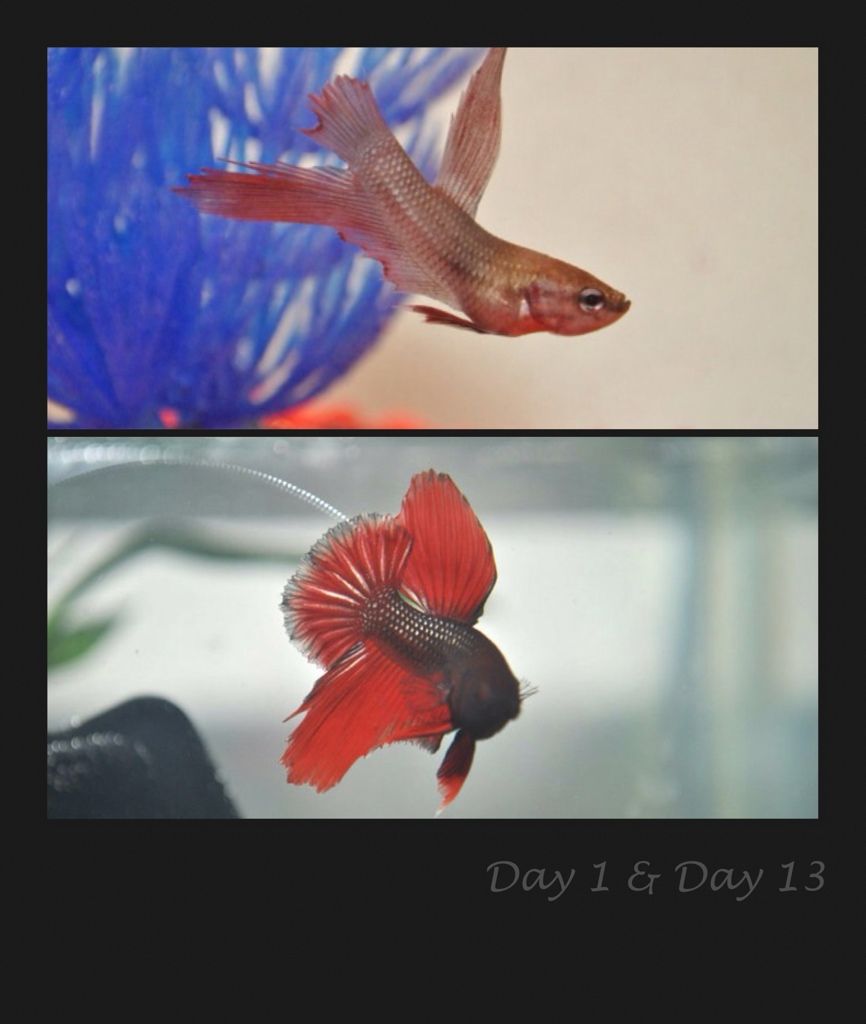 Great job to all of those that help save the lives of these beautiful fish!!
---
Just because I'm in a cup, does not mean to pass me up, all day long I sit and stare wishing you would take me there. To your home to set me free, in a tank would mean worlds to me. I'll be your friend and loving pet, buying me wont bring regret. I'm just a Betta can't you see, all I ask is you could too love me - CandiceMM
A cold cup was not my destiny-Heart Breaker
---
Last edited by CandiceMM; 08-06-2012 at

11:57 PM

.
Nice stories. Mine will never win. :(
---
Open your eyes
Now is the time
To rise up
With darkness we'll still shine

Don't say that! Anybody that can devote time and love into rescuing a helpless innocent Betta is already a winner!
---
Just because I'm in a cup, does not mean to pass me up, all day long I sit and stare wishing you would take me there. To your home to set me free, in a tank would mean worlds to me. I'll be your friend and loving pet, buying me wont bring regret. I'm just a Betta can't you see, all I ask is you could too love me - CandiceMM
A cold cup was not my destiny-Heart Breaker
Banned
Join Date: Jul 2008
Location: Central Texas
Posts: 27,619
Heart Breaker has turned out to be so beautiful!




Thanks dramaqueen, I am so proud. I feel honestly blessed and I can't wait to see him grow up.
---
Just because I'm in a cup, does not mean to pass me up, all day long I sit and stare wishing you would take me there. To your home to set me free, in a tank would mean worlds to me. I'll be your friend and loving pet, buying me wont bring regret. I'm just a Betta can't you see, all I ask is you could too love me - CandiceMM
A cold cup was not my destiny-Heart Breaker