This is Big Red. I'm giving him to my friend tomorrow so I'm spending as much time with him as I can.
"I swim in my tank, and this is what I see, another flashy fish is flaring at me. I flashy my flashy fins because I'm not afraid to show him show him show him! I'm the king and I know it!!!"
image.jpg
Descole.
"I did NOT ask for a neighbor. Why isn't my flaring working?! Curse you landlord!!"
---
"Nothing like it, baby!" -Cabanela

Why did I become a fishkeeper in the first place...? Because someone has to look out for the fish who have no one on their side.
Alvalta(vt) Chell(vt) Asami(vt) Trucy(vt) Shiseru(CT) Iris(VT )
Average pet Owner:To the pet store! Wallet:NOOOOOOOOOOOOOOO!
Eep, can I withdraw my entry of Loki and enter this guy (Koda) instead? ;o;
"I'm a little betta, small and stout. Here are my fins and here is my snout. When I get all hungry, I will pout. Give me a pellet to chase about. :3"
---

*Betta Boys* Loki, Koda, Domino, Kankri *Lizards* Leo, Gatorade, Ruby, Sozan *Snake* Nagaina *Tarantula* Pepper
*Hermit Crabs* Broseph, Sheldon, Pickles *Rabbits* Cloud, Peter *Conure* Frankie *Horse* Tango
*Rat* Snowball *Puffers* Mr. Puffer Fish, Lady Puffer Fish *Cats* Sammy, Rusty, MJ, Snipe, Sakura, Terezi

sure anyone who wishes to change their entry they can D:
"I dare you to touch my pellet!!"
---

Dei Vallie ~ HM M Pinkster ~ VT M Rheya ~ CT F Stardust ~ CT M Koi ~ HMPKEE M Zippy ~ HM M Princey ~ PKEE M Zeke ~ HMPK M Toothless ~ HM M Celestial ~ VT F Frost ~ HMPKEE M Unnamed ~ DT M PeachyKean ~ HMEE M Pongo ~ HM M JellyBeanRayne ~ VT F Unnamed ~ DeltaTDS M
Member
Join Date: Nov 2012
Location: Illinois.
Posts: 1,585
Changing my entry.
image.jpg
Wanna know how I got this scar??
---
Boys: Rosewell and Ren

Girls: Juno, Circe, Iris, Rhea, Calypso
My dearly departed Aquarius, he was always a curious boy and gave me dirty looks when I drained his water. He never could stand me taking it away from him and so one day I took a shot of him and it hit me what he was trying to say ALL those days.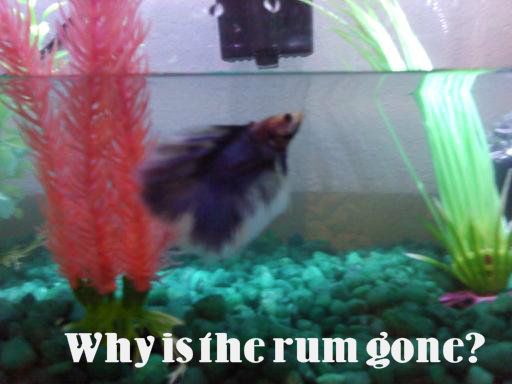 ---
IBC Member since 2013
Quote:
Hehe, awesome contest! ;w; Here's an old picture of my Loki: ;w;
"Hey buddy! Get out of my tank or I'll rip you to pieces! ...oh, you're my reflection.
Hey reflection! Get out of my tank or I'll rip you to pieces!"
LOL this is just like Dovahkiin!!!
I can't believe how hard I'm laughing at how perfectly I can picture Dohvakiin doing this....but....
"you better work ( cover boy )
work it boy ( give a twirl )
do your thing on the runway
work ( supermodel... )
you better work it, boy ( ...of the world )
wet your lips and smile to the camera
work! turn to the left!
work! now turn to the right!
Sashay, shante!"
Similar Threads
Thread
Thread Starter
Forum
Replies
Last Post
Chibi :(

chibifish

Betta Memorials

3

09-18-2012

05:58 AM