I cannot get either of them to flare, EVER. And when I do, I can never get a picture. :( Wiggly little things. The picture I have of Patriot is the closest I've ever gotten to taking a picture of him flaring. And he isn't even really flaring. Neither is Tina in her picture, but at least she stayed still long enough for me to get ONE decent picture of her, completely in focus.
Your Username: bettacrazygirl86
Fish Name: Patriot
Type: Veiltail
Sex: Male
Color: Blue, red, and white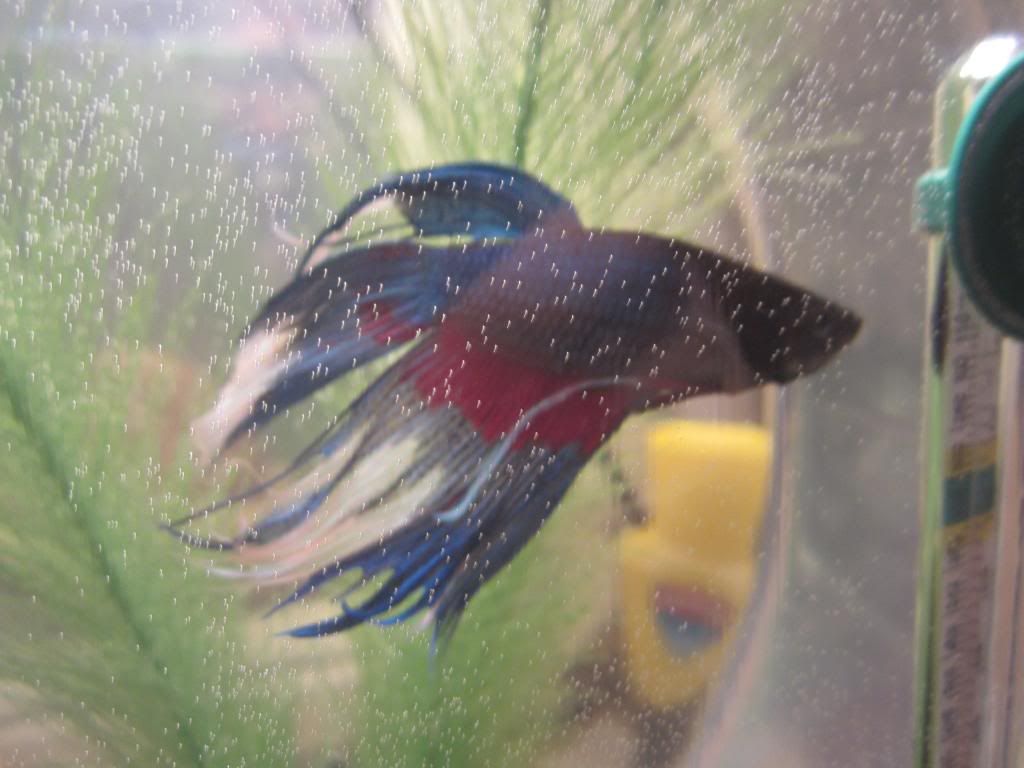 Your Username: bettacrazygirl86
Fish Name: Tiny Tina
Type: Plakat
Sex: Female
Color: Brown, pink, and purple
---
~ P o s e i d o n ~
Your Username: MoonShadow
Fish Name: Patrick
Type: Crowntail
Sex: Male
Color: Red with Iridescence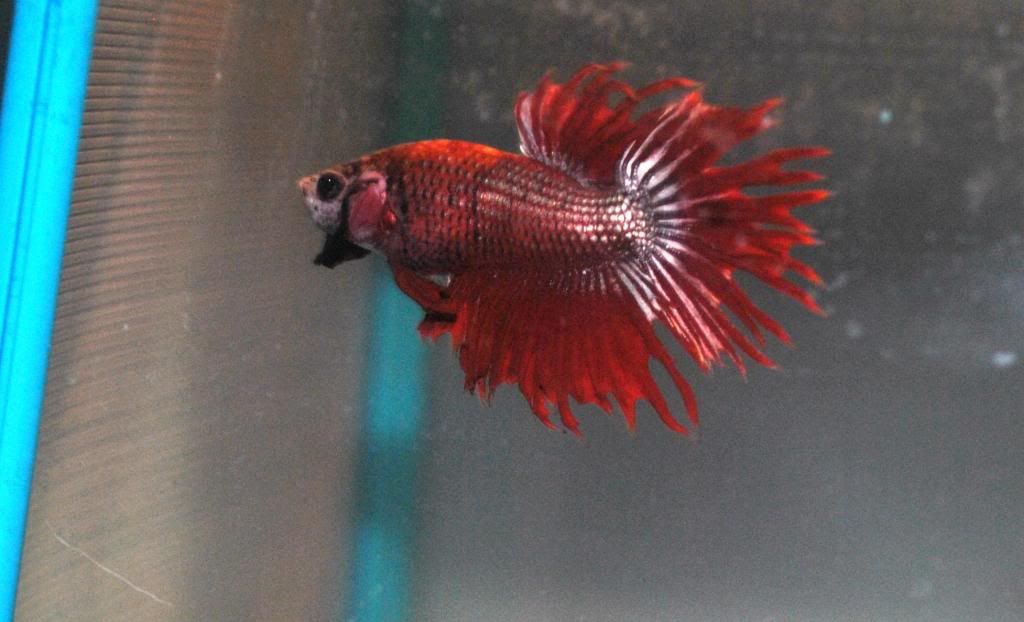 ---
One hand reaches out and pulls a lost soul from harm. While a thousand more go unspoken for, they say what good have you done? By saving just this one... It's like whispering a prayer in the fury of a storm. And I hear them saying... You'll never change things...
MoonShadow Betta Fish Rescue
Saving the world one innocent life at a time

If we can add a male and a female, then ...
Username: Kiara1125
Fish name: Apocalyptica
Type: Combtail
Sex: Female
Color: Blue/red dragon
---
100g Native Fish Pond, 55g Goldfish/Catfish Community, 50g Plant Pond, 40gB Tetra/Cory Community, 20gHM Community, 20gH Turtle (Bender [RES]), 20gL Turtle (Kif [YBS]), 15g Reef, 5.5g Betta (Okami), 5gFBH Betta (Pron), 5gHex Betta (Twister)

2 dogs, 13 cats, 2 turtles, 1 bearded dragon and 1 crested gecko
Username: Bettafishilove
Fish Name:Snoozles
Type: Veiltail
Sex: Male
Color: Dark Blue,Light Blue and Red
Quote:
is this contest still on?
Yes
---
100g Native Fish Pond, 55g Goldfish/Catfish Community, 50g Plant Pond, 40gB Tetra/Cory Community, 20gHM Community, 20gH Turtle (Bender [RES]), 20gL Turtle (Kif [YBS]), 15g Reef, 5.5g Betta (Okami), 5gFBH Betta (Pron), 5gHex Betta (Twister)

2 dogs, 13 cats, 2 turtles, 1 bearded dragon and 1 crested gecko
Your Username: bserrano2
Fish Name: Renji
Type: Veil Tail
Sex: Male
Color: Red