Member
Join Date: Mar 2013
Location: Florida
Posts: 695
Betta Show
---
Permission given by Sakura8
This contest is not supported by BettaFish.com
I will be judging this contest by myself. Submit pictures of your betta(s) in full flare if possible though relaxed is accepted. Males and females are judged separately for fairness. The judging is based off of an appropriate standard for each variety. Submit your betta into what variety you believe it falls in to. If I see fit that it be moved to a different category, I will do so.
The fish are judged on: Color/pattern, fins (size, alignment, conformation), body shape and size, overall appeal.
Fill out the form below, one for each betta.
Your Username:
Fish Name:
Type:
Sex:
Color:
Entries will be accepted until 11:00 American Eastern Time on Sunday, March 17th, one week from now. Judging will be done over the week with preliminary comments revealed as fish are judged with final results posted on Saturday. Titles are as listed:
Top Of Group
Top Male
Top Female
Grand Champion
Reserve Grand Champion
Best Color
Personal Picks (what I would have in my house)
Thank you in advance for any entries.
Member
Join Date: Jul 2010
Posts: 3,038
Member
Join Date: Mar 2013
Location: Florida
Posts: 695
Grand Champion and Reserve Grand Champ get a graphic for their signature.

It's more for fun.
Banned
Join Date: Aug 2012
Location: Hogwarts
Posts: 2,082
Username: BeautiulBetta123
Fish name: Marble
Type: Halfmoon
Sex: Male
Colour: Blue Panda Marble
Username:Trilobite
Fish name: Blacky
Type: HMPK
Sex: Male
Color: Black & copper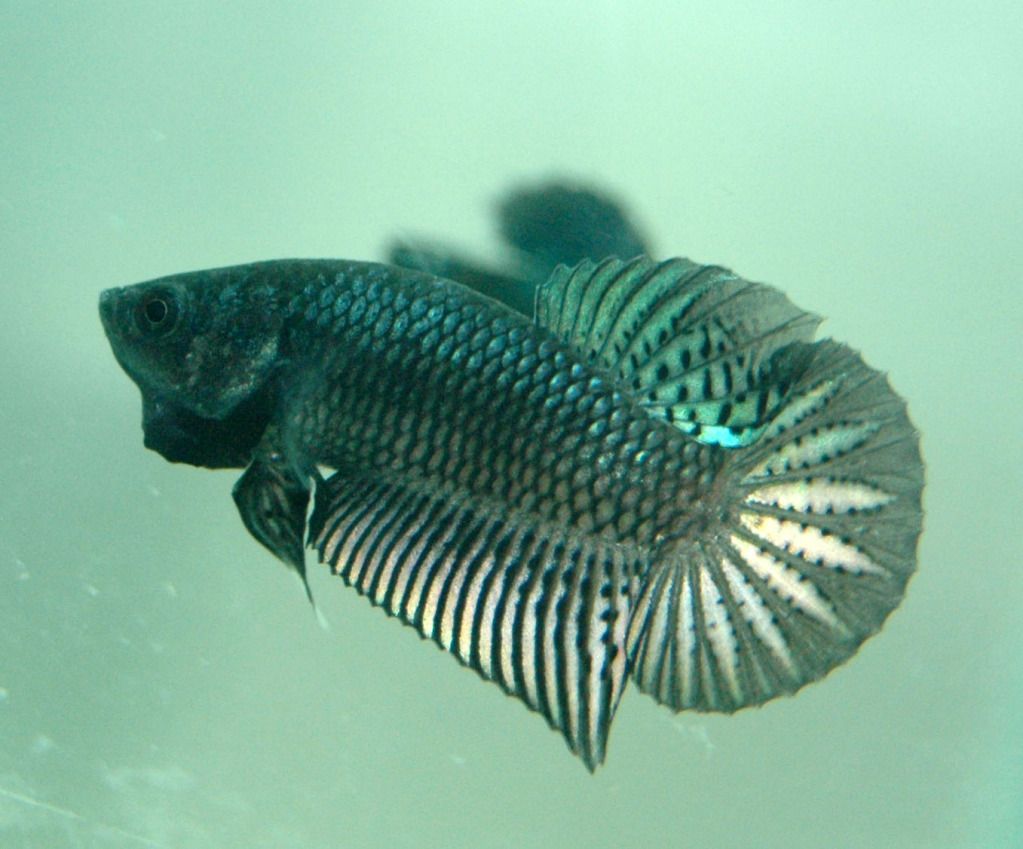 ---
Is there a limit on the number of entries?
I'll be getting some new girls tomorrow, so I'll be able to enter then. :)
---
Life.
I have a sort of Double Tail/Rose Tail hybrid. Can I enter him?
---
Yahtzee - Halfmoon Male, Naveen - Double Tail Male, [COLOR="Magenta"], Memphis - Delta Tail Male, Vegas - Veiltail Male, Goliath - Double Tail Male, Chanticleer - Veiltail Male
Member
Join Date: Mar 2013
Location: Florida
Posts: 695
Yes, I will add in a Hybrid section. I have one myself, a halfmoon double tail plakat. Up to 5 bettas each.
I will be changing entry time to NEXT Friday at 12:00 Eastern Time as we don't yet have many entries
How many pictures of one betta can we enter?
---
Open your eyes
Now is the time
To rise up
With darkness we'll still shine