Awww~ my Ryuu has the bad fin curl too from bad water (though the cup was decent the day I got him). I totally sympathize with wanting to save them all and make a point heard! Good for you! I think he's a lovely addition to the contest =)
Curly still counts! I don't believe that there is such a thing as an ugly betta, just ones who are unique in their imperfections
---
IBC Member
This is Themis: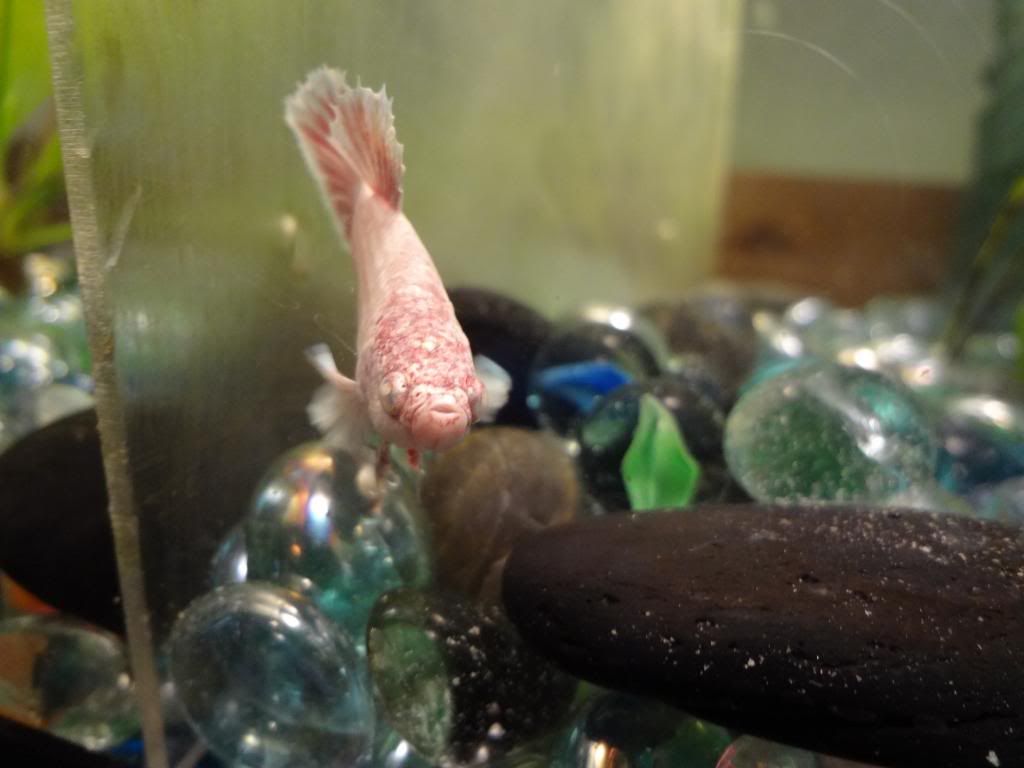 When you first look at her, she looks gorgeous and like everyone would take her- that's why I did! She had been at the store about a week, hidden in the back. When I got into the car, I noticed her eyes. I thought nothing of them, but some of these players told me she was probably blind or going blind. I figured they were mistaken, she got around her tank so well! But since I have put her in the sorority, I have found she was just very used to her 10g tank and she really must be at least mostly blind :( She can't get any food and she won't stop running into things. She'll be removed tomorrow and remain on my little 5g on my desk. I love her to bits and her deformity won't get me down on her- the people at the store said nobody had wanted her, but I didn't see her eyes so I thought they meant her colour. I actually went back recently and questioned them on this and they said that they had meant her eyes :( Hopefully getting her out of the sorority will improve her vision!
---
55 Gallon: Crowley: Melanoid Axolotl; Mischa: Melanoid Axolotl; Achlys: Albino Axolotl; Eddard Stark: Leucistic Axolotl
Furry Friends: Daisy and Holly: Dogs; Norman and August: Cats; Gilbert and Mordecai: Guinea Pigs
Hi! Welcome to the contest! I'm so glad you kept her even though she's practically blind! I imagine some would've returned her. I don't think their sight comes back, but the more familiar she is with a place, the better off she is. As for food, trying some garlic scented stuff (if you can find NLS...) might help.
This is a great contest! Oh boy I have some beauties for this one! Multiple candidates in Tank 3 . how will i decide who to enter! Can i enter as a group? My girls are gonna shine! Oh some uniquely sexually ambiguous males can I enter those?
---
Proud IBC member
I'll take one of each off your hands logisticsguy and then enter! Hehehe. This is a great contest! *subscribed*
---
"I want to share something with you: The three little sentences that will get you through life. Number 1: 'Cover for me.' Number 2: 'Oh, good idea, Boss!' Number 3: 'It was like that when I got here.'" (Homer Simpson)
Banned
Join Date: Aug 2012
Location: Hogwarts
Posts: 2,082
May i enter a deformed ct fry? he is looking for a forever home but has not yet found one. a lame story but one non the less.
Of course you can enter him! I didnt realize he still needed a home, I'll definitely adopt!
Similar Threads
Thread
Thread Starter
Forum
Replies
Last Post
AB beauty!

xswornxoffxjello

Betta Chat

5

02-21-2011

01:49 PM

Look at this beauty!

beat2020

Betta Chat

5

06-16-2010

07:12 AM