All the entries are looking amazing! =D
I am entering my 20 gallon sorority, which houses 10 female bettas and 9 corydoras
2.5 gallon small tank but I wanna win for awesome betta drawing!!! :D
sorry for bad quality picture... I only have phone camera :(
Here's my divided 5 gallon for my two boys!!!
From the front: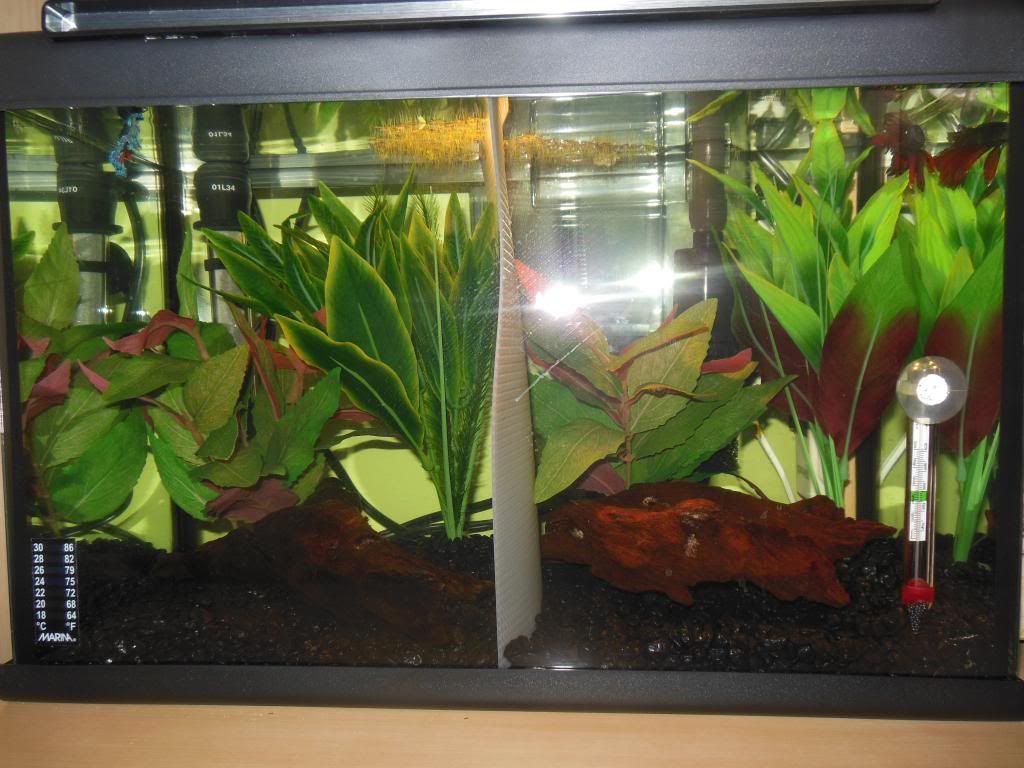 From the top: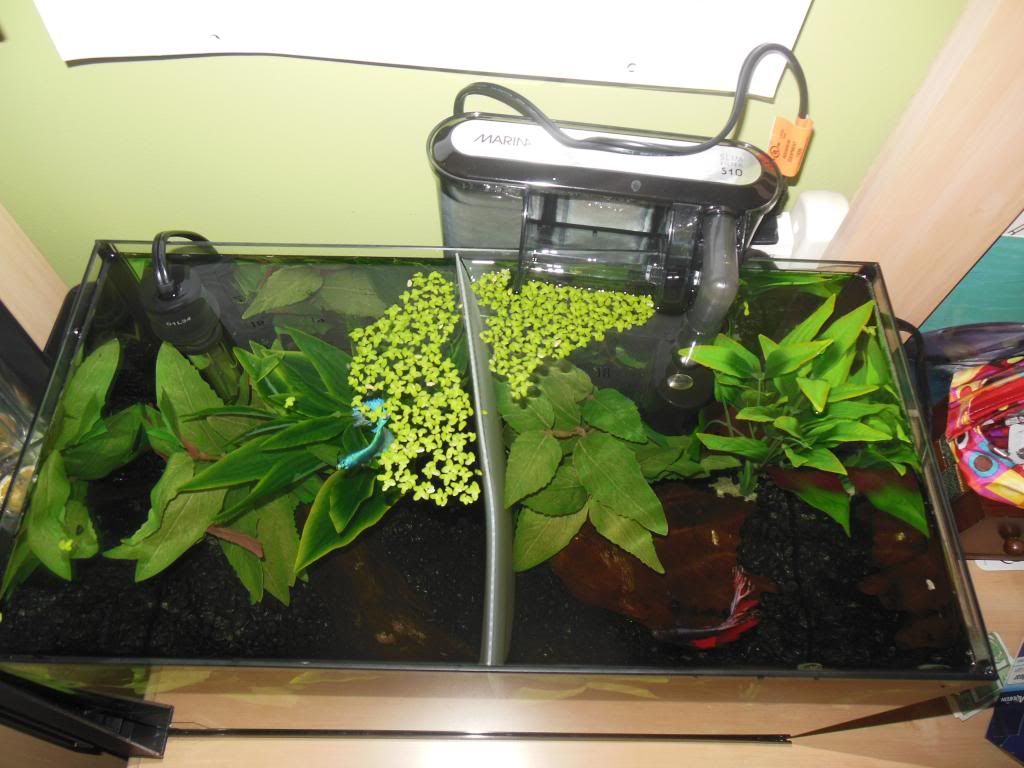 Tsunami's side: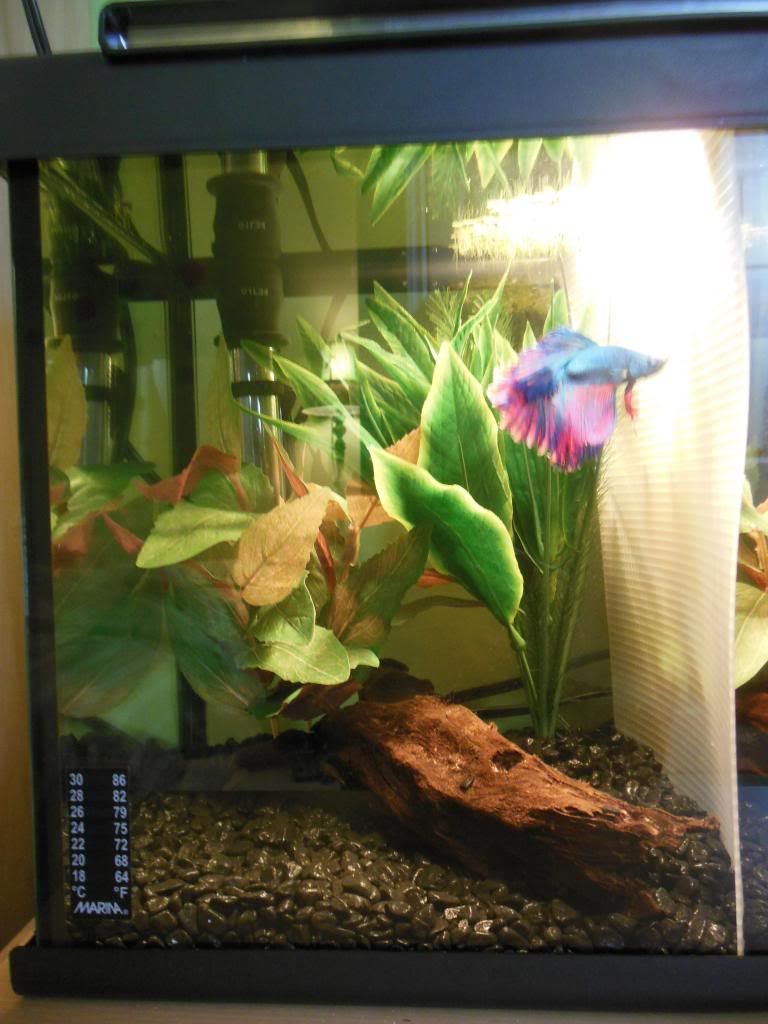 Fiji's side:
Tank is at about 79 degrees
Black gravel
Only live plant is Duck Weed
Mopani driftwood on both sides
Silk plants
Filter on Fiji's side
Heater on Tsunami's side
Wow, alot of really amazing and unique tanks
New Member
Join Date: Aug 2013
Location: Southeastern Wiscansin
Posts: 8
Titans' Simple Tank
---
It is a 2.5 gallon tank. it has two silk plants and a glow in the dark rock. With different shades of blue, with teal and white substrate. Titan just never stops swimming in his home.
Forgive me, but I do not know how.to make the images smaller from my phone.
Anyway, hope you enjoy.
---
First and always... Feathers.
My spaz of a fish... Titan.
Betta Sorority
---
Ah what the heck. This tank is nowhere near complete...I have some driftwood I need to put in it still, then work the plants around it, and hide the heater. Buuttt...I'll enter anyways.
This is my 10 gal betta sorority. Currently just has 2 females, but the remaining ones will be arriving the middle of this week! Just over a week into this tank. I was given the females free when I ordered a really nice male betta from a breeder...The females were a surprise! I had to scramble to get a tank setup. Thankfully I have an established tank already (my dwarf puffer) and was able to seed some media.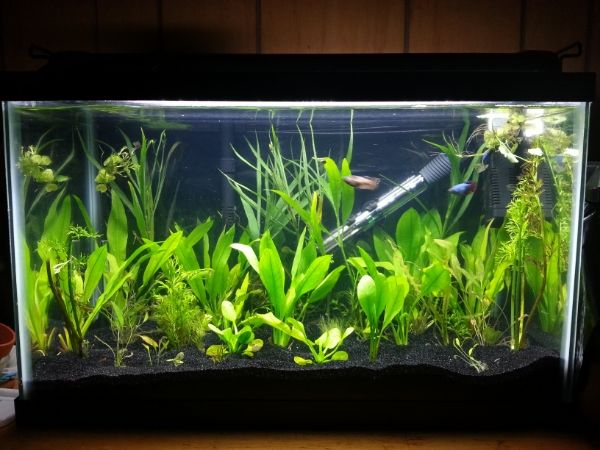 ---
loving all the entries! makes me wanna get more tanks
Member
Join Date: Feb 2013
Location: texas
Posts: 907
---
GIVING AWAY PLANTS? REAL OR FAKE, I'LL TAKE THEM

3 males: Mardi (OHM) - Mason (HMPKCTEE) - Maddux (HMPK)
1 female: Mercedes (Undecided again) Maybe VT or Delta
---
Last edited by jesssan2442; 08-25-2013 at

12:04 AM

.
This is my 10 gallon!
Currently housing not enough plants, two corydora's and 4 glo-light tetras and Ragnarok!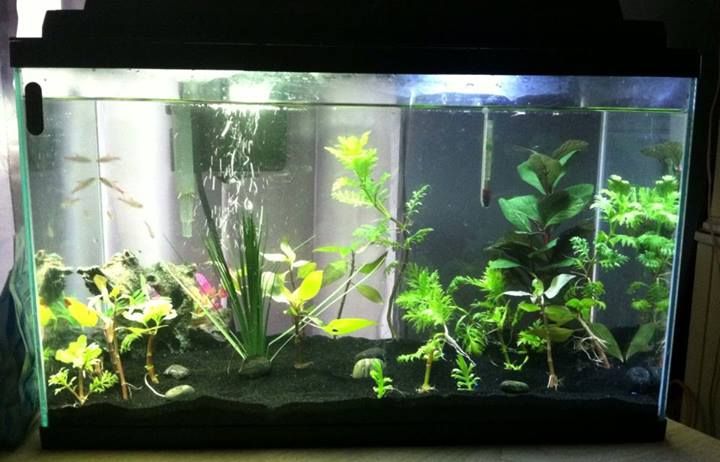 ---
Ragnarok -
, Klaus, Osiris, Requiem, Sunburst, Black Hawk, Raine, Red, Pistacio, Lisel, Baldr, Symphony, Rennie, Sashimi, Mochi, Mousse SIP
Bettas- Mosaic
72 Bowfront-Kurt, Little One, Callie, Albert, Egghead, Little Red and Little Blue