Betta Contest Winner, January 2010
---
Congratulations to
Synthisis
on winning our first contest of 2010!! Great picture Synthisis!!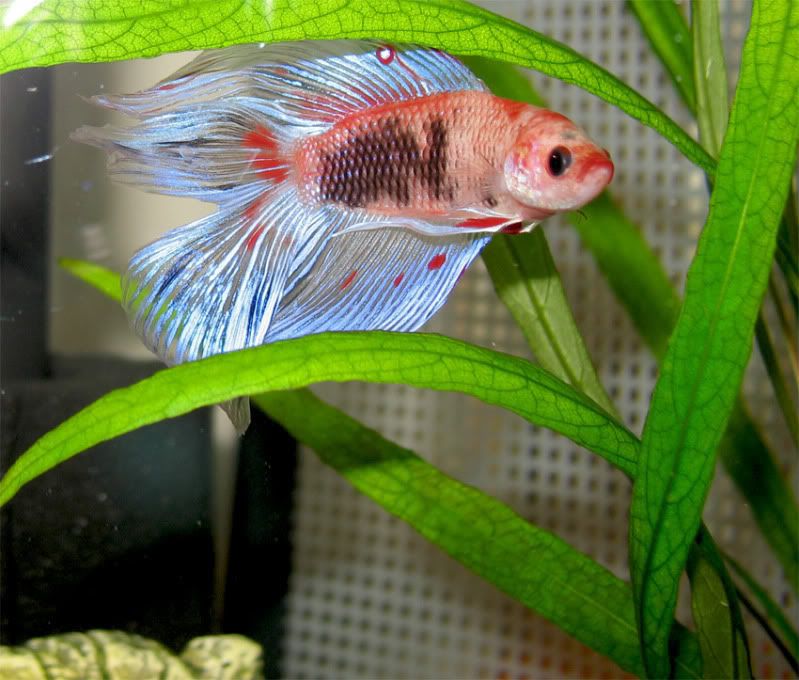 ---
ʎɐqǝ uo pɹɐoqʎǝʞ ɐ ʎnq ı ǝɯıʇ ʇsɐן ǝɥʇ sı sıɥʇ
Banned
Join Date: Jul 2008
Location: Central Texas
Posts: 27,619
Banned
Join Date: Dec 2009
Location: Jacksonville, Fl
Posts: 162
Wow! I am sure there were a lot of great pics, but that is absolutely splendid! A combination of good framing with the plant, good camera work, and a gorgeous fish. the little camera hog is looking right at the camera too!
Congrats hun! <3
---

Dijon: Blue mustard gas hmdt plakat male
Little Girl (LG): Blue crowntail female
No name yet: Purple/pink/white delta tail male
No name yet: Red and silver halfmoon male

RIP Storm, Flair, Marina, Flash, and Sterling... I miss you guys so much :(
Join Date: Jan 2010
Posts: 3
I'm soooooo happy for you YAAAAAAAAAAA!!!!!!!
Member
Join Date: Sep 2009
Posts: 3,477
Congratulations!! He's gorgeous!
---
I need to get a new picture of him... his colors have changed ALOT in the past 2 weeks
hes really unique, congrats!
---
31 Betta Males
12 CrownTail
7 HalfMoon
5 DeltaTail
4 DoubleTail
3 Veil Tail
44 Betta Females
Round, Crown, Spade
65 gallon
55 gallon
35 gallon
2 - 20 gallon
4 - 10 gallon
16 - 1.5-2 gallon
MTS has struck, resistance is futile
Beautiful beautiful fish! I really miss Orchid, my double tail.