Member
Join Date: Jun 2014
Posts: 127
My 1st 2 betta fishes...
Nightblue (red and blue) and DoubleDubby (white and purple)
SIP
image.jpg
(gonna post Nightblue brb lol)
Member
Join Date: Jun 2014
Posts: 127
Unnamed new boy directly challenging me when I approach his tank. Nips me when I touch his floater plants. -_-"
---

Don't touch the fish. Guard Bunny is watching
.
Bunny no like.
Beautiful fish everyone! They all look pretty darn fantastic!
Rembrandt! My beautiful 2 year old HM Mustard Gas boy! I love his orange gill plates and blue lips!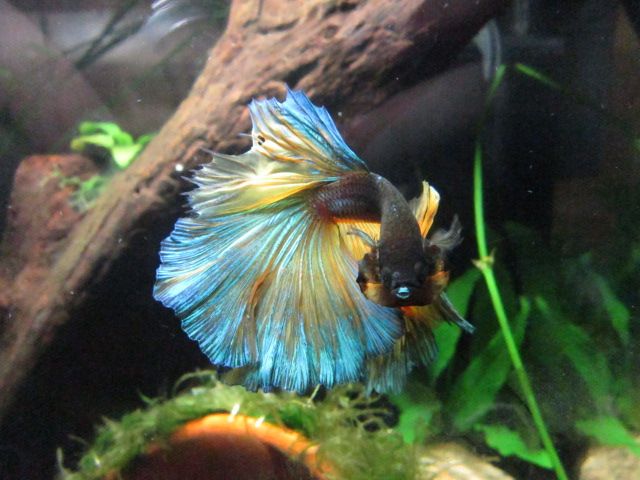 ---
Wilds: Wajok, Rutilans, Siamentorialis, Hendra
Leopards: Luna, Astrael, Dorian, Cullen, Gallifrey
Gargoyle: Cloudjumper
African Fat Tails: Nox and Lux
Bearded Dragon: Stormfly
Better be careful , he is very menacing !
---
Im not a cat person or a dog person or a frog person or a hog person , Im a fish tank person
Wow!!! Rembrandt is AMAZING!!!! All these other Bettas are stunning as well!! Sooo many good looking Bettas!!
Lilnaugrim's Rembrandt will always be my most favorite betta on bettafish.com :) because of him I've been on the hunt for a good looking mustard gas for awhile now
New Member
Join Date: Jun 2014
Location: Gainesville, FL
Posts: 39
Quote:
Beautiful betta! Which photo would you like me to use for the contest?