Happy early birthday to me/I'm checking into BAA tomorrow
---
So today I learned that I'm developing a "Ooo... Shiny!" complex when walking past the bettas at Petco. While looking at them today, I noticed this purple/white butterfly elephant ear betta mistakenly labled as a HM that I didn't intend to get but ended up taking home anyway because I had an empty tank, he was just so fiesty looking, and I'm pretty sure I'm in the beginning phases of addiction (as the title says, my friends are going to try sending to Betta Addicts Anonymous tomorrow). He also somehow tore off part of one his pectoral fins (random questions - can/will they fin bite them?), so his tank is staying squeaky-clean while it heals. But here he is, along with a couple pics of my other two boys (who are shamefully not yet named, suggestions appreciated):
New boy, he's really more purple in person - my photography skills are just lacking.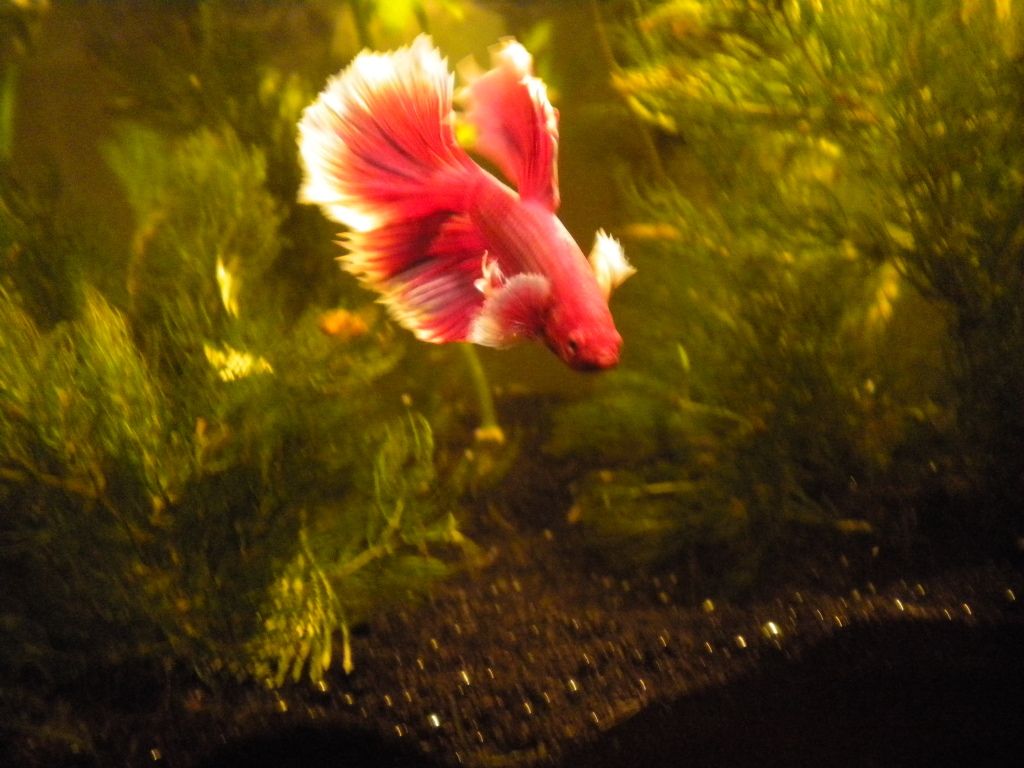 My first betta, a red-with-blue-edging dragonscale HMDTPK who has a small kink in his spine that doesn't seem to slow him down any and has also managed to tear his dorsal fin: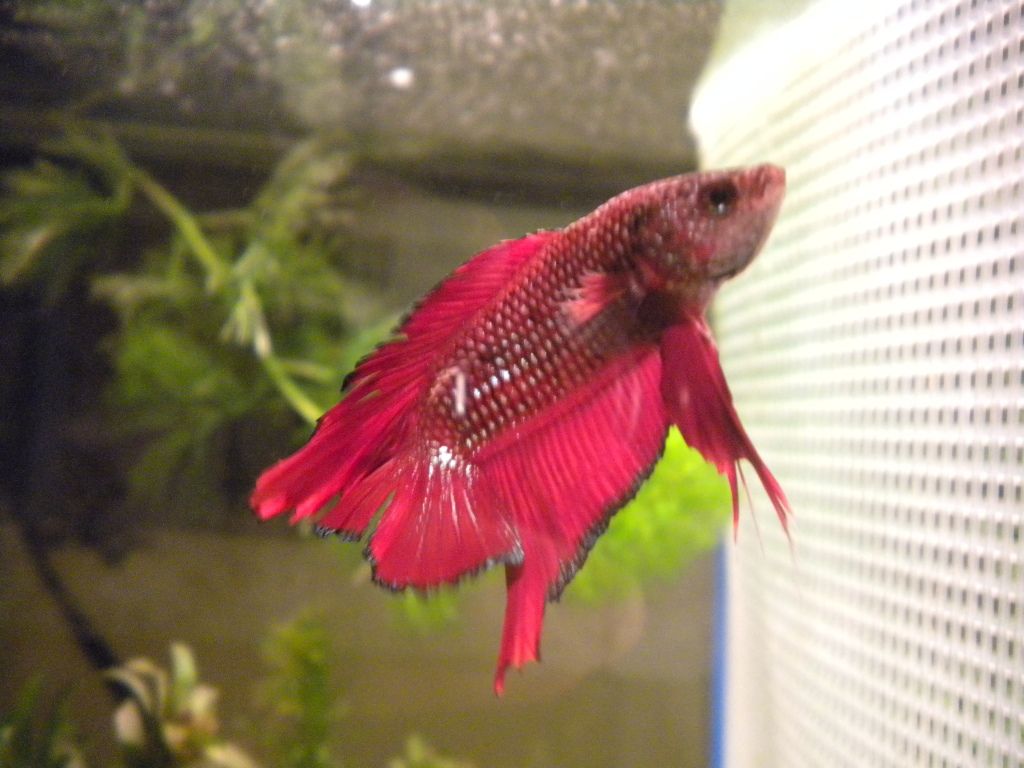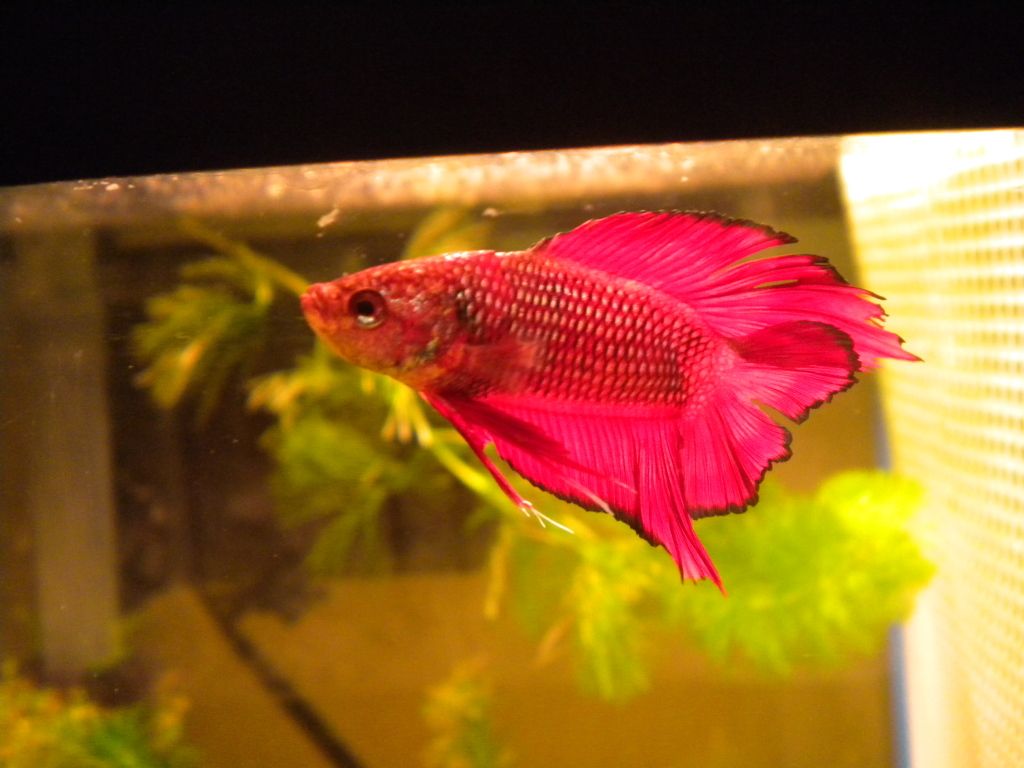 And my middle boy, who's a black orchid butterfly HM: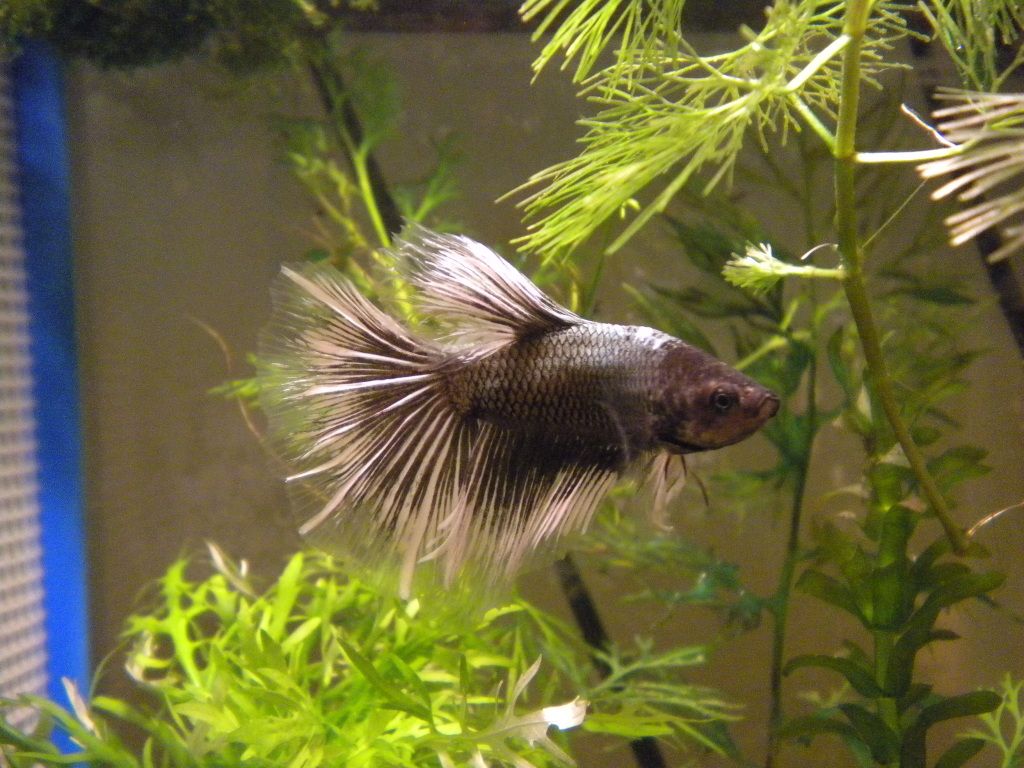 ---
It's funnier in Enochian.
Banned
Join Date: Jul 2008
Location: Central Texas
Posts: 27,619
Thanks! They're a funny bunch.
The HM and plakat have somehow figured out how to get through the divider, though, so they're currently in a bit of trouble. Meanwhile I'm just scratching my head on how they did it
---
It's funnier in Enochian.
Aww..I love the Big ear fishy's glad you scooped him up!! They are all very pretty fiishy's,, and yes you are not the only one who needs BAA!! I recently took in my 6th fishy..and I promised myself I'd stop at 5...hahahaha..NOT..BAA here I come:)
---
Thanks guys! He's got quite the personality already, and he hasn't even been in his new tank 24 hours yet! While I don't think it's his huge pectoral fins, he does seem to be the most sensitive to water movement of the three - even with a baffled filter.

He has to be the last one I get, at least for now... My dorm has a 30 gallon limit for tank space and I'm now at 30.5 gallons, and I don't really want to give the bettas less than five gallons each.
---
It's funnier in Enochian.
Member
Join Date: Jul 2012
Posts: 741
He's lovely happy bday and NO YOU DON't need any more bettas ever!

The new one I bought for my mom just arrived. number 3 here, too.
---
Prana (deep blue/purple CT female) Fluval Spec 2

Qi (turquoise CT female) 5 g riparium

Vanilla Beast (Ivory apple snail diffusa), Watson and Crick (Amano shrimp), Tributary (Moss Ball aka AquaTribble) Fluval Spec V

Pond and ramshorn snails (so many!) 2.5 g

Mr. And Mrs. Smith (assassin snails) 0.5 QT tank

Leopard ramshorns 16oz NPT Mason Jar


Ahh, beautiful fish! :D Especially like your new boy, he reminds me so much of my late big ear Dizzy <3
---

*Betta Boys* Loki, Koda, Domino, Kankri *Lizards* Leo, Gatorade, Ruby, Sozan *Snake* Nagaina *Tarantula* Pepper
*Hermit Crabs* Broseph, Sheldon, Pickles *Rabbits* Cloud, Peter *Conure* Frankie *Horse* Tango
*Rat* Snowball *Puffers* Mr. Puffer Fish, Lady Puffer Fish *Cats* Sammy, Rusty, MJ, Snipe, Sakura, Terezi

Thanks! Aww, Dizzy's adorable!
---
It's funnier in Enochian.