Good for u!! I hope he gets better!
Thanks Seki, Animalactivist12

He has got about a 3 mm strip missing from his caudal, it nearly goes to the body but not quite, the rest of the caudal seems in not too bad shape, that strip should heal ok provided he wasn't the one who caused it, I did think it could be possible tail biting. But at the moment I optimistic he just got it caught, normal tail biters seem to attack more that one area from images I have seen, he just has that one strip.
---
The majority of fish issues are initially caused by poor water conditons.
You don't keep fish you keep water
---
Last edited by beautiful Betta; 06-14-2014 at

01:42 AM

.
Sometimes Rygel will bite from only one section of his tail. Usually the top end. So it might be biting.
---
Remy, the fluffy kitty
SIP Dominar Rygel I and II

If it is I will worry about that issue after his balance is sorted out.

He is still with me. Not looking any worse, and now I think he has SBD issues. I did get some epsoms while I was out today, although I will leave now until tomorrow to maybe start that, see how he is in the morning.

I am currently setting up a small 2 gallon tank with heater for him I cant run filter yet as I will have to have the water level to low. In the small tub he is floating in the ammonia can rise quite quickly, I changed 100% this morning, and this evening I thought I would check it, and it read .5 (don't know if any slight traces of medication could affect that reading) but there is no poo and he is not eating so I was a little surprised. So done another water change. Setting up the tank he will have more water volume, with not much more depth so will help with that. Plus I am more convinced now he will soldier on. And I guess most will know what it's like to pull out old tanks, heaters and clean it all set it up and then the fish dies. So thought I would wait 24hrs before doing all that. Tank water currently warming.
---
The majority of fish issues are initially caused by poor water conditons.
You don't keep fish you keep water
I wouldn't bother with a filter until he's feeling better anyway. Even a baffled filter can be too much for them. I fasted Lir 3 days, then did an Epsom salt soak for a week only feeding him half of what I'd feed the healthy bettas, entirely skipping every other day for a week. That worked for us. Your mileage may vary. :) good luck and keep us posted!
Thanks I will.

If there is no change tomorrow I think I will start with the epsoms, as his condition is quite severe as he is hardly able to get of the bottom, he doesn't seem to have a great deal of coordination either and then sinks like a pebble.
---
The majority of fish issues are initially caused by poor water conditons.
You don't keep fish you keep water
Yeah, Lir had that issue. He's still a poor swimmer. I think some of the bettas their swim bladder gets damaged and it makes them awful swimmers. If you think he needs it tomorrow go ahead and start the 10 day treatment. It does indeed help. :)
Ok the change over has been a bit of a disaster, a lot more stress for the him than I intended. Here is a recap.
So tank was set up water up at temperature, gently tipped him into a cup and transported him over. Gets to the tank as soon as my hand hits the water I can feel that the water is a lot warmer, yet the thermometer is reading same as other tank. The water isn't heating evenly because of lack of water movement. So just stand the cup in the tank go and get some cold already prepared water and add to tank to bring it back down.
That done I gently release him and then start digging out a airstone to try and provide some gentle movement. Don't have any small bubble ends pull the air large airstone distributer stone of the end of tube and see what the flow is like if I just push the tube down by the heater. Too strong I will have to forget that idea for now.
I am concerned about the water level because to cove the heater I need at least about 2 inches of water. He seems to be really struggling to reach the surface. I wasn't happy about that. Not a lot I can do so think it will have to be ok.
A bit later on I go and check and now there is small little bits of white rubber floating around in the tank, it has come of the heater suction cups, I did scrub them, but after the rubber had been dried out for some time, I guess the rubbed softened up more in the water and small bits started to peel off. Then I suddenly panic thinking what if he tries to eat it thinking it is shrimps or something, he could do without any more issues. I Try to siphon the bits out, don't work. Particles are to small and too many to remove by hand. Only one thing for it, I will have to empty the tank completely.
So end up stressing him out some more, guiding him back into a cup and moving back over into the floating tub, while I redo the tank.
With him now back floating in the tub. I really want to lower the water level so start messing around again. I ditch the original heater clamp, in favour of just letting it sit on the bottom that way I don't have to fill so high. It still left the issue of the heat not dispersing evenly. So back to thinking what could I do with the airstone. After some deliberation I tie the end in a knot as tight as I can get it. I then poke a hole in the tube with a sewing needle. And to my delight I have slight water movement but not strong enough to stress him out. I wedge the air tube under the heater so the small bubbles will disperse the heat. I manage to find a old suction cup heater clamp from a bigger heater that broke ages ago. the tube grip fits the top part of the heater fine, which is great because the lead kept lifting the heater slightly out the water, plus with the kinks in the lead, the heater didn't want to sit nicely on the bottom, more like the middle. So using the suction cup I am able to fix the heater to the back of the tank. Wedge the air tube under the heater, and then wait for the water to reach temperature again.
Then I had to move him back, when I moved him back to the tub, it was impossible to do it without getting bits of white rubber with him. So after a few attempts of trying to get him in a cup I think it will be easier to just scoop him out with my hand. The water is the same source as the tank any way so don't really need to worry about that, temperature pretty much the same. So I carry the tub over to the tank and gently scoop him out. Of course now he is petrified of me when I go near the tank. Thinking what is she up to now. I really didn't want to stress him out so much so not happy about that, he is gasping a bit now, although I put it down to stress. I have covered the tank over now so hopefully that will calm him. I did take a few quick pics of my handy work before I cover him over.
[IMG]
[/IMG]
[IMG]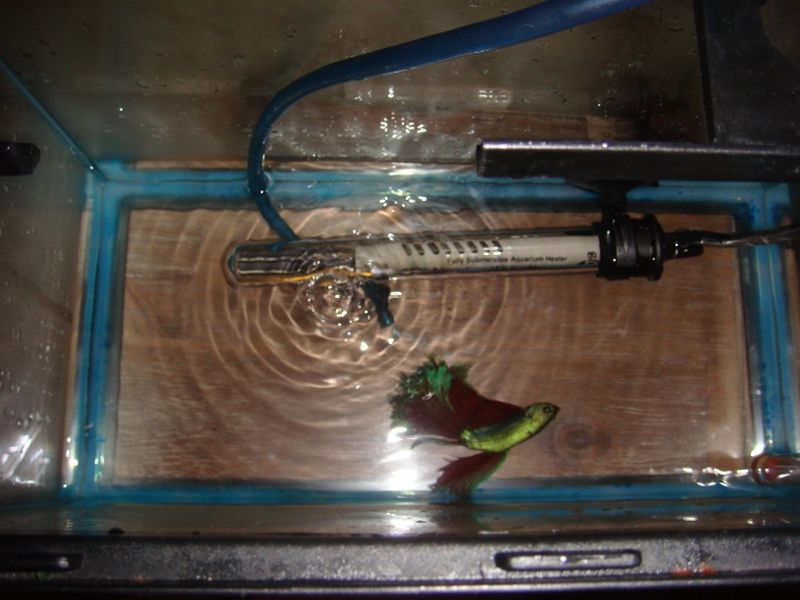 [/IMG]
[IMG]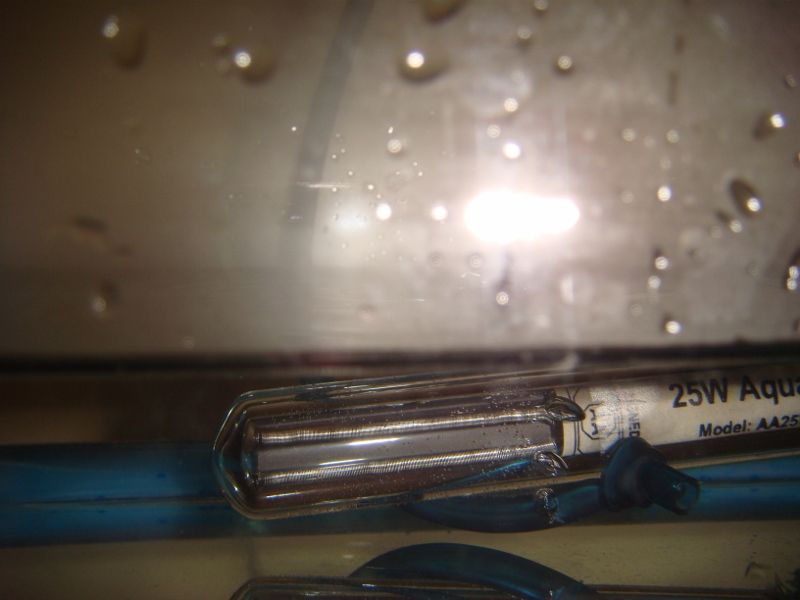 [/IMG]
[IMG]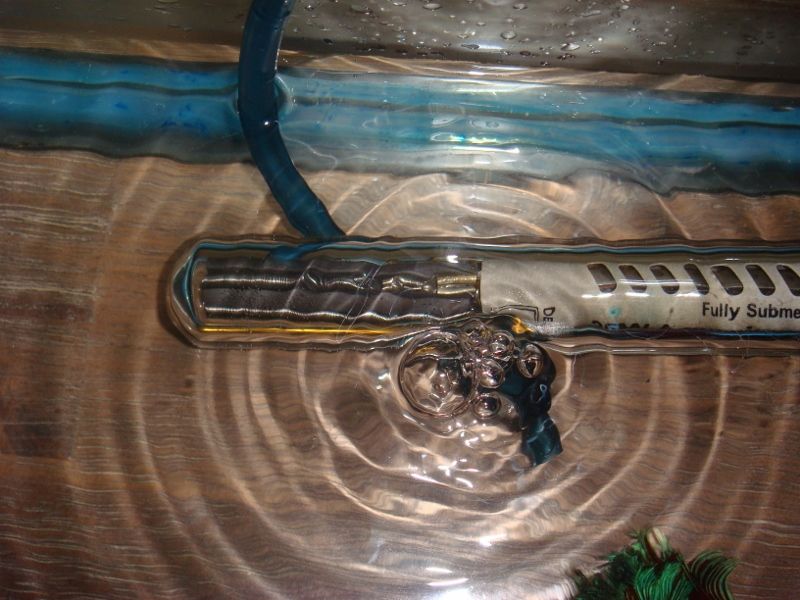 [/IMG]
Fingers crossed he makes it through the night after all that stress, I am little worried.
---
The majority of fish issues are initially caused by poor water conditons.
You don't keep fish you keep water
I think being picked up is nothing compared to how much he was stressed at the pet store. If it is sbd I've heard of people making fishy life vests, it sounds silly but I guess... If I were a fish I'd rather be picked up by you than be forced to wear a life vest
Our two initial boys actually let me pick them up and out of the water with no struggle anymore. We've had them for a year now and Dijon will just lay on my hand when it is in the tank. I suppose it depends on the fish and how long you've had them, but I never use a net for the bettas in fear of their fins being damaged. Usually I use my hand or a cup.
---
Similar Threads
Thread
Thread Starter
Forum
Replies
Last Post
What would you call this?

Saddlepatch

Betta Chat

13

08-16-2010

08:26 PM