Banned
Join Date: Nov 2009
Location: Orange County, New York
Posts: 578
Thoroughly Confused!!
---
So the spawn between Zodiac and Drucilla is a no go... But now i'm really very very confused. I released her, he had a small nest but was much more interested in flaring and chasing then building, I thought ok, he's a bit aggressive I'll keep a close eye on them. Well they did fine for a day, a few nips, nothing major, lots of her hiding, him flaring and a little nest building. Well I went by the tank the day after I released her and she was torn up, the poor thing! But the weirdest thing is Zodiac flared at her and she flared back with a HUGE BEARD!! I think Drucilla might be a Drew. But she/he has short vent, and looks eggy?!?! But has a Beard!! So confused!! Couldn't get a pic of her/him flaring! Opinions??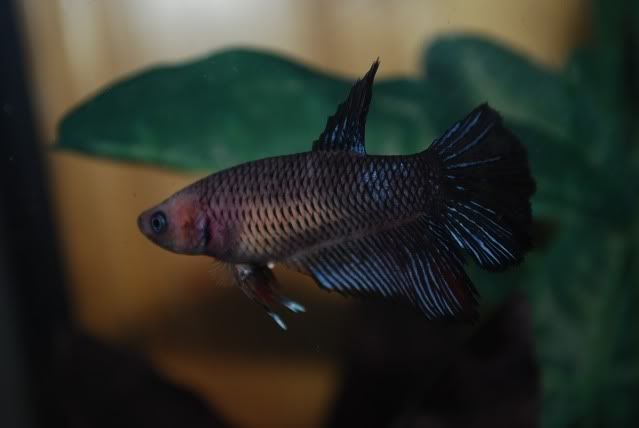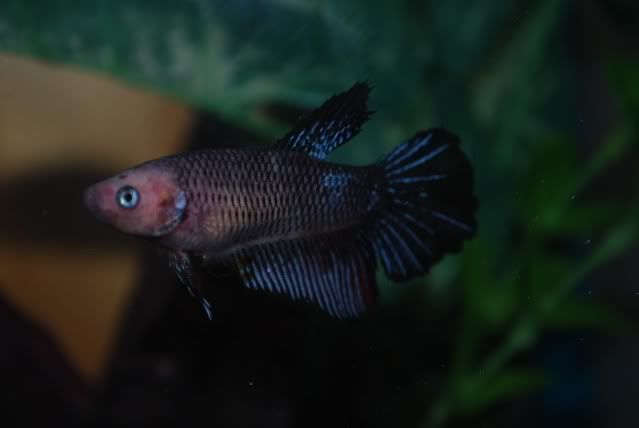 I would say female 100%. You can pretty much see her eggs. Maybe she wasn't in the jar long enough for them both to get over their aggression?
---
*Be smart.. Do your research!!*[/COLOR][/FONT]
[/CENTER]
Banned
Join Date: May 2010
Location: Accedint MaryLand
Posts: 1,010
It looks like a male to me.
Banned
Join Date: Nov 2009
Location: Orange County, New York
Posts: 578
I know!! But the beard! Haha... Some pairs just don't like eachother I'm pulling them, letting her heal, reconditioning and in a month or so I'm going to try breeding her to Damien! In the mean time I'll figure out who to try in the breeding tank next!
good luck
---
my beta's
female purple vt-grace
blue and white marbled hm-kisame-lighto
white marbled hm-boo