Just and idea....
---
I use this method for keeping multiple tanks heated with one heater! Take a clear rubbermaid, add water and heater (filter if you want!), and put tanks in it! Not the nicest looking arrangement, but it is great for those 3 bettas you couldn't leave at the store, or all your fry!
---
I only have 1 betta left, but he's a cool blue marble!
皆さん、こんにちは!私は一匹のベタを飼っています。
I used this method during the cold months... now all my heaters are unplugged because the water is rising up to 84 degrees at room temp... gotta love Texas weater.
Good idea! Does the heated water outside the tanks keep the water inside warm enough?
---
Love my Common Pet Store boys:
Cheep-Cheep | Edwin | Maximus

Welcome newest adopted boy:
~ Loki ~

I do something similar for my hospital/qt tank. I don't have a heater small enough for a 1 gallon, so I fill my old empty 5 gallon halfway and put the 1 gallon in there. It's nice because the small tank is easy to do 100% daily changes on, but it still provides the fish more room than floating it in a little cup inside its main tank, which is a common qt setup. I was lucky I had the 5 gal on hand but Rubbermaid containers are a great inexpensive idea for emergency situations when you need to heat small tanks or multiples with one heater!
The outside water does heat the inner tank, but I've found that the 1 gallon is usually a couple degrees cooler than the water in the five, so I just set my heater two degrees warmer than I want the water to be and check the thermometer several times a day, just to make sure everything is still where I want it to be.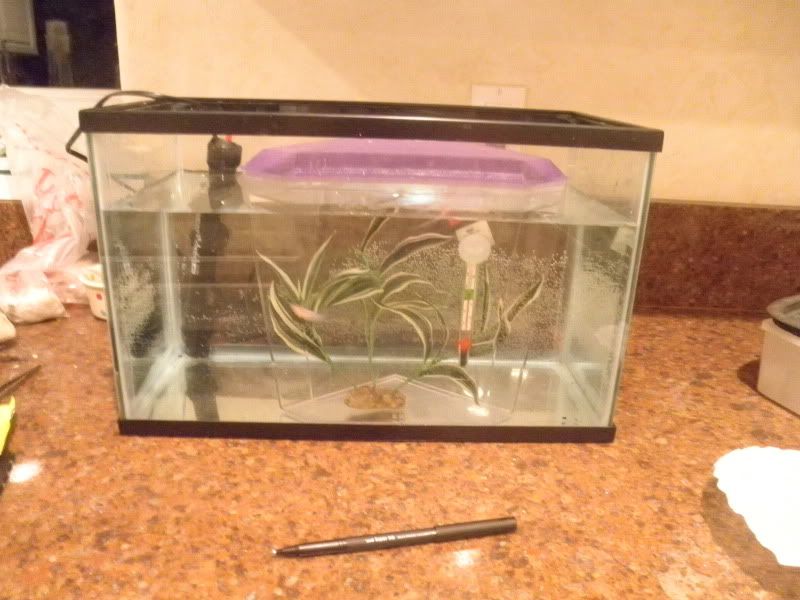 Went to 4 LPS this weekend looking for 5gals... ugh! Ended up buying 10 gals because 2.5 were too small.
Where do you get yours??
Petco, petsmart, and thrift stores! You can find lots of tanks in thrift stores!
---
I only have 1 betta left, but he's a cool blue marble!
皆さん、こんにちは!私は一匹のベタを飼っています。