Renji and the rabbit snails' new home in-progress
---
I moved to a new house 2 Fridays ago, and while taking trips back and forth the other day to clean out our shed I noticed my dad's old custom-made tank laying on the ground outside. I asked mom if he was planning on throwing it away and she said yes. I went home and asked him if he didn't mind me taking it to work on and he was excited that I asked! This was his first serious tank, he bought it when he was 17 and it has been passed around from him, my aunt, back to him, transferred into a terrarium, then put out in the shed. It's older than I am and I'm 21! As far as he knows it's one of a kind, there was only one other of a similar shape and it was much bigger in size. The glass is tinted and the shape is very unique.
When I got a hold of it, it had wood boards siliconed to the top with a wire lid which looked very ugly to me
After working at it with a butter knife I was able to completely remove the wood and scrape off the silicone with a razor knife. The silicone on the inside was ancient as well, and dad said it had a leak somewhere from what he remebered, so I gutted it and pulled out the 2 angles sealing as well. I resealed the 2 angles this afternoon and plan on resealing the inside this next week (gotta go get a new bottle of silicone). Over all, I'm excited to see how this turns out!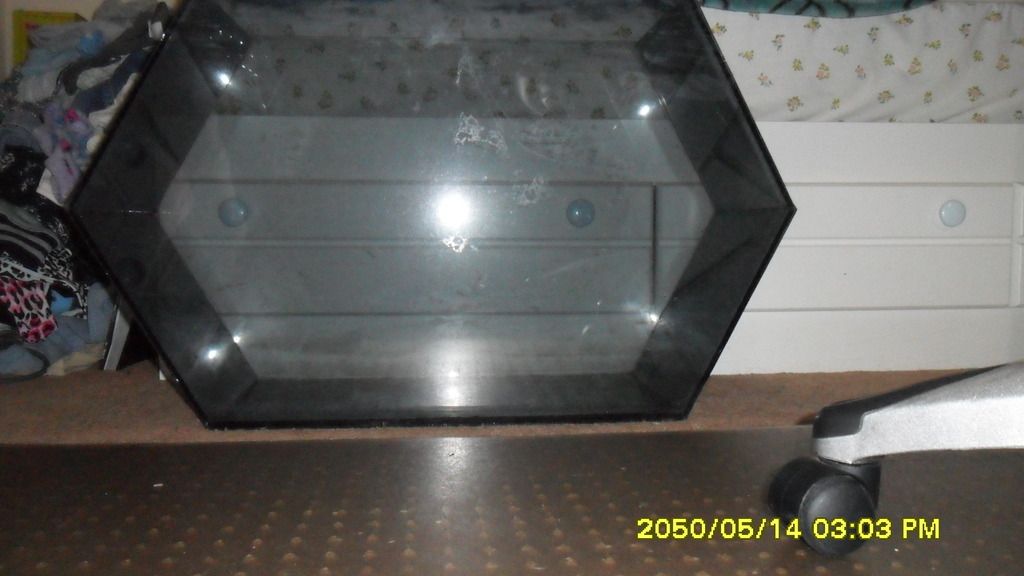 ---
Male Rosetail: Smokey