Quote:
Wow he was a beautiful guy! 0:
Aw thanks! He was my special boy. I'm sad he's gone.
---
Back after a hiatus.
Pongo - HMPK Koi Male
Onyx - DSH Cat
Member
Join Date: Feb 2013
Location: Australia
Posts: 1,695
I love all my bettas and each little boy has been especially beautiful. But I must say my dream betta is my fancy dragon HMPK boy Dandy,he is just so dreamy inside and out.
My boy, Paris, was my dream betta. HM mustard gas.
He was named over a month before I bought him, and three months before he even arrived!
The pictures posted on AquaBid:
link
.
Photos I took of him when he was in quarantine:
I think he's stunning. I love his perma-grumpy little pug face that just seems to look that little bit grumpier when I tell him he looks like a pretty sunflower. Gives me that, "you stupid human stop baby-talking me and hand over the bloodworms" look.
---
Gentlemen: Tidus, Spyro, Lister, and Ciel.
Ladies: Cynder, Sona, and Lightning.
SIP Roan, Kairi, Rosa, Paris, Nami, Yuna, and Mushu.
---
Last edited by Vrisnem; 07-17-2016 at

07:49 AM

.
Quote:
Originally Posted by
DangerousAngel
View Post
I've got my dream Betta! He is a Black Dragon PK. This is Prince Onyx II:
lol!! My cat's name is Onyx.
Handsome boy!!
---
Back after a hiatus.
Pongo - HMPK Koi Male
Onyx - DSH Cat
I found two of my dream bettas. I wanted a red, white, and blue boy and a black and white boy. I found the latter in my second betta and waited three months after that before the first one could be found. Sam is the CT and Chess is Delta (whose faint white scales looked like a chess board XD They look fainter in the picture -_-)
---
To you, they're just fish. To me, they're just my greatest friends
Member
Join Date: May 2016
Location: Kannapolis, NC
Posts: 55
I'm pretty happy with the one in my avatar, but DTHM platinum white would love to have.
I don't necessarily have a dream betta right now, but I like to believe I already own one of the most gorgeous bettas I will ever see; in my own opinion.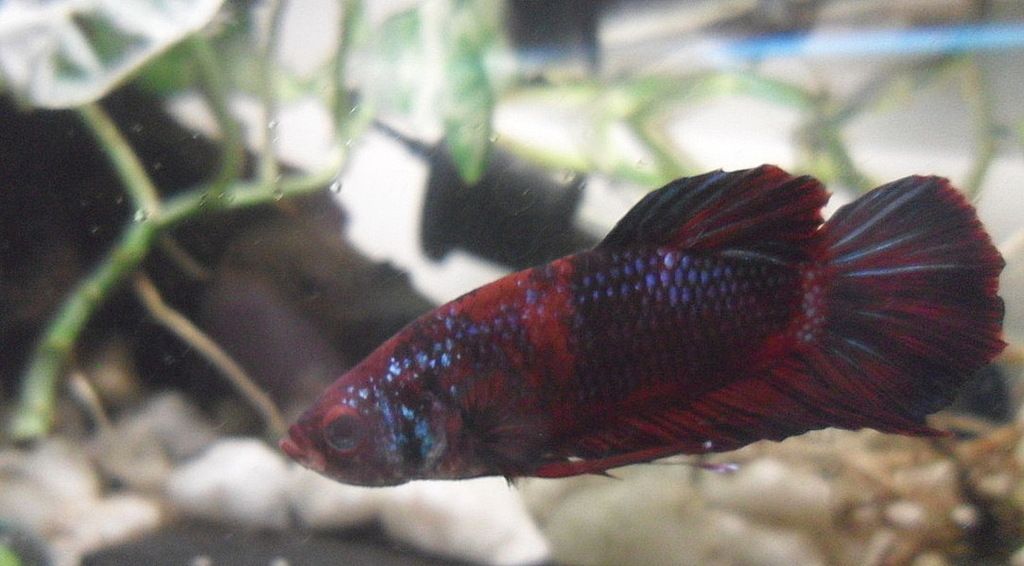 I feel like everyday I find something new that I enjoy about him. The downside is he takes the most disappointing pictures, never shows all of his colors. His face is just so unique (he has a little white chin, makes him look like a grumpy bulldog) and he has a variety of different colored shiny scales when you get him in the light. I don't think he's quite a year old yet, but he's getting close. I'm going to be so sad when he passes, I've never seen a betta quite like him. And he has a wonderful personality and amazing health to boot!
---
Male Rosetail: Smokey
What is your "dream betta"?
---
This is mine, I love everything about him! He has an awesome personality and he's adorable with his little white lips lol. I saw him and I immediately knew he was mine.
Sent from my iPhone using Tapatalk
---
SASUKE
My dream betta, at least for now, is definitely my HMPK yellow dragon Yuzu. He's big and handsome and has enough personality to fill the room. I love my other fishies but Yuzu is pampered :)
Yuzu's in my avatar but here's his intro thread:
https://www.bettafish.com/100-betta-p...meet-yuzu.html