Tagawa - my first Siamese Fighter (known round here as a betta ;) ) named him after a Japanese martial artist actor. Ironically Tagawa is probably the least aggressive betta EVER.
Valentine - reminds me of a flamboyant New Romantic, in shades of violet and red. He was sent in error by the seller (who intended to send Kham), but he is a charismatic delight.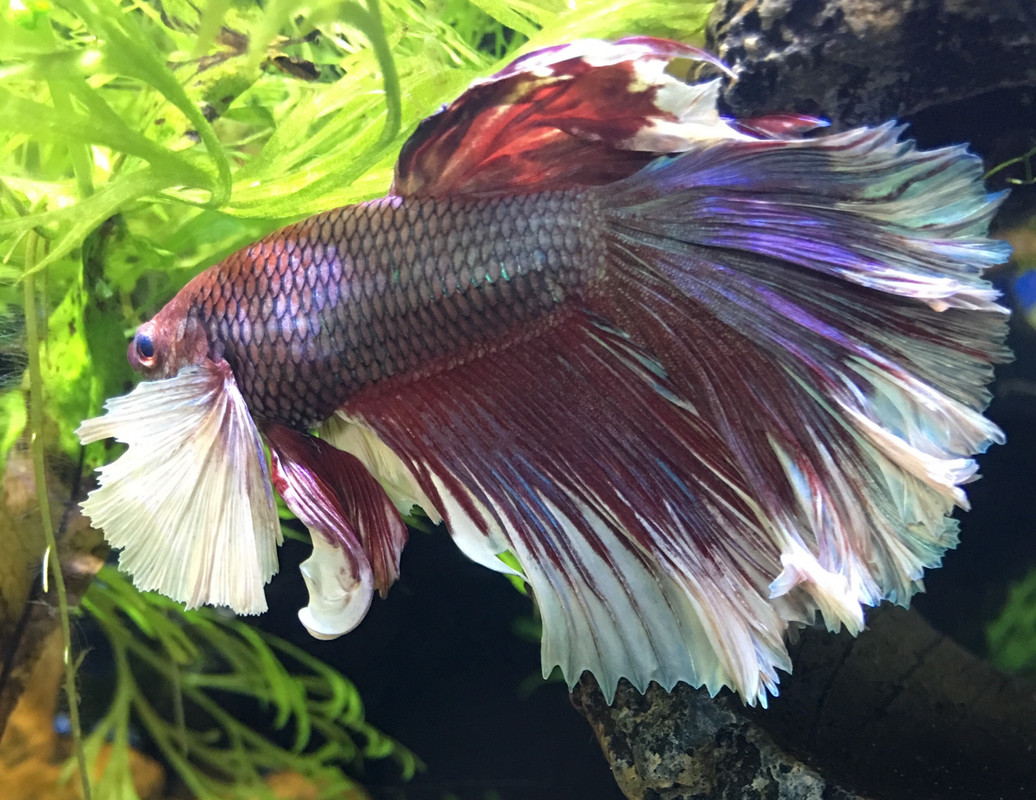 Kham - means 'golden' in a Thai dialect apparently. Just seemed to fit him. He doesn't take much notice of me, but he LOVES rootling around his plants.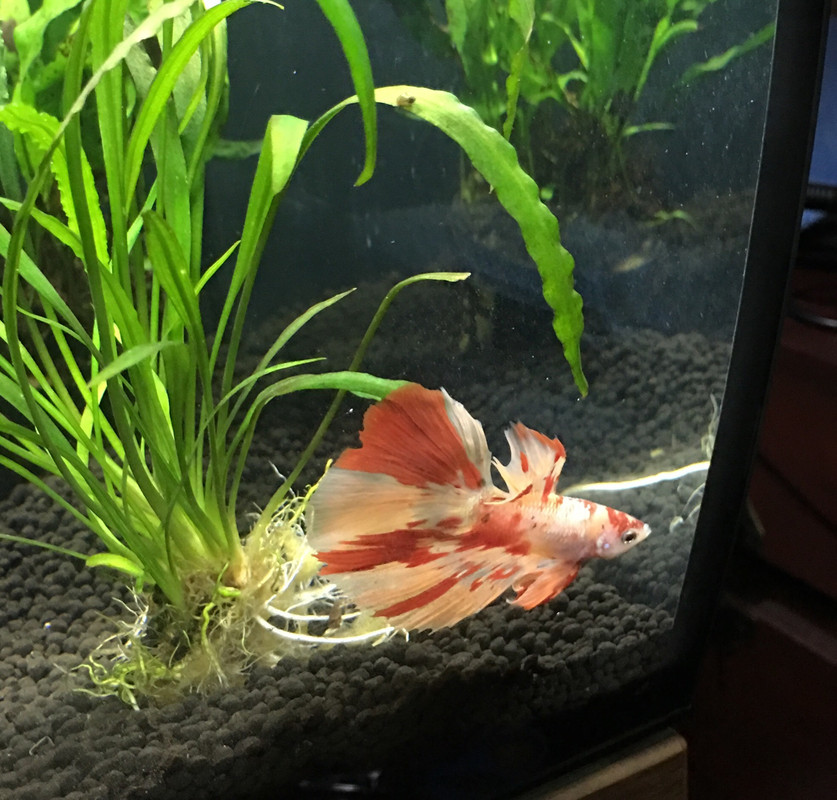 ---
70litre tank
: mature setup; betta, purple rasboras, male guppies, amano and wood shrimp. Heavily planted.
22litre cube tank
: (Tagawa); betta, yellow dwarf shrimp. Pond snails and 1 assassin. Heavily planted.
Midnight in the 57litre tank
(Midnight) ember tetras, 1 amano, 1 ghost, 1 nerite, pond snails, 1 assassin, doing his thing. Heavily planted.
200litre tank
; honey gourami, cherry barbs, green neons, otocinclus, nerites, pond snails, amano. Heavily planted.
Member
Join Date: Mar 2016
Location: Scottsdale, AZ
Posts: 156
Oooh I like this thread!

Onyx the Petco Betta. My bf suggested the name and thought it was a good fit.

Before Onyx, I had a Betta named Hattori Hanzo.
---



Think occasionally of the suffering of which you spare yourself the sight.
— Albert Schweitzer
Chia - He's a youngster. I got him when he was approximately 3 months old, and now he is five months. He "sprouted" :) I love watching these beauties grow and he's turned into a dapper young blue VT.

Lolita - She is a half giant red dragon HMPK. She's extremely aggressive and she will most likely rip other fish to shreds … she's a flirty gal :)

Osgiliath - I HAD to have this boy. I saw him from afar yesterday while in PetSmart, beelined to him and within minutes he was mine. Osgiliath is named after a city in The Lord of the Rings, of which I am a huge fan of. He's a blue/orange/white marble HMPK … labelled as a Dragon, pfft.
Member
Join Date: Jan 2018
Location: Texas
Posts: 247
I named my most recent betta, Hirao because I was searching through names with a Japanese theme and that one randomly came to me and I really liked how it fit the betta as well.
Sent from my iPad using Tapatalk
I'm new here. Allow me to tell you about my betta fish. His name is Kenji. I named him after my favorite video game music composers, Kenji Ito. His notable soundtracks include the Mana series. I have a pic right here.
New Member
Join Date: Nov 2019
Location: US
Posts: 6
This is Felix and Pheobe. Felix was named by my little sister and Phoebe was named by myself. The names don't have as much meaning as I would like, but they still sound wonderful.
I named my betta Donofin after the old movie Donovan's Reef, I changed "van" to "fin" though. I named him that because I wanted him to reign over his "reef" in his 3.5 gallon tank!
Member
Join Date: Apr 2013
Location: MA
Posts: 551
My first boy was Jude, because I had watched "Across the Universe" recently and thought it was a nice old-fashioned name (alas I was unable to listen to "Hey Jude" for months after he died without crying).

Then came "Baby V/C", who I bought as an unsexed baby and decided would be named either Cesario or Viola, after the twins in Twelfth Night. She ended up being a Viola. :)

I kind of went nuts and had- Ruth, Eleanor, Claire, Gail, Holly, and Rosaline. I was attempting a sorority. Rosaline turned out to be a male and was renamed Gabriel.

Then Claude & Marie, brother and sister and inexplicably French.

And finally Felix, my latest. Was almost named "Creamsicle" because of his colors but I decided to be a little more dignified. For some reason I constantly called him "Buddy", which was a first for me as far as nicknames go.

I also helped my mother name her bettas- Floyd AKA "Pretty Boy Floyd", Hank, Archimedes, and Leia ("Princess" or "General" depending on mood)

Honorary mention goes to my goldfish- Thing One, Thing Two, Thing Three, and Celeste. :)