Banned
Join Date: Nov 2009
Location: Orange County, New York
Posts: 578
Update on my Rescued Miniature Horse!!
---
Rascal was rescued from a horse auction at the end of April. We paid $75 for him
Rascal is a registered American Miniature Horse. When we got him he was Skin and Bones! After letting him settle in for a week we did a bunch of blood tests and fecal tests. All of the blood tests came back relatively normal but the fecal tests came back with 500 worm eggs per gram! A huge amount in a horse, it can be a death sentence in something as small as Rascal! We've carefully been deworming him, gradually introducing a high quality, high fat senior feed (not because he's old, he's only 4, but because senior feeds are easy to chew and easy to digest, which will be great for him)
I thought you would all like an update on him!! He's now living outside 24/7 with a big run in shed and another mini as a companion! And he's doing Fantastic!
Here is he the day after I got him, he had litterally 5 inches of hair on his body! Under that coat he was skin and bones!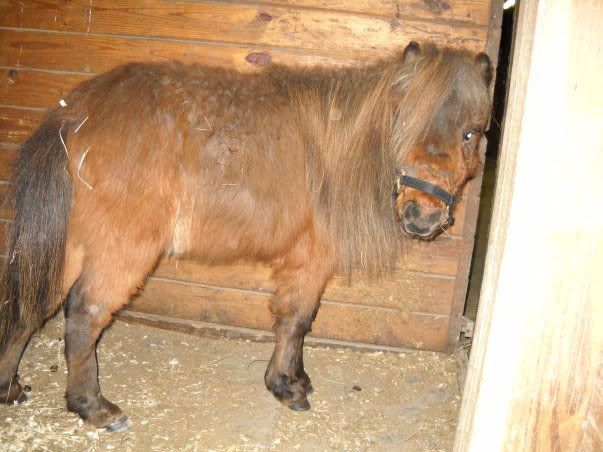 This is the end of may, after we clipped him and after he'd begun gaining a little weight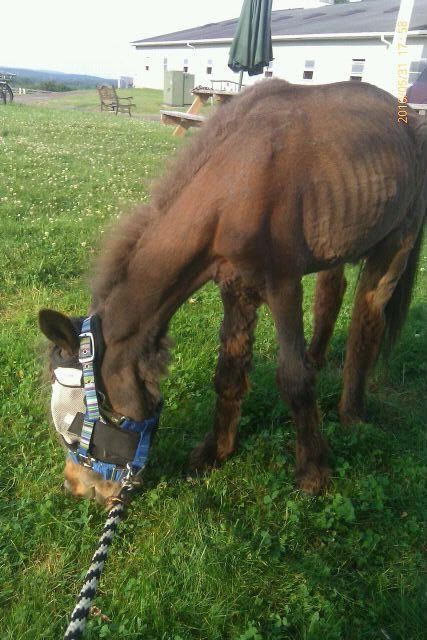 And here he is yesterday!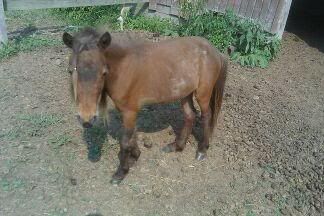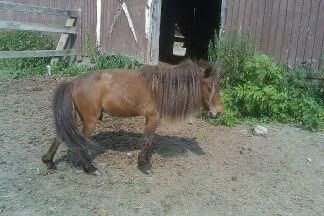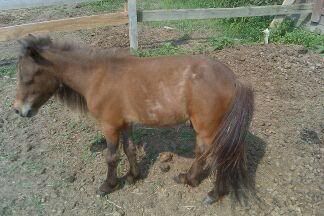 Poor boy!
I don't see how people could ignore their animals like that. Glad he's with you now!
He's looking so much better, and so cute! ♥
---

In the hobby for 9 years.
wow what a difference!!!! great progess! he's very pretty.
clearly your an expert with cases like this. so glad he is now with you!
He's got some meat on dem bones now!!! yay!
---
"Whoever said fish were low maintenance obviously never owned fish"
Banned
Join Date: Jul 2008
Location: Central Texas
Posts: 27,619
Banned
Join Date: May 2010
Location: Accedint MaryLand
Posts: 1,010
He looks so much better Ill be praying for him.
Aww he looks so much better! He's so cute, too. Does he have a name?

He kind of looks like a baby, lol. His mane and tail seem way too big for his body!
---
The Boys

Atlas
blue metallic marble HM

Forest
red VT
Leander
red/pink dragon Delta
Mister Intelligent
orange/white BF VT
Phrixus
teal marble dragon HMPK
The Girls
Psyche
blue/red PK
Rhea
black/red BF DT
RIP Alexander, Morpheus and Phobos. You are missed :'(

He's adorable. What a cutie! He looks SO much better. :D
Wow! He looks great.
I'm glad he found his way to you. :)
Nice work.
Banned
Join Date: Nov 2009
Location: Orange County, New York
Posts: 578
His name is Rascal! He is a 4 year old registered American Miniature horse!
Similar Threads
Thread
Thread Starter
Forum
Replies
Last Post
New Horse!! <3

Zenandra

The Lounge

3

07-07-2010

10:06 AM

My New Horse!! <3 <3 <3

Zenandra

The Lounge

27

05-31-2010

04:47 PM