Ponified Fish
---
Thought this might be fun, so...
Do you have any fish you would like me to ponify?
Cutie marks are based on the fish's personality, color and or name for example I gave Morgan a skull and crossbones because he's named after a pirate and Igneel fire because he's named after a Dragon and he's fire colored with a fiery personality
With that in mind I'll need some details about your fish,
Name:
Eye Color:
Personality traits: E.G Grumpy, Quiet
One request at a time please.
Here are some examples
---
Sounds fun!
Name: Odysseus
Eye Color: Really light-colored, maybe blue? It's difficult for me to tell, curse you color-blindness! Ringed in black.
Personality traits: Curious, friendly, a bit skittish, always hungry, playful, likes to act tough, but then turns tail and swims away... a goofball. XD
Some pictures: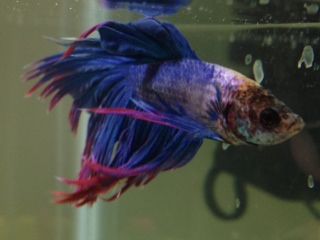 How's that?
Name: Leonard
Eye color: Light brown/reddish. Like Auburn
Personality traits: loving, sweet, kind, loves to stare into my eyes, brave, a bully at times.
Sorry, I didn't see that there was already a request.
Member
Join Date: Sep 2012
Posts: 2,024
that's great I will start working on Odysseus and Leonard soon.
---
Alright, thanks so much! Definitely looking forward to it. :)
oh my gosh!!!! i love horses so this is the perfect thread for me
Member
Join Date: Sep 2012
Posts: 2,024
Odysseus has been ponified :)

Cutie mark is a crown because he is a crowntail and because of his name :)

Hope you like!!!!

Leonard is next

btw I've changed my mind about the one request at a time thing, request as many as you like :)
---
That is so awesome, I love it! Thank you so much. :) You've got a real talent for turning fish into ponies.
---
Over hundreds of bettas die in their small, dirty cups each day. Only you can help them live. Research and then save them, today!