Brand New Betta Owner!
---
Hi all, it's nice to meet you! I go by Seki on the internet. I just recently (as in a few days ago) purchased my very first betta! Sheik is a male crowntail, and I absolutely adore him! I'm looking forward to getting to know some people and looking at some gorgeous fish on this site! :)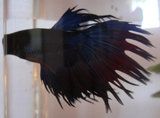 My pretty boy! Hanging out near a corner in his tank so he's all distorted... LOL The picture doesn't do his colors justice, he is a lot prettier in person!
Welcome to the Betta community. Nice Crowntail! Kind of in the market for one myself. Hope you enjoy him!
Hello and Welcome, to the wonderful world of being a new betta mommy.. Nice to meet you to.. your CT is a pretty fishy:)
---
It's nice to meet both of you, thanks for the warm welcome! I've got to say, I never realized how much I would love having a betta! Sheik has such a fun personality, and he's already built a pretty bubblenest for me! lol
I have a silly question, and if this is the wrong place to ask it, someone please tell me...

I have had Sheik for 4 days. He had a blue body and blue fins with red tips and lighter blue highlights on them when I got him... but now I have noticed he has some sort of... silver scales? They are mostly on one side up near his head and they extend around underneath and a little bit onto the other side of his body. They are all concentrated up near the head, though, and I only noticed them today (he was flaring at me and I saw them). I tried to get a picture and I can't get him at the right angle to actually get one that isn't ruined by the glare of the tank. Should I be worried about these silver scales? He is as active and happy as ever, nothing seems to be wrong with him at all. The only change is that I got him an LED light for his tank today... could it be bad for him? It's outside the tank, not in the water.
Banned
Join Date: Jun 2012
Location: Puerto Rico
Posts: 489
Welcome to the forum seki
Welcome to the forum.
Silver scales? If they were white and fuzzy, I'd think it was ich, but silver? Sorry, I haven't a clue. Hopefully someone else will be able to help you.
---
Member of IBC
The new light could just be bringing out some of his scales, other than that i have no clue.
---
Phoenix DLT Male•Dragon HMPK Male•Phantom HMPK Male•Pepsi HMPK Female•Harvest Moon DTPK Male•Dreamless HMPK Male•Randy VT Male•Turbo Zebra Nerite Snail
A lot of these fish "Change Colors" on us..within a couple of weeks, after being in clean water, theier colors peak, and sometimes all kinds of irridecence shows, silver sounds very pretty..keep an eye ..for all new colors!!
---
Congrats on your betta! You will surely enjoy him. My friend's betta has similar silver scales that you are talking about. He is also a crowntail but mainly red and a darker body. I would not worry too much about it. Bettas tend to be very healthy if you keep him in clean water and a tank of at least 5 gallons.