Hello(again) from ohio
---
I realized I never posted in introduction in this section haha. My name is Amber and I currently have 4 bettas. Poseidon(my Opaque white male from Petsmart) Ive had him about 6 months. A crowntail boy rescue ive had about 4 months, a VT funky colored male, also a rescue who came wit the CT male. And a female I got 2 days ago from petsmart.
Im getting 2 breeding pairs of HM's from Chard56 as soon as there able to be shipped out :) Im excited lol. Needless to say, I think I'm addicted :p. Ill try to get some good pictures up soon
Banned
Join Date: Jul 2008
Location: Central Texas
Posts: 27,619
Hello, Amber and welcome to the forum.




Welcome to the forums! Your fish sound lovely. :D
I got a decent picture of one of my rescue boys. I never could think of a good name for him lol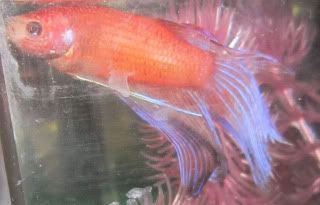 My other rescue boy is a very pretty crowntail boy with a slight spine kink. He isnt doing so well though :(
And I will get pictures up of Poseidon as soon as his fins grow back. A pesty little fish I WAS housing with him nipped at him(he was suppose to be a compatible fish too, although I forget what he was lol).. Never again will I keep ANY fish with bettas.. Just dont like chancing it honestly..
Banned
Join Date: Jul 2008
Location: Central Texas
Posts: 27,619
His coloring reminds me of a sunset. He's very pretty.




Member
Join Date: Mar 2010
Location: USA
Posts: 10,971
Welcome to the forum and to the wonderful world of Betta keeping...nice to meet you......