Member
Join Date: May 2011
Location: Elk Grove, California
Posts: 10,790
5150, it looks like possible columnaris OR external parasites causing thick mucous coating. Until you can get a positive diagnosis, I would suggest treating with a combo of Melafix and Pimafix.
Member
Join Date: Oct 2012
Location: Montana
Posts: 58
Thanks Sakura8... the remaining 4 I have left (3) head/tail lite tetras, and 1 honey gourami are doing okay, I see no signs of fading fins or distress... they ate this am (put very little)...I have not treated tank after 60 percent W/C i just dont know if I should do it with the remaining fish? I guess I need to familiarize myself with various diseases..this is all new to me..thanks again.
Just be careful with rainbowfish. I believe that mycobacteriosis can be a problem with them.
Here's some information pertaining to myco and rainbowfish.
http://rainbowfish.angfaqld.org.au/Myco.htm
Not saying that is definitely what it is, but it may be a possibility.
---
Member
Join Date: May 2011
Location: Elk Grove, California
Posts: 10,790
If that's the case, separate those fish from the others immediately because myco is pretty contagious and pretty much fatal.

BUT, don't panic yet! It could be almost anything. Offhand, I wouldn't say myco judging from the symptoms.
It probably isn't myco, but just thought I'd put it up as I used to lurk on a rainbowfish forum and it seemed like they are very paranoid about lesions etc. cropping up on their fish.

I believe it was Diana Walstad who had issues/did some work on myco in rainbowfish.

Can I ask what your parameters are? I know that some species of rainbowfish do not do well if their water is allowed to become too soft/acidic.
---
Member
Join Date: Oct 2012
Location: Montana
Posts: 58
Thanks all, well as you now know I lost all rainbowfish, plus two honey gourami..my params have been 0 ammo, 0 nitrite, 5ppm nitrate, I do water changes 1 weekly sometimes, twice due to have 2 BNPs that are quite poopy,at least 50% w/c, well water, though I do treat w/conditioner, though I really don't need to, and i have white sand substrate, planted and rocked tank. lets see, PH is 7.6 hard water.consistant, temp is 78..
So checking my tank all through the day, the remaining have been doing okay so far...its been quite a week, having to remove these fish, and ones that are alive didn't like me approaching the tank so much..
I do have a 2.5 gal. ready if have to move anymore, however I wish I would of set up my 8 gal..I have no other media to put in it to cycle it..:(
I'm really concerned in the long run, if things totally fail, how I deal with the tank and hopefully remaining BNP (pleco) if I would have to re-home them, and tear down tank..
Leaves are fun!! If my fish survive these leaves I am a convert!
Still waiting for them to sink more.
Tada!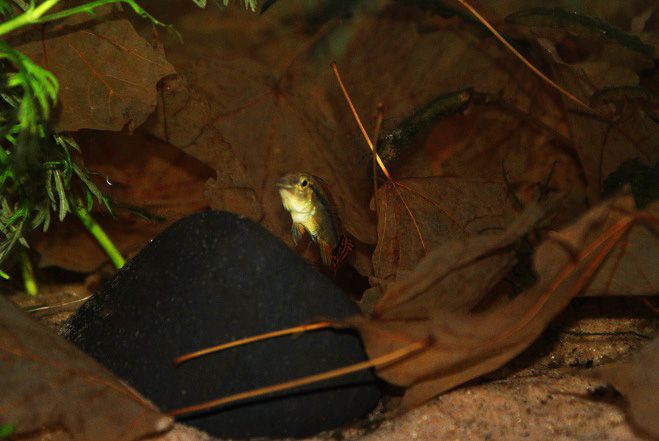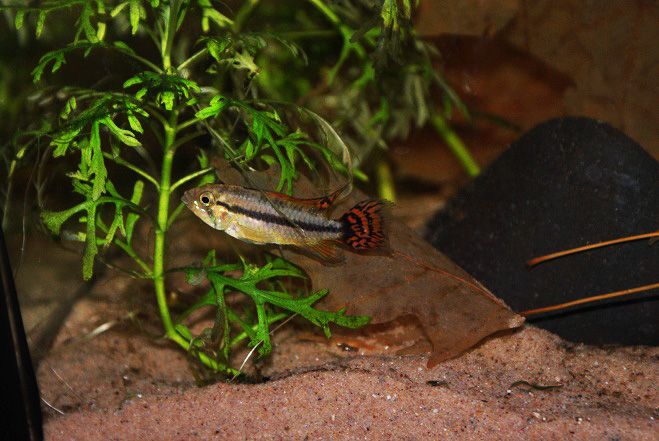 And a close up..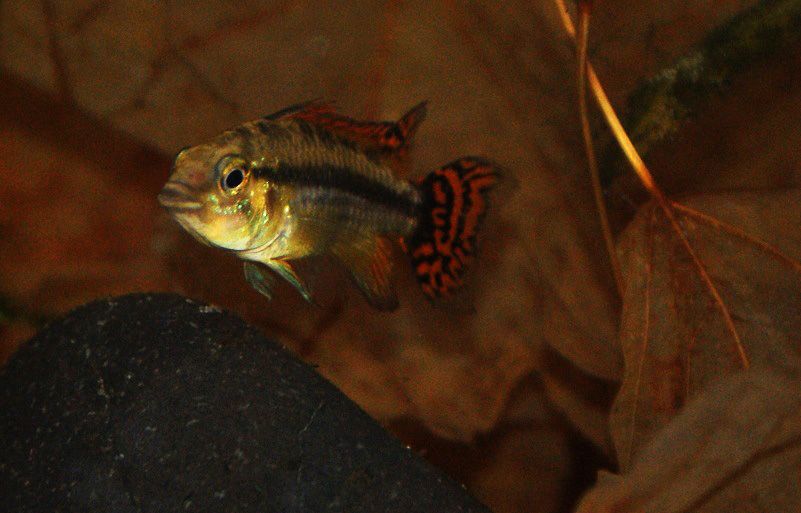 ---
taking a break from fish-keeping.
3 lovely male betta still keep me company.

Is there a post on here with just pics of yalls Goldie Tanks ?
---
I'm try to get an idea what type of decorations And also, why do some people keep bare floors, just how much do they poop ?
---
Why tip-toe through life only to arrive safely at death ??
Goldfish bayhay? Bare bottom is easy to clean. Large goldfish can swallow most gravel, which is dangerous. Some people use really large river stones that the fish would never eat. I use sand, it's the most natural. Goldfish are bottom feeders and mine go through the sand a lot. They like to take mouthfuls, carry it up to the top of the tank and spit it everywhere. So I think sand is best, it's easier to clean than rocks too.
Decor, nothing they could get stuck in is important.
Posted via Mobile Device
Alotta people use bare bottoms because it's 10x easier to clean ;)