I have 7 of the 4 gallon water bottles so far I wrote about in my first post in this thread. I am accumulating them slower then I thought I would but they are just what I was expecting them to be. :)

Louise loves the song "If You're Happy And You Know It, Clap Your Hands."
If I bounce around tap my foot and sing, she REALLY gets into it. She waves her foot in time to my singing and makes singing noises through almost the entire song. Today she RAN to a paper towel tube I saved for her to play with that was sitting in her food dish and grabbed it just in time to bang it twice in beat to the "clap clap" when I was singing to her!!! I wish I had video taped it somehow. It had to have been the cutest thing one of the pets did in a while.

Big 5 inch bright yellow mushrooms are growing out of the dirt in my Dragon tree pot. I looked them up and they seem to be common yellow houseplant mushrooms. I guess in the Bahamas they call them Spirit Umbrellas. It means I have to change the soil on my dragon tree.
---
.....Betta Fish are like potato chips, it's hard to have just one!
Arm yourself with knowledge.
Consider advise.
Make informed decisions.
I just wanted to rant a bit about how kids in America are not respecting adults. I also have some words about how adults seem to be acting.

Between all the incidents on the news and things I have seen with my own eyes it sickens me that quite a lot of kids are not being taught to respect adults, and actually follow through with that lesson.

Example: A teenager dropped a 16 oz bottle of juice on my moms leg in a Dunkin Doughnuts and the young teenager didn't have the decency to say he was sorry though he hurt her due to medical problems she has. All the parent did was say "You should be more careful." to the kid, and didn't even apologize to my mom FOR what the kid did.

A long time ago in a past job I stopped two small children from ripping open about 12 boxes of toys in the store. I was VERY nice about it I said "Sweeties you shouldn't be opening the toys because no one will want to buy them if they are open and the boxes are all ripped up like that." When I finished the last word the mother of the kids FLEW around the corner from another aisle and SCREAMED at me. "Don't you DARE talk to my kids like that!!!!! They aren't doing anything wrong! I was RIGHT HERE!" ........ REALLY?.... Well that woman wasn't right there when her kids were being destructive. And how exactly did she want me to talk to her kids? I could have been mean to them but I didn't think that would have been very nice or appropriate considering how young they were.

In our major city nearby people are getting gunned down every weekend in large quantities. People are being rotten to each other for no reason at all and respect for people's fellow human being seems to be going down the toilet all around me.

A family member of mine has kids and her kids have decided it was a good idea to call DCFS on her if she punishes them in any way shape or form for any of their attitude, or things they did wrong. Isn't it bad enough people aren't allowed to give spankings now in America if your kids do something wrong? Now the kids are doing anything they want behind their parents back and if things go ugly and they're caught they scream abuse and laugh and go back to being rotten....

It makes me so so so happy when I find a honestly NICE person out there among the mobs of mean nasty or uncaring people.

Those ads on TV for values "pass it on" make me happy although I never researched the organization behind them. At least people are being exposed to how decent normal people SHOULD act towards one another in some small way.

That same job where the kids were ripping open toys and the mother screamed at me holds a extremely good memory of a little boy.

The boy couldn't have been more then 2, the store was a mess because of the way people shopped in it and there were 3 of us to take care of the entire store.

I went to go work on picking up and folding towels since people came in and took every towel off the shelf and threw it on the floor because they didn't want to buy it.

I found a 2 year old boy kneeling on the floor on a towel, very carefully picking up wash cloths and folding them nicely in squares and placing them back on the shelf. I started to cry right there. I found his mom, told her how happy I was and that I couldn't believe how good a person he was, and hugged her for her having such a nice son.

Little things people do every day make such a big difference in some peoples lives.

Finding people in this forum who are honestly nice and try to help people while helping animals and strangers beloved pets warms my heart too.

Thank you to everyone who is nice, patient, and has good qualities that they pass on through messages and random acts of kindness to friends family and strangers. Please keep in mind those are rare qualities these days and they should be cherished.
---
.....Betta Fish are like potato chips, it's hard to have just one!
Arm yourself with knowledge.
Consider advise.
Make informed decisions.
Heavy!!!!! :/
---
First off just need to vent:
I know some people here in the forum have not entered the working world yet but some rules apply to dealing with business about ANYTHING. If it makes good business sense, saves them money by both products and wages spent, and is a better way then the company is doing things now, they might just implement whatever it is you want to change in their company. Being mean or angry with anyone you are dealing with, in a business, or even with customer service.... will
: GET YOU NO-WHERE FAST! BOTTOM LINE!!!
That same rule applies to a lot of things in life. - I just needed to state that.
Accumulating a lot of bottles in the OP. I looked up a nice shelving unit after re-evaluating how I want to set up my fish. At the moment I decided I want to use this: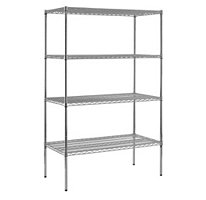 It's a 4 shelf Sandusky 48W x 74H x 24D unit able to hold 800 lbs per shelf. It will hold the 29 gallon grow out tank I have, up to 4 10 gallon tanks, (On another lower shelf.) top shelf would be deli cups shelf below that just might hold some of the smaller desktop aquariums I already own and are spread around. However I need to see if the two top shelves could be used without danger to me LOL!! I don't want to fall off the step stool. I may just put plants and supplies up there. I would need to see and play with the unit before deciding 100%. It's available for about $150... which isn't that bad a price for what it can hold. Even if it doesn't hold fish forever, it's rated safe for food storage and is an all around good investment IMPO.
This shelving unit is also JUST as big as a 55 gallon tank long-wise. It may just be big enough to upgrade the growout in the future... but the measurements may include the posts sticking out at the sides and the 55 might not be supported correctly.
The biggest problem using a shelving unit for breeding betta fish is
WEIGHT
. This shelf might support more then my tanks can produce... I'm not sure my floors can in some spots!!! I need to look around and decide if I can put this in a spot that won't cause my house to fall apart and still allow me to maintain my fish easily. Our mud room would probably support this but it would get drafty and cold in the winter.... hmm.
Sandusky
48"W x 74"H x 24"D shelf= 74lbs
10 gallon
leader tank= 20 1/4" x 10 1/2" x 12 9/16" Weight full: 111 lbs x4 = 444 lbs.
29 gallon
tank= 30 1/4" x 12 1/2" x 18 3/4" Weight full: 330 lbs.
32 oz. Betta fry deli cup
= 8.34 lbs each (not including cup weight since I have no idea).... guesstimating 50 on the shelf/shelves... Weight full: 417 lbs.
hmm maybe..
1 gallon tank weight = 8.38 lbs... x 2 = 16.76 lbs...
1 1/2 gallon tank weight= 12.57 lbs x 2 = 25.14 lbs
5 gallon tank= 16 x 8 x 10.. Weight full = 62 lbs...
2 1/2 gallon tank weight = 27 lbs
(some of these figures came off charts online because I didn't feel like doing math.)
74 + 444 + 330 + 417 =
1265 lbs
....
GAH
!
Well over a TON..... *grumbles* Thats just the shelf, 4 -10 gallons, 1 -29 gallon, and 50 betta cups.. not including the weight of the actual plastic cups themselves sitting on one spot on the floor..... I'm so not sure any floor in this house but a concrete slab will be able to take this kind of weight....
Then again I don't know what the average floor in a 60 year old house can hold on average.... I'm not sure how I could find out IF the floor could hold such weight either.....
---
.....Betta Fish are like potato chips, it's hard to have just one!
Arm yourself with knowledge.
Consider advise.
Make informed decisions.
I have about every serious side effect from this medicine. Going to doc tomorrow. I look like a marshmallow..... It's bad when you look in the mirror and jump back a step. I really hope everything goes back to normal soon and they get me off this dang medicine or it's going to kill me. Noticed serious side effects beginning on July 28th. Printing out list of side effects and going to mark things I've noticed so they don't end up killing me with this crud.
---
.....Betta Fish are like potato chips, it's hard to have just one!
Arm yourself with knowledge.
Consider advise.
Make informed decisions.
Forgot to add for 3 days now, for future reference:
Penzy's seafood soup base is beyond anything I could have ever imagined by way of fish type stock! I poached some cod in it with milk and used the poaching liquid to make a fish pie (shepherd pie type thing.)
http://britishfood.about.com/od/eorecipes/r/fishpie.htm
-I used the seafood soup base as the fish stock
-I omitted the leeks and used a teaspoon of onion powder and dashed some garlic powder in there.
-I used instant mash potatoes instead of real ones because that's all I had
-Used a large handful of fully cooked tail-less shrimp in addition to the pound of cod. (leftovers in freezer)
-Used kerry gold butter where it called for it instead of the cheap stuff (I figured if I was going for paula deen amounts of butter it better be quality)
****Only thing I will change the next time I make it is I will either double the cod to 2 lbs, or I will maybe add some crab meat, or crayfish tails and see how that goes. It was unanimous that it needed more seafood in it. The recipe calls for a pound, to save money, but that's too skimpy for a really exceptional pie. Use at least 2 lbs and it will be perfect.
To anyone snooping my journal: NO, I didn't make this because of the Olympics. LOL! I actually have been craving making a fish pot pie for a while now and found this recipe by accident. I miss the pie crust, but all the recipes that involve crust are WAY more involved by hours of prep and work.
This went together very fast and was beyond tasty because of the Penzeys seafood base! I give it 10 stars our of 5 on the tasty/easy scale. My whole family but 2 loved it after turning up their noses at it. One tried it and I got an "eh, its ok. *shrug*" The other wouldn't even try it because it contained the words fish and seafood lol. (I should have sent them this as review LOLOLOL!!!)
---
.....Betta Fish are like potato chips, it's hard to have just one!
Arm yourself with knowledge.
Consider advise.
Make informed decisions.
Found this E-Book on the internet looking up a lost recipe I had described to me by my mother that her mother used to make.
I never did find the recipe but this cookbook does have some recipes my grandmother used to make her family when they were growing up.
http://www.gutenberg.org/files/26558...-h/26558-h.htm
To any who go looking at it, the recipes are quite basic. The ingredients aren't hard to find, and to suit your taste you will probably end up wanting to change or add to the recipes.
Enjoy
---
.....Betta Fish are like potato chips, it's hard to have just one!
Arm yourself with knowledge.
Consider advise.
Make informed decisions.
I looked up strange houseplant after finally deciding to find out what on earth this plant was I have.

We moved all the plants outside for the summer and a 70 mile an hour wind came and broke the long thin stalk off this strange plant. I took and jammed the stem in a cell pack where a garden plant had died. (yes I know dumb, but I honestly wasn't expecting much out of the broken stem with 2 leaves, to begin with.)

I found out with that search that I have a night blooming cereus! (lady of the night) Someone on YouTube said he got his plant from a neighbor before he went into a nursing home and that plant is over 100 years old! It looks like it has beautiful large blooms (if it will ever bloom for me) They apparently have a wonderful fragrance too.

Tomorrow I will go pick up some cactus potting soil and maybe rooting hormone.. maybe... and repot the old plant and the abused cutting properly. I will look for proper fertilizer for it too.

There is just something about these really kind of unattractive plants. Even if you have no idea it will flower so beautifully in the future. People stay awake all night and watch their NBC open because the flower only lasts one night. Pretty amazing. I will have to see if I can find out where our family cuttings came from. It seems the history behind the cuttings are part of the charm of these plants.
---
.....Betta Fish are like potato chips, it's hard to have just one!
Arm yourself with knowledge.
Consider advise.
Make informed decisions.
---
Ugh, my dogs found a rabbit nest in the garden about 5 nights ago. They got one baby but I yelled and ran at my dog who had it in her mouth. She dropped it.

I couldn't move the nest 10 feet in any direction which is what was recommended. It would either be in my yard still, or I would put it in a neighbors yard who has dogs too... So..... I am a mommy to 4 baby rabbits. :/

They just started opening their eyes today, I offered them some dandelion greens although I know they still won't eat them. I will try again tomorrow.

I had to forgo 23 bucks of groceries since I'm hurting for money this month to buy kitten milk replacement..... I couldn't let them die though. Most of our neighbors just let the bunnies die, or let their dogs eat them. The babies are just too cute. I know they will most likely become hawk food when I release them but bah.

I may end up having to keep one. The one the dog got has no use of his back legs. He pulls himself around just fine on his front legs though. In fact he's quite a scooter. He has uncontrolled urine and bowel movements as well but i've been keeping him clean, and he still piddles after feedings when prompted. I am hoping he will start to clean himself soon when he opens his eyes all the way. I have to keep an eye on him. The oldest one is cleaning herself. I'm not sure i'm up for having a disabled rabbit..
I can probably make a drag bag, I can probably even make a cart for the rabbit but where the heck am I going to pull the money out of for it this freaking month?????!!!!!

Maybe I shouldn't have paid the hospital bills :( Since I can't drive my car right now I can probably let my car sticker expire and have $100.... but if I do that it's a fine on top of the sticker fee when I do get my sticker... GRRR. Plus I might get tickets for my car if I don't have a current sticker if it's parked. I am not sure of the laws on that....

Bleh

Just screwed this month.... Looks like probably next month too the way this is going but hopefully will be recovered by October.

Nice to have a surprise multi thousand dollar bill come in the mail. I wish our government ran the medical system like England.

GADS!!!!!!!!!!!! I just looked up the 3 companies who sell pet carts for dogs and they are around $300 for the smallest... I will be making one if it comes to it..
---
.....Betta Fish are like potato chips, it's hard to have just one!
Arm yourself with knowledge.
Consider advise.
Make informed decisions.
---
.....Betta Fish are like potato chips, it's hard to have just one!
Arm yourself with knowledge.
Consider advise.
Make informed decisions.